Spring Bosch up to £100 Trade-in
Just when you think that our deals can't get any better, we can now unveil our Spring trade-in promotion on our fantastic range of Bosch products. Simply put, it's all our usual trademark excellent customer service and in-store demonstrations of state of the art german tech plus a big chunk of money knocked off the price.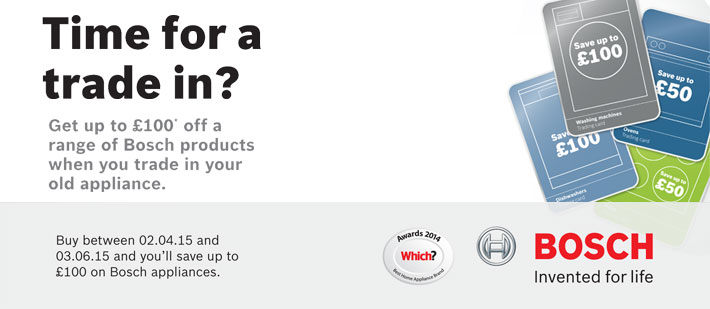 Why Buy Bosch?
Well, you don't have to take our word for it (although we do think they're fantastic). The independent unofficial experts on what's hot and what's not at 'Which?', have rated Bosch as their best buy for home appliances for the last 4 years…and their dedication and expertise in their field means that looks set to continue for years to come. When you buy Bosch, you buy quality.
When can you do it?
The promotion runs from 2nd April all the way through to the 6th June 2015, so if you'd like your new bosch kit in before summer, you'd better come and talk to one of our experts.And they are experts. Experts who are completely dedicated to finding the right equipment for the right customer, irrespective of higher or lower cost.
Free recycling
Not only that but we, at Simply Electricals normally offer free recycling of your old appliances anyway, so now that becomes a trade in of up to £100 against Bosch named white goods, it really is a no-brainer for anyone looking for a new dishwasher, washing machine, fridge, tumble dryer or cooker.
And there's more'Ķ
You don't need to hire a van to drop your old one in to us, we simply pick it up when we deliver your new one. Free…of…charge. Good news for your wallet AND your back.
Ethical Disposal
We care about the environment as much as anyone, and that is why we dispose of any recycled appliances according to the government backed WEEE directive, so they do get recycled and not get dumped in landfill.
Come in and see us
There are many reasons we'd like to see you in our Rawtenstall store soon, none more so than to show you just how reassuringly well made our Bosch range of white goods are. We are all about you leaving our store happy and satisfied that you've been looked after. We do not and will not use pressure to sell anything, so if it's just a look round, that's fine too.
We look forward to seeing you soon.