Bosch Sensational Autumn Trade-in Offer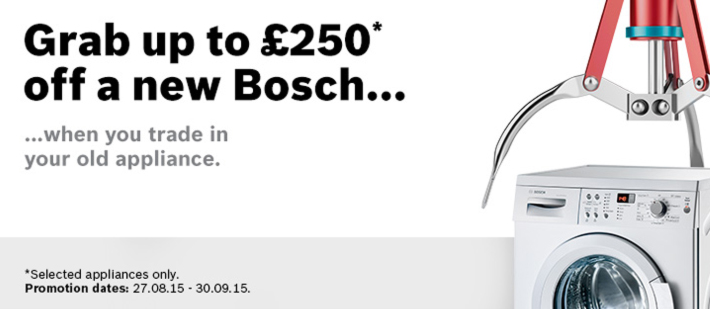 Bosch appliances deliver supreme German efficient design and risk-free purchasing that incorporates cutting edge features and superb reliability.
Reason enough you'd say to invest in a Bosch appliance for your home.
However, the fantastic Bosch Autumn Trade-in deals have just landed at Simply Electricals in Bolton and Rawtenstall to make buying a Bosch appliance a bit of a 'no-brainer'.
The Deals
Pop in to one of our stores between the 27th of August and the 30th of September 2015 and you could receive up to £250 off the price of a brand new Bosch Fridge-freezer, washing machine or dishwasher when you trade in your old appliance.
Need More convincing?
Bosch have been Which? Award winners for their home appliances for 4 years running! And Which? don't give out such accolades lightly.
Fridge Freezers – Thanks to Bosch 'CrisperBox' technology, humidity is controlled extremely efficiently to keep fruit and vegetables fresher for longer and all with an A++ Energy rating.
Dishwashers – The clever people at Bosch have created Hydrosensor technology which actually measures the cleanliness of the water being used and their dishwashers are so eco-friendly that a full load can be cleaned with around 1 sink of water. Amazing!
Washing Machines – Complete flexibility to fit around your lifestyle is provided by a feature called VarioPerfect that allows you to either shorten the time taken for a wash cycle (if time is tight) or decrease its energy consumption. Wunderbar!
And these features are just a snapshot of the features available in the Bosch range of home appliances.
The Simply Seal of Approval
Throw in a 2 year warranty, free Simply Electricals appliance recycling and free standard delivery and the reasons not to take this offer up are starting to dwindle.
We think it's an offer not to be missed, but you don't have to just take our word for it. Come down to Rawtenstall or Bolton anytime before the 30th September and you could enter the world of hassle free home appliances.
We can't wait to walk you through this 'not to be missed' offer!
Hope to see you soon!