Samsung, like every major brand in the home entertainment world, is constantly innovating to become the best around. The South Korean giant created the best 4K backlit model it had ever produced in 2018, which blew away the competition in terms of performance, but that certainly didn't mean they sat back on their laurels. Nothing of the sort, as they've continued to innovate and sought to iron out the perceived minor flaws the Q9FN had. We have to say that the end result is pretty impressive.
So, let's take a quick look the QE65Q90R to see why we feel that this model could take all of the accolades in 2019.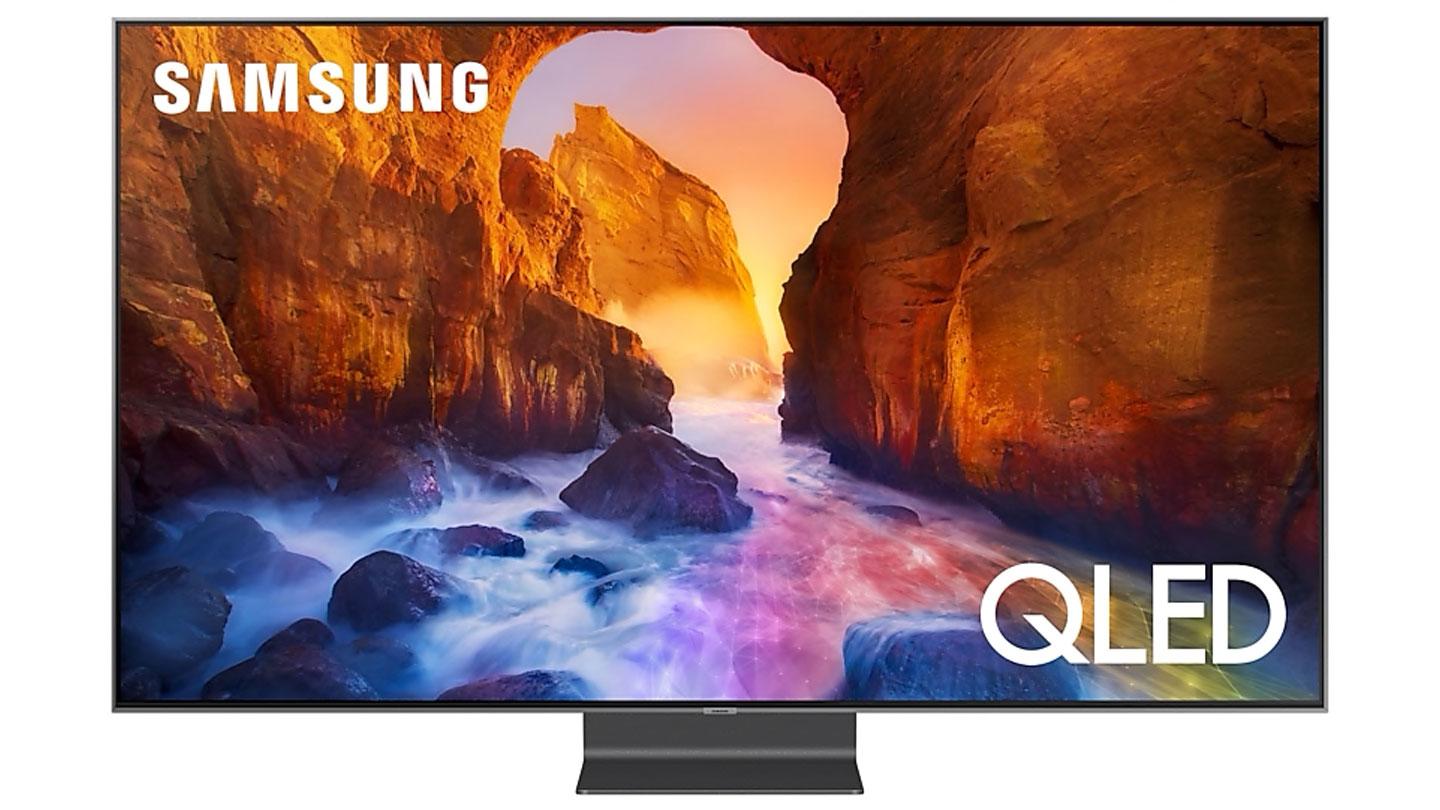 Visuals
The main gripe some had with the Q9FN, and with the QLED range in its entirety, was that when compared to the OLED competition, it's viewing angles were pretty poor. The Samsung boffins worked on it and came up with 'ÄúUltra Viewing Angle" technology, which adds extra panel layers to minimise light leakage. With this in place, colours and blacks remain vibrant, even from acute viewing angles, and in turn it has all but eliminated one of the major advantages OLED had over backlit models.
On the whole, the visual performance of the Q90R is superior to the Q9FN, as it's able to produce sharp, but natural images that offer a real authenticity in terms of colours.
Powerful Processor
In addition to producing an awesome rendering of 4K content, the Q90R's upscaling abilities make watching content sourced from non-4K sources a pleasure, as it offers a near-4K experience thanks to it's powerful AI processor. The only issue we found with the Q90R's visuals was that it seems that Samsung have chosen not to address the problems its predecessor had with motion processing.
Don't get us wrong, it's still pretty amazing and we are using perfection as our yardstick.
Audio Performance
The sound created by the Q90R is amazing, as was the Q9FN, but it has a couple of extra settings that make the newer model that much better. Its Adaptive Sound mode is able to analyse the size of your room and optimise it's dynamic sound levels to suit. It also has an Adaptive Volume, which adjusts itself based on past usage patterns.
This beauty is even able to adjust in real time to what is happening to produce simply amazing sound whatever the surroundings or media being played.
Outward Styling
In terms of outward appearance, the Q90R is practically identical to the Q9FN, with an angular bezel design and whilst this model is still relatively thick at 4cm, it does nothing to detract from its impressive aesthetics. Simply put, it's still a TV that grabs your attention, even if it is relatively large when compared to non-backlit OLED models.
As with the Q9FN, the Q90R has a space incorporated into its design for a separate soundbar, but whilst we'd recommend adding one for absolutely top-end audio capability, it doesn't do too badly at all without one.
In Summary
There's so much more to this TV that we haven't gone into here, as it would just take too long. However, the Samsung QE65Q90R has all the hallmarks of being the best TV on the market for 2019 and if ultimately, it doesn't take all the awards this year, it's going to take one hell of a TV to beat it.
If you'd like to find out more about this or any of the current market leaders in TVs, then and take a look around our website. If after looking round, you have any questions for us, you can have them answered either by calling us on 01204 201124 or online chat.
Thanks for reading. Check back with us soon for more from the exciting world of 21st century home entertainment tech.