The Incredible Samsung UE65KS9000
At Simply Electricals, we are always looking out for the best in class and here we take a look at the Samsung UE65KS9000 4K HDR UHD TV.
This impressive 65″ curved screen SUHD TV wants for nothing when it comes to state-of-the-art technology and sleek design. At Simply Electricals, we think that it is amongst the very best TVs around this year and that is up against some pretty stiff competition.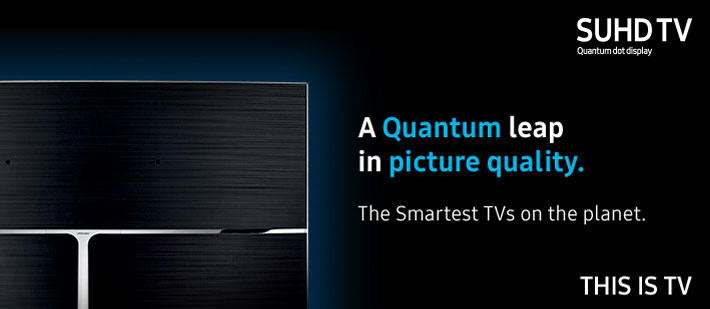 Amazing Pictures
There are a number of reasons that the UE65KS9000 sets itself apart from the rest:
High Dynamic Range (HDR) capability means that it produces the very brightest bright colours and the most defined and textured darks available on the market. Ably assisted as it is by edge lit localised dimming which independently controls specific areas of the screen, achieving incredibly realistic pictures.
The introduction of Quantum Dot technology to this year's range of SUHD TVs has made Samsung's TVs even more incredible. This technology literally breaks down pixels to an almost atomic level, providing the viewer with stunningly real pictures that need to be seen to be believed.
Curved Screens 'pull in' the viewer for an extremely immersive experience. Combined with an auto-depth enhancer, the curved nature of the screen offers performance that surpasses that of its flat counterparts.
Upscaling tech means that whatever content you view through the UE65KS9000, it will analyse and augment the source to as near as 4K UHD as possible. Samsung wants everything you watch on their flagship TV to take your breath away.
Exquisite Design
The UE65KS9000 is as sleek when it is turned off as when it is turned on. Its brushed metallic silver bezel finish means it fits into any environment and looks as natural as it possibly could. Even ugly wires are eliminated as all HDMI, USB and ethernet connections are neatly contained within the Samsung One Connect Box.
Pop in for a demo!
In our Bolton and Rawtenstall stores, we have stock of the entire KS9000 range and many many more besides and can give you a full demonstration of any of our models.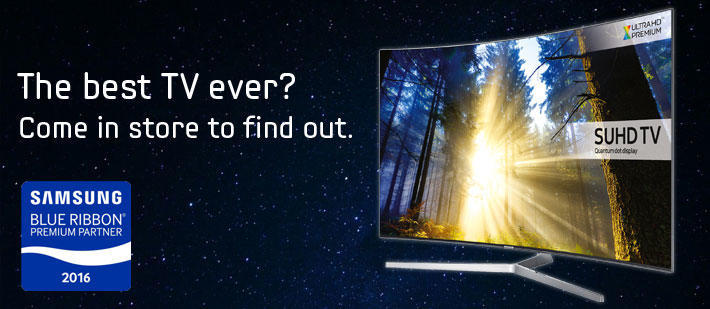 We understand that it is a big investment and our knowledgeable team are here to make sure you leave with exactly the right setup for you. There are many new terms to deal with such as 4K HDR, UHD and Quantum Dot (to name but a few) and our guys and girls can explain exactly what each mean and whether you need them or not.
We offer free delivery as standard and can install your new TV or home entertainment system anywhere in Great Manchester and to large parts of Lancashire.
So, come and have a look. You might be surprised at just what is on offer.
Look forward to seeing you soon!
What is an early detail look review? This is our first impressions of a piece of kit based on techical sheets or hands on in store with it. The is to give you some sense of what it's like and if it's worth investing in.
Also know as: UE65KS9000TXXU, UE65KS9000T, UE65KS9000, 65KS9000
Watch the full video of this article right here.