At Simply Electricals, we recently told you about the Sony KD48A9 OLED TV and we extolled its many virtues offered in the home setting. Well, it seems that someone agrees with our belief that it's a highly desirable bit of home entertainment kit, as it's just been named as What HiFi's product of the year for 2020.
This is an award that's not to be sniffed at and given the competition, it's about as prestigious as it gets in the industry. So, we thought it would be a good idea to remind everyone what it is that makes our team and the people at What HiFi rate this OLED TV so highly.
Superlative Visual Performance
The A9 makes the very most of its fantastic 48″ 4k UHD OLED screen, as contrasts are heightened by this TV's amazing processor – which happens to be the same one that powers their 8K TV range. The Sony X1 Ultimate is able to conduct instant image data analysis to enhance OLED's intense contrast even further to produce amazingly realistic visuals.
All this is possible thanks to a processor that's 2x faster than the X1 Extreme, which also allows it to produce amazing texture and detail. The A9's 4K X-Reality Pro also helps to upscale pictures from 2K up to 4K and its object-based super resolution adds into the mix to create jaw-dropping pictures.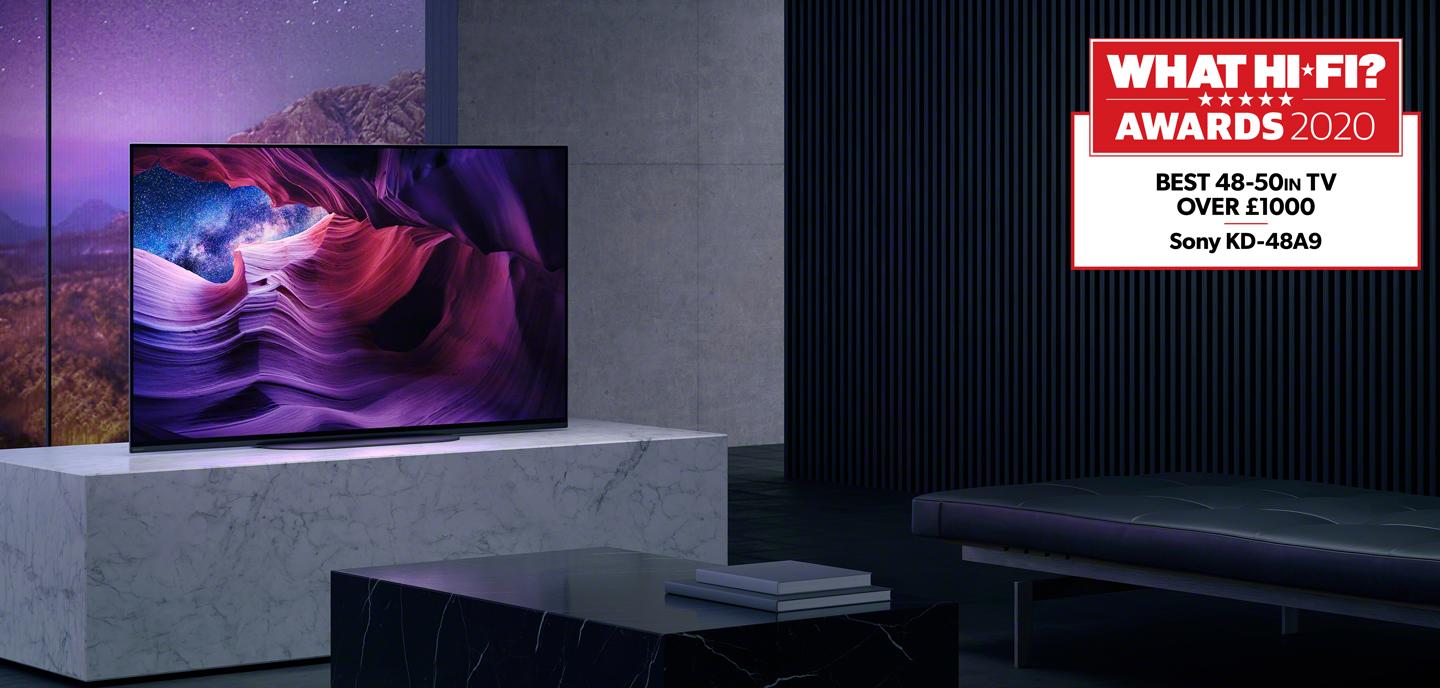 Immersive Sound That Comes from the Screen
Something else that sets the Sony KD48A9BU OLED TV apart from the competition is the incredibly immersive sound that its able to create with its 48″ screen. Sony's innovative Acoustic Surface Audio technology allows precisely targeted sound to be created with an actuator that sits neatly behind the surface of the screen.
When watching any kind movie or TV program, this technology allows sound to be produced to reflect the action that's happening on the screen. Whether it's an actor talking or a car chase, the sound moves to make things so realistic that it's sometimes hard to believe that events in a movie aren't actually unfolding in your living room.
A Minimalist Design Stops You Getting Distracted
The Sony A9 is also no slouch when it comes to aesthetics, as its super-thin bezel means that your focus remains on the action. Its 'One-slate' design offers an amazingly immersive experience for the viewer, also meaning that it fits neatly into any home decor, harmonizing with its surroundings with ease.
The clutter of cables is also dealt with, as the A9's cable holders are designed to keep the rear area of this OLED TV nice and neat. Sony believes that TVs should look great from every angle and this clever arrangement definitely makes that happen.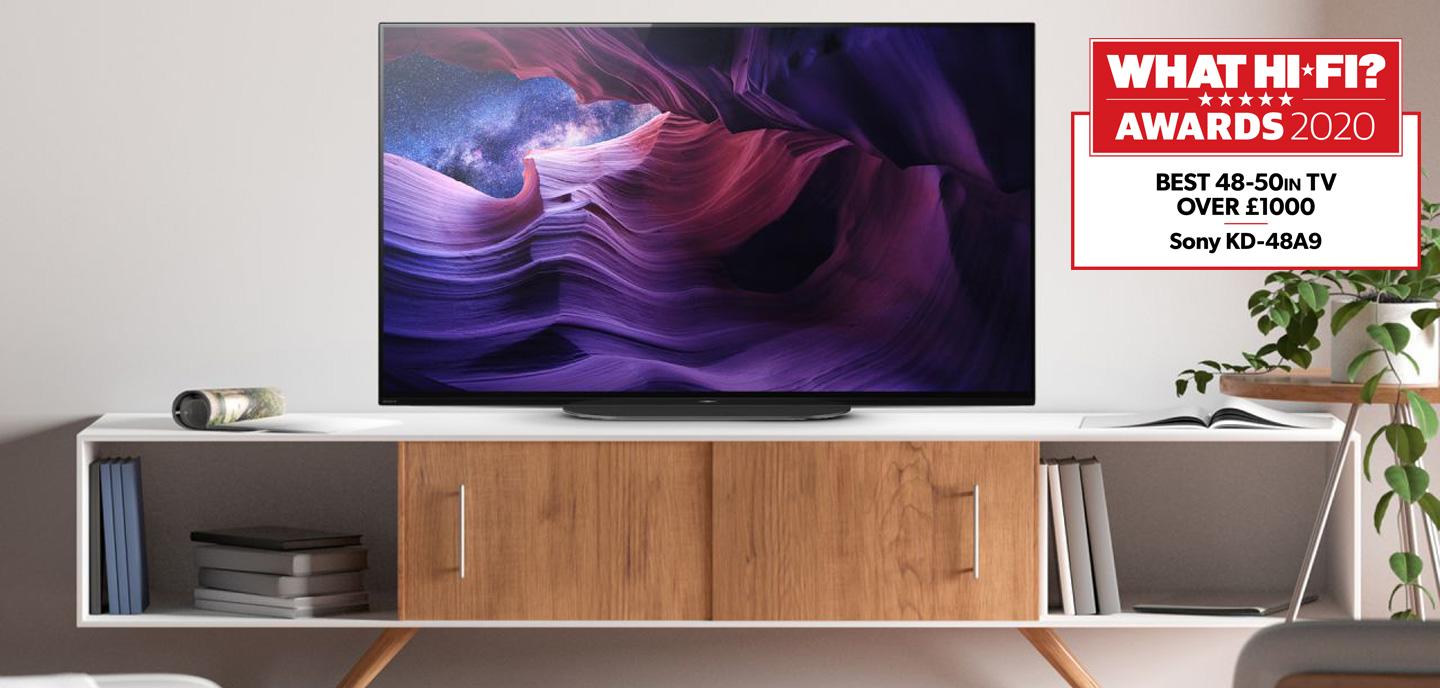 The Simply Verdict – A Well-Deserved Award
The Sony KD48A9BU OLED TV was up against some real leviathans from the other big players in the market, but we'd have to say that all things considered, it's an award that's well deserved. For all-round performance on audio, visuals, connectivity and style, the TV hits all the high notes and we think that anyone purchasing one will end up being very glad that they did. And it seems that What HiFi thinks so too!
If you'd like to know more about anything we've spoken about here or about our entire range of home entertainment kit, we recommend taking a look around our website. We remain open for business during the lockdown, so if you need any advice on anything you find, please feel free to contact our friendly team via our live chat box on our homepage.
That's it from us this time. We'll be back with more soon from the exciting world of top-notch TVs and home entertainment tech again soon.