First look review Samsung UE49KS8000
Today we take a look under the hood the newly released Samsung UE49KS8000. The The 49″ model in the 8000 series.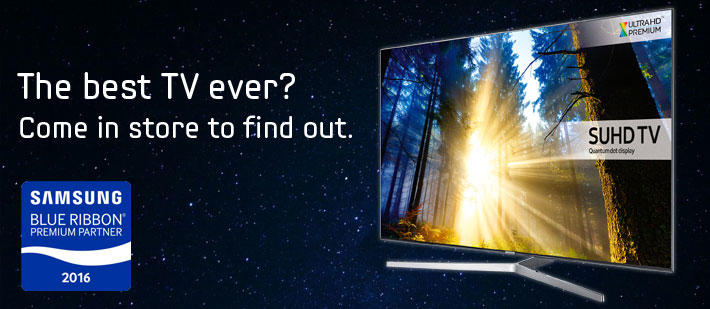 Amazing Ultra High Definition Pictures
The Samsung UE49KS8000 has an incredible Picture Quality Index rating of 2300, which takes levels of resolution, colour, brightness or contrast. Any TV with a rating as close as to the maximum of 2400 is certain to offer a jaw-dropping viewing experience.
A quad-core processor allows it to easily upscale any content channelled through it using Samsung's SUHD remastering engine. Whether you're watching some of your old favourite movies on DVD or the latest UHD title from Netflix, the difference in quality is minimised excellently by this fantastic bit of kit.
The UE49KS8000 is furnished with a number of goodies to create a stunning visual performance. They include:
A Quantum Dot display for unparalleled depth of colour. With 1 billion colours to choose from, the realistic pictures this technology produces is simply breath-taking.
Supreme Motion delivers a superbly smooth movies, eliminating the gaps in between frames for much more seamless viewing, even during action movie car chases.
Peak Illuminator Pro does what it says on the tin. It takes energy from the darker zones of the picture that don't need it and channel it into the brighter areas that do. Not only does that make for a better picture, but it does its job without increasing its energy consumption.
Ultra Clear Panel combats reflection from light in the room, even with sunlight pouring through the window. Creating crisper high-contrast pictures, the viewer should not suffer if the ambient light is high. No more closing curtains during the day for a better picture!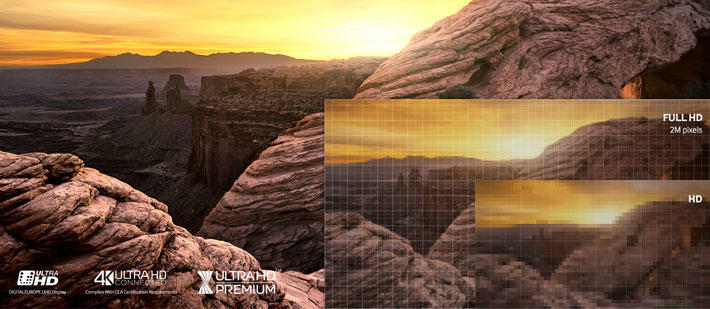 The KS8000's audio performance isn't too bad either. 4.1 channel forward and downward-firing internal speakers offer a powerful 60 watt output. It even supports use of bluetooth headset, TV sound connect and Multi-room link. A truly versatile audio device.
Convergence of Technology
In 2016, a TV is not just a TV. What the Samsung UE49KS8000TXXU can do would put most computers to shame. From console-free cloud gaming to app-casting there are countless features this model provides:
App casting – access hundreds of different applications, radio and TV channels on the big screen through this clever gizmo.
Samsung Wake On Lan (WOL) – allows the user to program when the TV comes on and goes off. An ideal function for many uses including your morning alarm or home security application to give the appearance of someone 'being in' when you're away from home.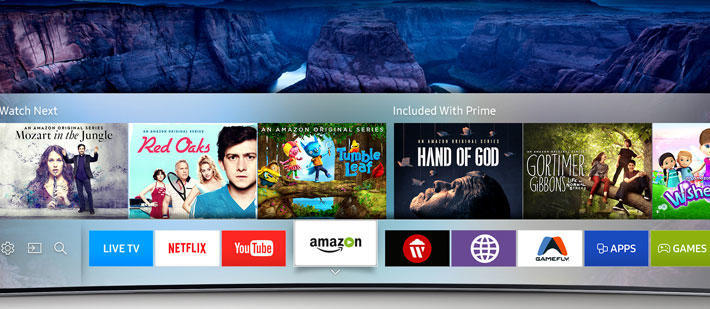 There are far too many functions available to the owner of a Samsung UE49KS8000 to list here. Trust us when we say…there are a lot!
The Simply Verdict
This beautifully minimalistic TV is pure understated excellence. With industry leading performance and the versatility you should expect from a modern-day smart TV.
To get the full Samsung KS8000 effect, we recommend you pop in anytime to come and see what we mean. Our friendly, knowledgeable team are ready and waiting to answer any questions you might have and if required, a full demonstration of this or any of our huge range of HD, UHD and SUHD TVs.
In addition, Simply Electricals serving the Greater Manchester and surrounding areas, we offer free standard delivery and we can even arrange installation. So why not come over and take a look?
What is an early detail look review? This is our first impressions of a piece of kit based on techical sheets or hands on in store with it. The is to give you some sense of what it's like and if it's worth investing in.
Also know as: UE49KS8000TXXU, UE49KS8000T, UE49KS8000, 49KS8000
Watch the full video of this article right here.