Sky Q – Fluid Viewing to hit the Market Early 2016
At Simply Electricals, we like to keep you informed of the big movers and shakers in the home entertainment industry. Something we've had our eye on is Sky's scheduled announcement of their new services, which was made earlier today.
It's finally here…well, it will be early next year. The new Sky Q platform that promises to deliver 'Äúfluid" viewing anywhere in your home or on the move will be available soon!
When they say fluid, they mean it. The new set up offers a raft of new features that the viewer can watch, pause and record from anywhere in the house. You can be watching Game of Thrones in one room, pause it, go to another room and pick up where you left off. Sky Q offers a perfect mixture of live and on-demand content that you can watch when you want and where you want.
So, let's have a look in closer detail.
The Sky Q box Itself
A lot will be changing, in terms of menus and features with the new box, opening up a new way of viewing for Sky customers in 2016.
4K Ready
This hardware is UHD ready and with a huge expected upturn in available 4K content on the way, you're ready for when it arrives! With this in mind, they have boosted storage capacity to 1 Terabyte (1000 Gigabytes) for the standard box and 2 Terabytes for the Silver box. With so many box sets and films to watch in HD and UHD, you're going to need it.
More Tuners
One historical problem with the sky+ system, was the lack of tuners, which meant that you could only record two programmes at the same time. This problem has been swept away in one fell swoop, as the Sky Q Silver box comes with the ability to record an incredible 4 programmes simultaneously whilst watching a 5th. In the case of the standard Sky Q box, you still have the facility to record 3 and watch a fourth, which mean both variants have more tuners than one of its main competitors, the Virgin Tivo box.
Sky Q Fluid Viewing
'ÄúFluid" viewing is possible thanks in no small part to the new Sky Q mini boxes that act as 'Äúslaves" to the main Sky Q box and allow up to 2 users to watch recordings made on the main box and on demand content independently and at the same time. Not only that, but each box acts as a wifi hotspot, meaning you should never have problems getting online.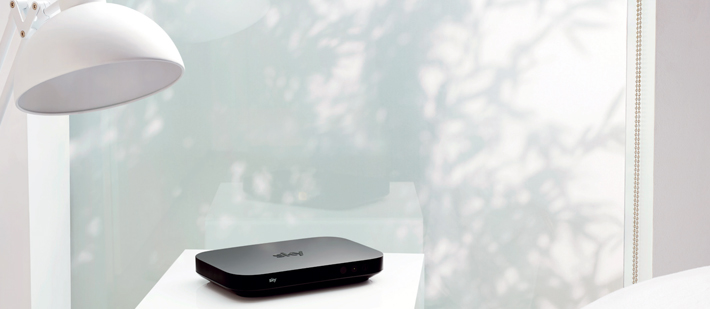 These mini boxes are Sky's first to be wifi-enabled and let you stream music and video from your tablet, smartphone or computer to your TV via platforms like AirPlay. All this functionality will be easily controllable via the new tablet and smartphone Sky App for tablet and smartphone. More details to follow on that.
The Sky Q Services
The new and improved services that will be on offer will surely include UHD 4K content and a number of other features, but one thing is for sure, that they won't work on a standard sky+ or sky+ HD box. What is promised though, is a new interface that has intelligent menus that will 'Äúoffer suggestions" on your viewing based on your viewing habits and with a new remote with 'Äútouch interface" on its way, it is going to feel a lot different to the Sky systems we've all become so familiar with.
There is no news in terms of packages or prices as yet, but they are likely to reflect the new functionality and features open to those who take the services. Still, as yet, no news on pricing.
For more information on this or for answers to any related tech questions you might have, like how you can make the most of Sky Q with your existing home entertainment setup, pop in and see us in Bolton near Manchester or Rawtenstall in Lancashire any time. One of our friendly staff will be more than happy to help.