Induction hobs are now becoming very popular due to a number of features but mainly as they are more energy efficient than other types of hob such as a gas hob.

But you can also use an induction hob to brew your favourite hot drink.

We took a bit of time to take a look at the available kettles that are specifically for using on an induction hob.
Table of Contents
What we looked at in our Induction Kettle Reviews
Price
Probably one of the most important aspects of buying any product to most people is how much it costs.
Design
Really important to most people is how an appliance looks. As we all know the party is normally in the kitchen so having it look nice is very important.
Capacity
How many brews can you get out of it? Probably the most important aspect of a kettle! Who wants to be in a position where they have a group of 5 friends over and you spend all your time brewing up because your kettle doesn't hold enough water?
Safety
A big one for me, I have 3 young children and the smallest love to try and reach things on the worktops. So, what safety features do the kettles have, what materials do they have to help prevent burns etc.
Our 7 picks
Klausberg Magic Colour Change Kettle 3L
The Klausberg Kettle is not your average induction kettle. A unique and eye-catching design will definitely make a statement in your kitchen.
But that's not all! The kettle is made using high-quality 4 VA Stainless Steel, so your water won't have any funny tastes. It's perfect for tea drinkers, or for making food and drinks for little ones.
But what's really cool is that it changes colour! It has a stripe decoration on the side that changes colour as it heats up, making it feel like you're performing a magic trick in your kitchen. And when it's boiled, it'll let you know with a whistle, super handy.
The Klausberg Magic Colour Change Kettle is also versatile. It can be used on all types of hobs, including induction, gas, ceramic, and even in the oven.
Because it's made from stainless steel, it's easy to clean. Plus, it has a cool touch hand grip glove for those cold mornings.
Le Creuset Kone Kettle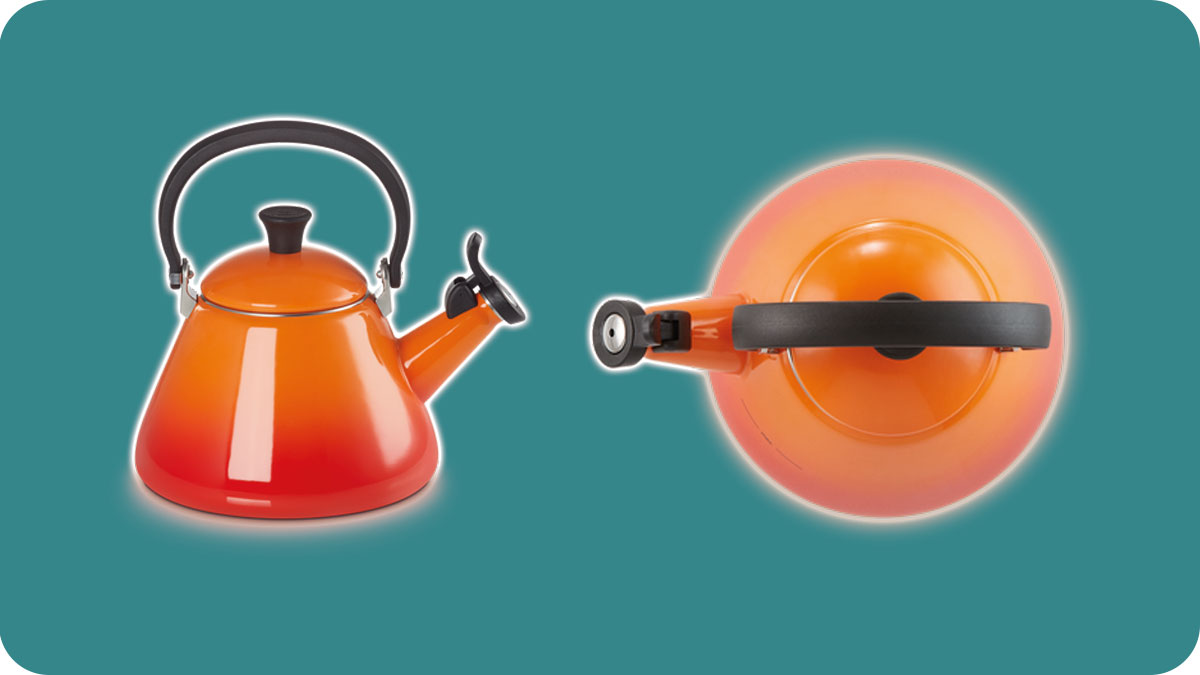 The Kone Kettle is the perfect blend of style and function. Available in 10 different colours, it will add a pop of vibrant hues to any kitchen.
But it's not just pretty – it's very efficient too. The wide base allows for more efficient heating, so you can boil water faster and get your tea or coffee fix quicker.
Crafted from the finest materials in factories around the world, the Le Creuset Kone Kettle is built to last. It's made from anti-warp carbon steel and features anti-corrosion enamel, it will withstand daily use for years. It's suitable for all hob types, including induction.
One of the standout features is the foldable handle. Making it easy to fill the kettle and helps storing it when its not being used.
A capacity of 1.6 litres means it can serve up to 3 cups of tea or coffee.
It boasts a classic design, complete with an elegant curve and a traditional whistle at the end of the spout. The heat-resistant phenolic handle and knob ensure comfortable day-to-day use, so you can enjoy your favourite hot drinks with little hassle.
ProCook Stovetop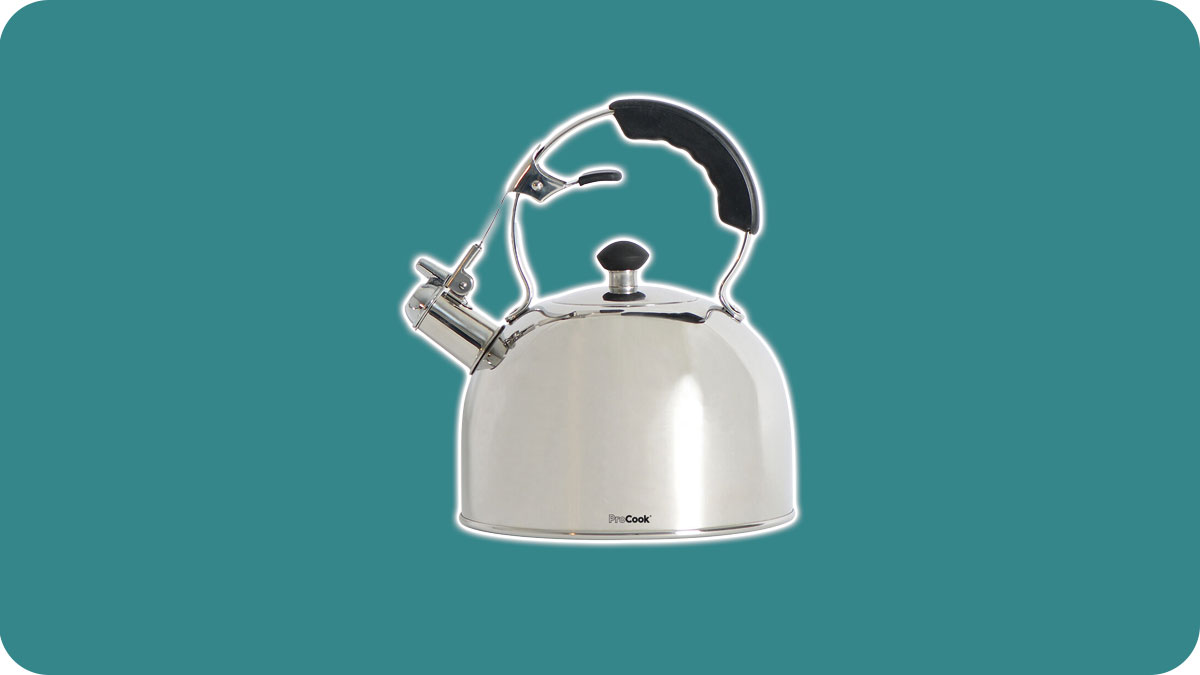 The Procook Kettle is not only a functional kettle but also an eye-catching addition to your kitchen. With a decent size 2L capacity and polished stainless steel finish, it provides a rounded design; the weighty feel gives it a premium look and feel.
The soft-touch black handle makes it easy to move around, and the lever to open the spout valve makes pouring easy peasy.
To fill the kettle, just remove the lid and add water up to 1cm below the spout. The cap on the spout retains steam, allowing the kettle to boil super fast and producing the classic whistle sound to let you know it's boiled.
Suitable for all types of hobs, including induction, gas, electric, and ceramic, the Stove Top Kettle is a great addition to the kitchen.
One of the main features is its 10-year guarantee, giving you peace of mind that you can enjoy your hot drinks for a long time.
OXO Good Grips Classic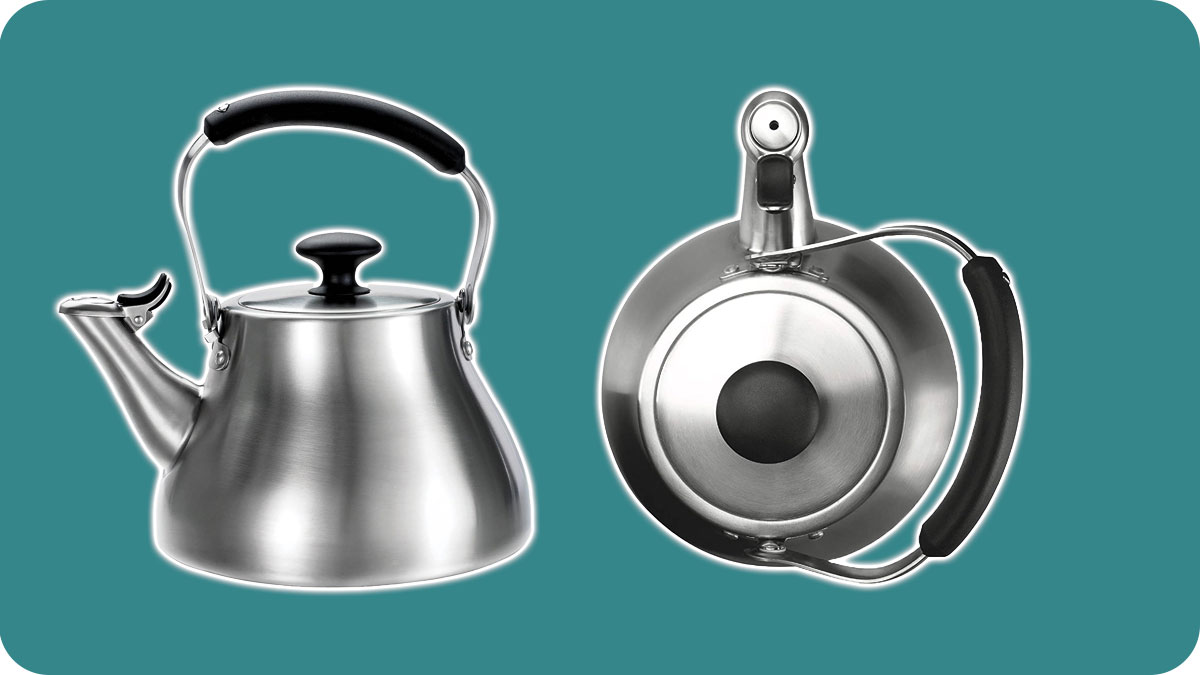 The Oxo Good Grips is a classic tea kettle, not only stylish but functional too. Its precise non-drip spout and silicone touch points on the spout cap and handle mean you protect your fingers from heat while pouring. The handle turns down, making it easier to fill or store.
Made from seamless, high-grade stainless steel, this kettle is rust-resistant and built to last. It's perfect for those who want a durable and reliable kettle.
Overall, its a great choice for those who want a classic tea kettle that looks great and works well. Its non-drip spout and silicone touch points make it safe and easy to use, while the high-grade stainless steel construction ensures durability and longevity.
SUSTEAS Stove Top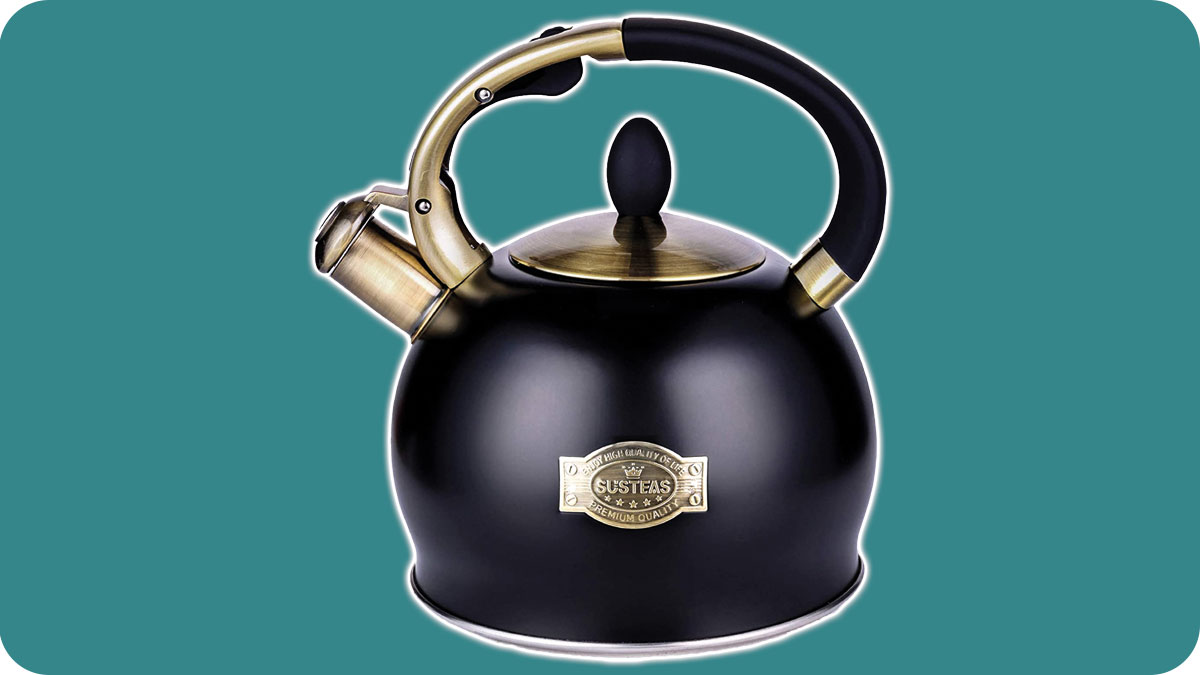 The Susteas Kettle is beautifully designed providing both function and style. With a 3-litre capacity, it's perfect for brewing up for the whole family. It has a loud whistle that can be heard from another room when the water is boiled.
It's bottom is made using Stainless steel, Iron and Aluminium. Allowing it to boil water faster than other kettles on the market, saving you time and energy (A big plus with today's electricity prices).
It features a cool handle and push-button technology, making pouring really easy. The high-quality nylon material and stainless steel effectively insulate and avoid scalding. Also in the box, is a free premium anti-hot glove.
Fellow Stagg Pour Over Kettle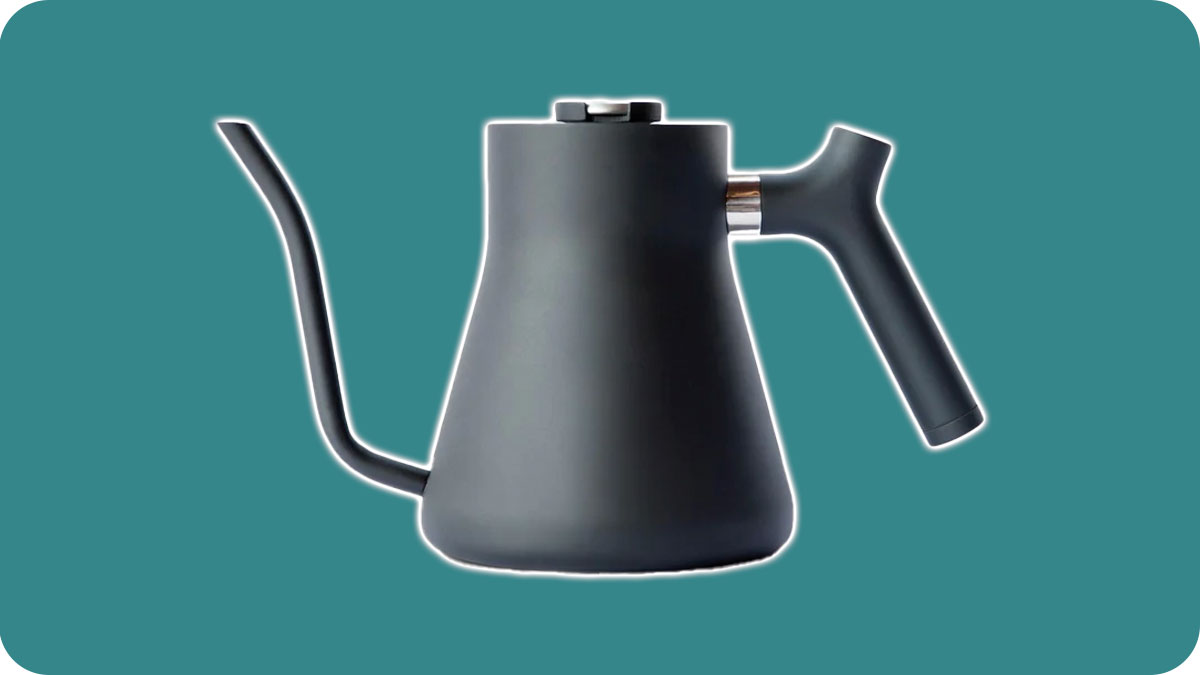 Easily, in our opinion, the most beautifully designed stovetop kettle in our list.
Perfect for creating a great pour-over coffee experience. With a precision pour spout and restricted flow, you control the amount of water with ease.
It has a built-in thermometer allowing you to choose the temperature to the degree, ensuring your coffee is brewed perfectly to your taste every time.
It's made from high-quality stainless steel, making it durable and long-lasting. You can buy it in three stylish colours – matt black, matt white and dark chrome.
The Fellow Stagg Pour Over Kettle is gas, electric, and induction hob compatible, making it an easy to use kettle on any stove. It only has a 1L capacity, so you're only really going to be able to brew for one or two people.
The counterbalanced handle makes for a comfortable grip ensuring that the weight gets evenly distributed for a smoother pouring process.
It's our favourite purely for the design but does lack in capacity.