Whether you use your coffee machine a few times a day, or just in the morning, it will likely suffer from a buildup of limescale at some point.
Whilst limescale may not be harmful to consume, it can cause issues for your machine and potentially result in serious damage. It is a good idea to regularly clean your coffee machine to prevent this from happening.
Read on to learn how to properly descale your coffee machine.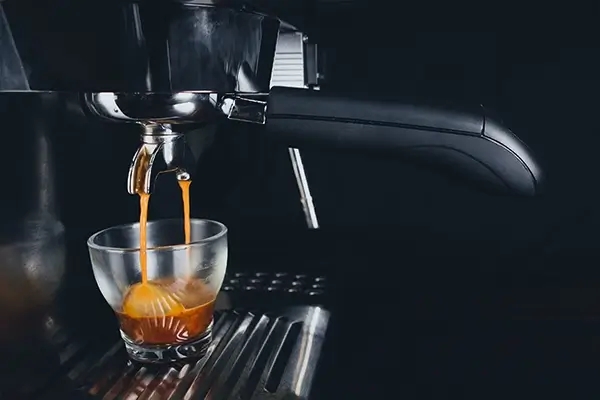 What happens if you don't descale a coffee machine?
If you don't descale your coffee machine, the residue that builds up can have an undesirable effect on the quality of your coffee. This residue is known as limescale, a chalky deposit which builds up in areas which have contact with water.
Your coffee may taste and smell bitter;
Your coffee machine will produce an acrid smell;
The residue may cause clogging and blockages that will cause your machine to be unusable.
Layers of limescale can actually insulate the water from the heat source, meaning that the water won't be able to reach its optimum temperature.
This can lead to a poor tasting coffee.
Is limescale harmful?
No, limescale is not harmful and it is actually perfectly safe to drink. The amount of limescale which you may consume in your coffee is minute, and so will not have any bad repercussions on your organs.
In fact, most mineral water which you can find in the supermarket contains magnesium and calcium, which are also found in limescale. Both of these minerals are great for your body.
The difference between supermarket water and coffee machine water is that when you run the water through a coffee machine, it interacts with the hard metals and chemicals from the machine.
If consumed in larger quantities, this could cause some health issues.
When limescale is in your coffee machine, it can attack and corrode the inner metallic surfaces. This corrosion can cause rust internally, which will affect the taste of your coffee and can be harmful when consumed.
How often should a coffee machine be descaled?
Most manufacturers recommend descaling your coffee machine every 2-3 months to prevent limescale build ups and keep your machine working at optimum condition.
However, if you live in a hard water area, you may need to clean your machine more often as this can cause an increased build up in limescale.
You should always check the user manual about descaling and the frequency of doing so. If you can't find it, don't worry, you can look up your machine model online for user advice.
What can I use to descale my coffee machine?
You can use a variety of different home methods, as well as shop bought products to descale your coffee machine:
At home methods
Handmade remedies are usually the easiest to use and most affordable too. They usually clean your coffee machine just as well as professional products.
Popular at home remedies include:
Baking soda
White vinegar
Citric acid
Descaling agents
If you decide to use professional products, there are two types you can choose from:
Descaling liquid
Descaling liquid should always be diluted with water; quantities are usually stated on the outer packaging.
PAZAZZ Liquid Limescale Remover is domestic limescale remover formulated to remove buildup from popular domestic coffee machines such as Nespresso, Sage, Smeg and many more. 
Descaling tablets
Descaling tablets are an alternative to liquid, and many people prefer them due to their ease of use. Simply dissolve in water before using.
The FrothClean® Descaling Descaler Tablets are compatible with many domestic machines, including bean-to-cup machines, espresso machines and kettles. They come in a pack of 10 which will last a year if used every other month. 
Can you make a descaling solution for coffee machines?
Yes, you can make a descaling solution for coffee machines using water and distilled white vinegar.
Simply make a mixture of equal parts water and vinegar, and fill your water filter to full capacity with the mixture.
You can also use a citric acid and water mixture, but it's worth noting this will not work if it is heated to more than 40 ° C or higher. This can cause calcium citrate to form, which is even harder to remove than limescale.
How to descale a coffee machine
You have two main methods of cleaning your coffee machine, either using a homemade remedy or descaling agents.
If you are using a homemade remedy such as vinegar, follow these steps:
Dispose of any coffee grounds or pods left in the machine. If you have any coffee grounds, put them in the bin or on your garden, not the sink.
Fill the water chamber halfway with vinegar, and then fill the rest up with water.
Set the carafe, or jug if you're using a pod or espresso machine, and start a brew cycle. Halfway through, turn off your coffee machine and let the water sit for an hour.
Finish the brew cycle and then pour the vinegar and water mixture down the sink.
Fill the water chamber with clean water, and then let a full cycle run from start to finish. Let your machine cool slightly, and repeat this step until the residue vinegar is washed away.
Cleaning your coffee machine with a commercial descaler is exactly the same as the steps above, except you should dilute your liquid or tablet in water and then pour this into the water chamber.
Remember to read the descaling products packaging to know exactly how much to use.
How to descale a steam wand
To descale a steam wand, you should create either your homemade or professional mixture in the milk frothing pitcher.
Again, for homemade remedies, this should be a 50/50 ratio and for professional remedies, refer to the packaging for quantities. 
Simply place the wand in the mixture and let it sit for about 30 minutes, and then rinse with water or use equipment wipes such as the Urnex Wipz Coffee Equipment Cleaning Wipes.