Whether you consider yourself a bonafide wine connoisseur or have recently developed a penchant for drinking wine and are still in the process of developing your palette, for ensuring that you get the best out of each bottle, adequate wine storage is essential.
Whether you opt for a countertop wine cooler or a small wine fridge, adding a bottle fridge to your home is the easiest way to make sure that your wine stays fresh and ages properly.

Plus, with access to a wine fridge, you'll be able to serve your wine – both red and white – at the ideal temperature for maximum flavour. 
But with so many different wine fridges available to choose from, it can be difficult – and slightly overwhelming – to know which the best small wine fridge is for you.

There's a lot to take into account, which is why we've put together this handy guide to choosing the best wine fridge, taking on board your wine-drinking habits, available space, and budget. 
Table of Contents
What is the best small wine fridge?
The good news is that while wine fridges can be pricey, there are also lots of budget-friendly options to choose from.

And, believe it or not, there's no need to splurge on an overly expensive model – you can pick up a small wine fridge at a price that's affordable. 
Subcold Viva Table-Top Wine Fridge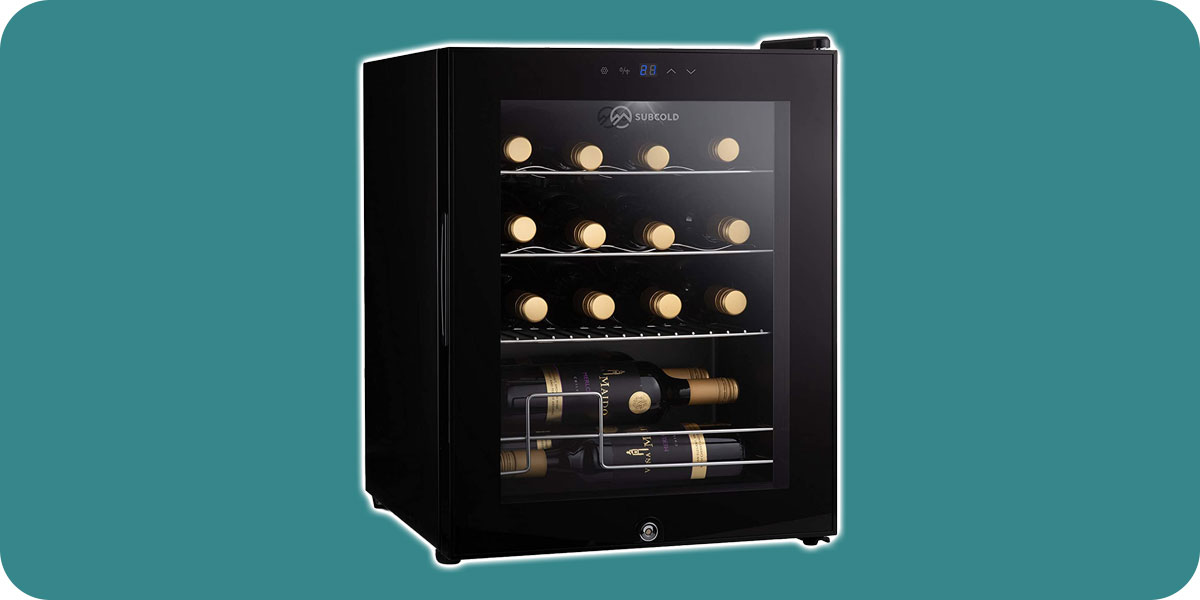 The Subcold Viva Table-Top Wine Fridge might look compact but it can store an impressive 16 bottles of wine, making it ideal for anyone wanting to chill more than just a bottle or two. 
Featuring advanced compressor cooling technology and a temperature range of 3-18°C – adjustable via a digital thermostat – this countertop cooler is ideal for fast wine chilling, and can be used to store sparkling, red and white wine.
Another feature that sets this cooler apart is its economical energy consumption and its ultra-low noise output, both of which are desirable features to have.
Designed with safety in mind, this small-sized wine fridge features frameless black safety glass, along with a security lock and key for keeping your wine collection safely stored away.
Comfee Tabletop Wine Cooler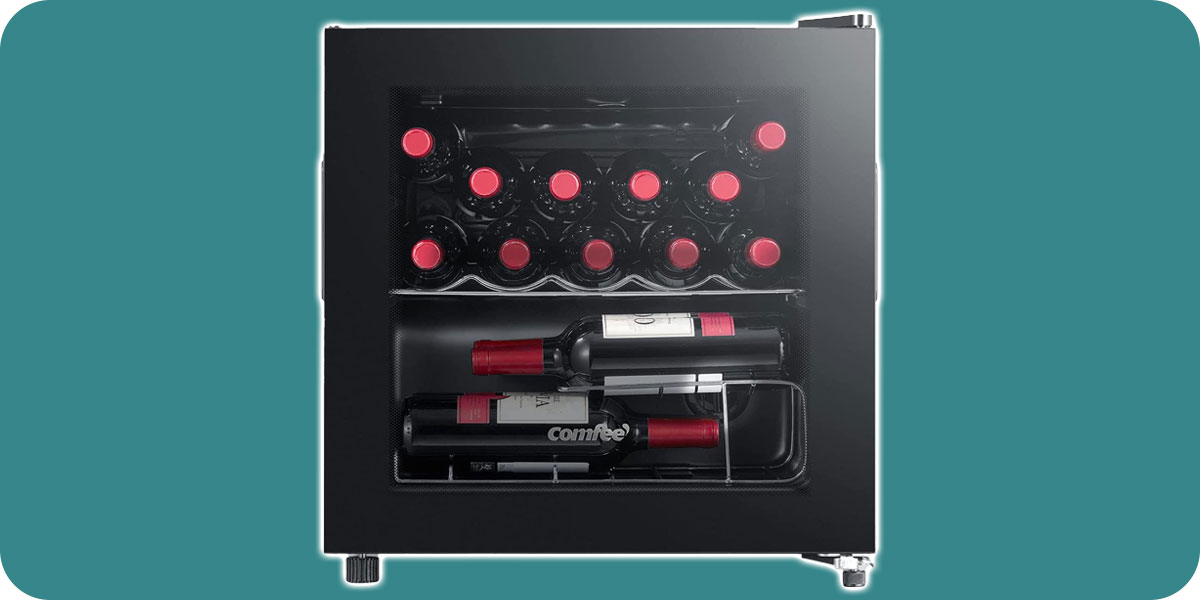 For a slightly more budget-friendly alternative, the ultra compact Comfee Tabletop Wine Cooler is a great option.

Despite its small size, the wine fridge can hold an impressive 14 bottles of wine, and features easy-to-remove wire shelves for more easily storing larger bottles. 
With the mechanical adjustable thermostat allowing the fridge to be set between 5℃ to 18℃, it can be used to store sparkling, red and white wine – or any other tipple you fancy.

And, thanks to its see-through glass doors, you can easily see what wine you have stored without the need to open the door and impact the temperature. 
For ease of use, this wine fridge features a reversible hinge door, which means that the door can be moved to either side for more convenient opening.

It also features easy-to-adjust legs, ensuring the design can be effortlessly steadied on any surface. 
Thanks to being equipped with an advanced compressor and a low energy usage rating, the cooler comes with the added bonus of running quietly and efficiently.
What should I look for in a small wine fridge?
When it comes to how to choose a good wine fridge, there are some key factors that it's worth taking the time to look out for.
Despite the small size of a compact wine fridge, it's a good idea to look for a cooler that offers a good amount of bottle capacity – ideally, you want to look for a fridge that holds more than just a bottle or two. 
It's also good practice to think about the shelving design and how the fridge interior is laid out, in addition to whether any of the internal features – such as the shelving – are removable.

For storing larger or abnormally shaped bottles, removable shelving can come in handy. 
Unless you want a loud fridge that uses a lot of energy, you will also want to look for a model that runs quietly and has a good energy efficiency rating – this is especially important if you plan on running it constantly.
The appearance of the fridge is another important factor, particularly if you plan on displaying it in your kitchen. Look for a design that fits your home's style aesthetic, as well as fitting the space that you have available for it. 
When shopping for a small wine fridge it's important to consider whether your needs could be better met by a countertop wine fridge, under counter wine cooler, or a built-in wine fridge.

What option you choose should depend on the available space that you have accessible to you. 
If you share your home with children, you might also want to think about whether or not a wine cooler that features safety features, like safety glass and child locks could be a good option.
The temperature range the cooler covers is also something to take into account before you buy.

Ideally, you want to select a fridge design that offers the appropriate level of chilling for all of your favourite wines – whether you're a red, white or sparkling wine drinker. 
How much should I spend on a wine fridge?
Wine fridges can range in price from just over £100 to a few hundred pounds – or sometimes even more.

However, the price of a wine fridge doesn't always dictate its quality – believe it or not, there are lots of really impressive smaller sized wine fridges available at budget-friendly prices.