Following on from the success of the Ninja Woodfire Smoker Grill Ninja has just announced a new outdoor smoker oven that can cook Meat, Pizza, and a whole lot more.
Is the Woodfire Outdoor Oven Worth it?
100%! If you love food, pizza's and smoked meat! SQUIRREL_TEXT_12950841
We will be testing the oven when it finally gets released but we've added what we know about the oven so far and made some assumptions on how good it will be based on our use of the Woodfire Grill.
Just Launched in the UK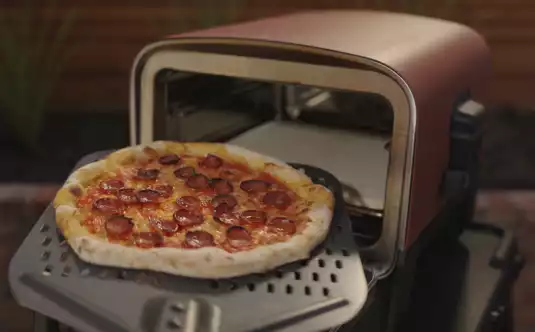 We earn a commission if you make a purchase, at no additional cost to you.
Smoked Pizza
I think pizza cooked in a wood oven gives the best taste. The new Ninja Smoker oven allows you to add hardwood pellets to the oven giving it that wood base flavour without the need for an actual fire.
We see this on the Woodfire grill and we were surprised how much smoke flavour it actually gives the meat that you cook on it so we're expecting amazing things from the Pizza function.
Ninja claims you will be able to make a wood fire flavour pizza in 2 minutes. With a top temperature in the oven of 700 degrees Fahrenheit. It does take some time to heat up on the pre-heat but when it's there you can imagine the pizza will be pretty quick to cook.
We've found the cheapest price online so you don't have to, see below
SQUIRREL_12950841
Smoke from low to high temperature
If you are into your meat smoking you will know that some meats are best cooked at a low temperature but for a long time. Referred to as low and slow. Meats such as pulled pork come out incredibly well when cooked longer at a lower temperature.
So the ability to cook from 100 degrees Fahrenheit to 700 degrees Fahrenheit gives you the cooking function of a big pellet grill like the Traegers.