Should you buy one?
Yes, find out the best price below: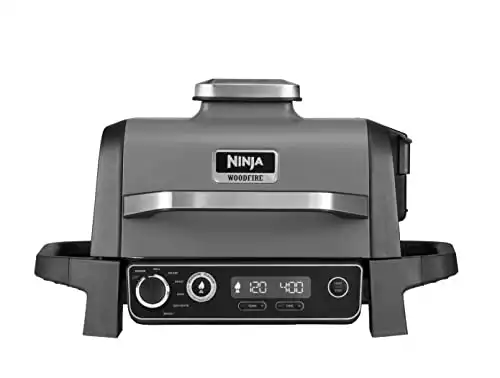 Pros
Build Quality
It's a portable meat smoker
An amazing number of cooking options
Not too heavy to move around and travel with
Fully Waterproof so perfect for outdoor cooking
Cons
Price – It's not the cheapest bit of kit
Power Switch is a faff to get to, behind the dial and screen
Weird plug with a reset and test button on it
First Impressions
As an avid meat smoker I was really looking forward to seeing this new piece of kit from Ninja. I was a little apprehensive though as my day to day smoker is the Traeger 780 pro and I wondered how a unit at this size would be able to compete.

I didn't do much research into the smoker before it arrived and I have to say I was pretty happy when I unpacked it. The amount of cooking functions on it means I might be able to throw a couple of other cooking utensils out and clear some cupboard space.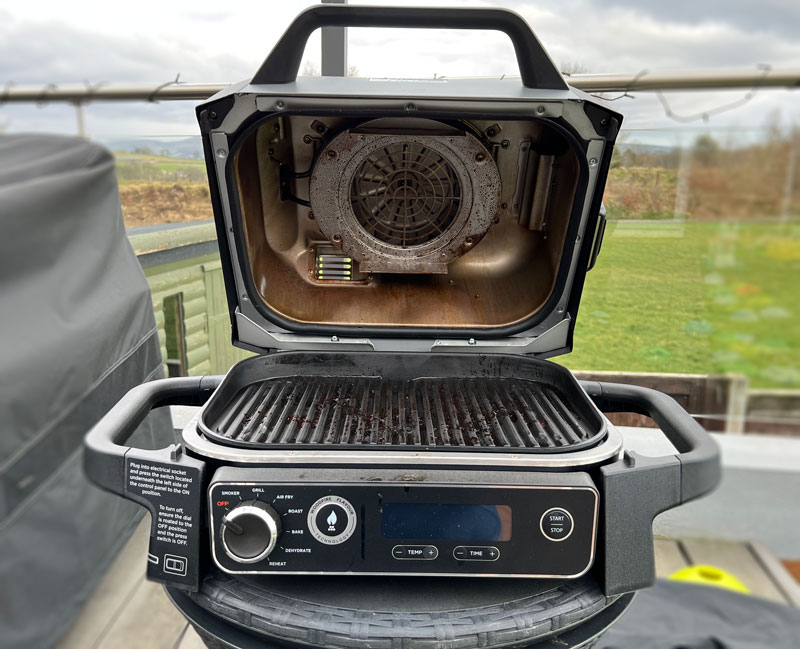 The functions are incredible;
Smoker
Grill
Air Fryer
Roast
Bake
Dehydrate
Reheat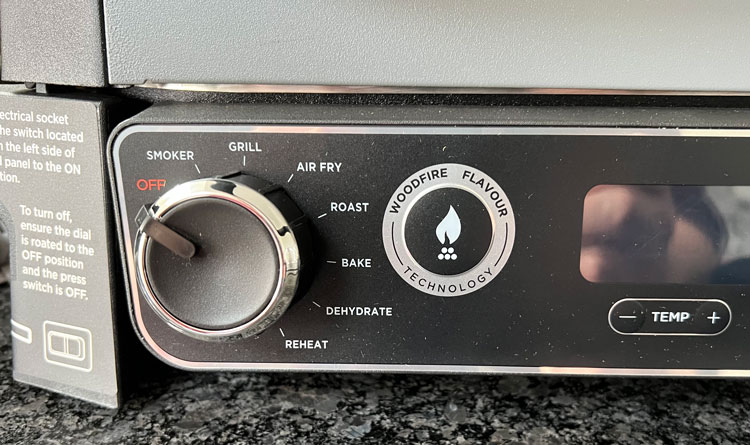 Above is the picture from our first smoked cook on the unit. We just put a medium chicken on using the smoker function. Using the fantastic Meater Plus probe to help with the cook the Chicken actually turned out really nicely done and the pellets that came with the unit gave the meat a fantastic smoked taste.

Although I did fall foul of the temperature being in Celsuis and not Fahrenheit (like the set-up I have on the Traeger) when I cooked it so it did cook way faster than I would have liked it too.
Table of Contents
What comes in the box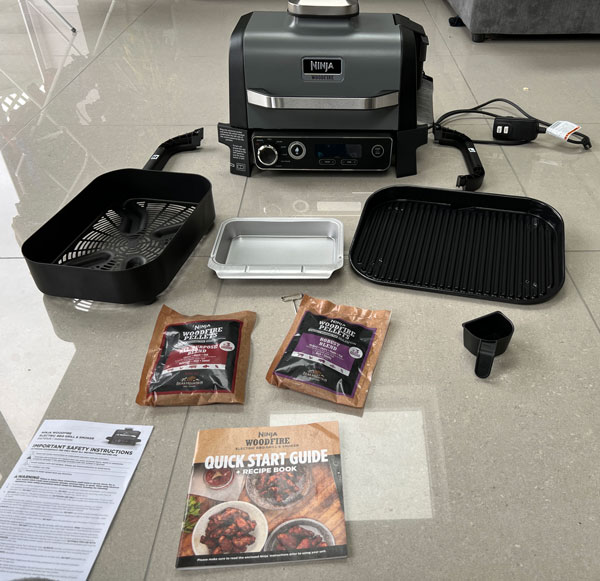 Grill Plate
Cook and Crisp Basket
Removable Woodfire Smoke Box
Grease Tray
Pellet Scoop
Sample Ninja Robust Pellets
Sample Ninja Pellets All-Purpose
Quick Start Guide with some good recipes and a great guide to most foods in the back of it
Easy to set-up?
Pleasantly surprised at how easy this grill was to set-up. A few screws for the arms and it was done. Having set-up a few other pellet smokers in the past I think this is a big bonus for the Nonja Woodfire.
What is the Woodfire Electric BBQ used for?
The Ninja Woodfire Electric BBQ Grill & Smoker is a flexible cooking appliance.

It can grill, smoke, air fry and more, while providing authentic Woodfire flavours.

Powered by electricity, making it easy to use without the hassle of traditional BBQs.
The grill function allows for the searing and chargrilled finishes of a traditional BBQ, without the mess, and can cook a variety of foods, including thick cuts of meat and vegetables.

The removable smoker box burns natural wood pellets and circulates heat and smoke evenly around the food for rich, fully developed woodfire flavours.
With the outdoor air fryer, it's possible to make sides with 75% less fat than deep frying and make quick, easy desserts infused with a burst of smoky Wood flavours. This appliance is a mess-free, hassle-free outdoor cooking solution allowing for the preparation of various dishes while providing the taste of traditional wood-fired cooking.
SQUIRREL_TEXT_12872460
Specifications
| | |
| --- | --- |
| Height | 34 CM |
| Width | 58.5 CM |
| Weight | 13.6 KG |
| Grill Grate Size | 25 CM x 25.5 CM |
| Cooking Surface | 360 Sq CM |
| Power | Electric |
| Temperature Range | 40.5 C to 260 C |
How does the food taste?
We cooked a full chicken using the smoker setting along with the air fryer setting to cook Hash Browns and the grill for some home made burgers.

The chicken smelt and tasted so good I didn't have enough time to get a photo of it complete before the kids had been at it as you can see below.

My kids can be fussy eaters so I'd say that means it scored a 5/5 for smoking a chicken!haha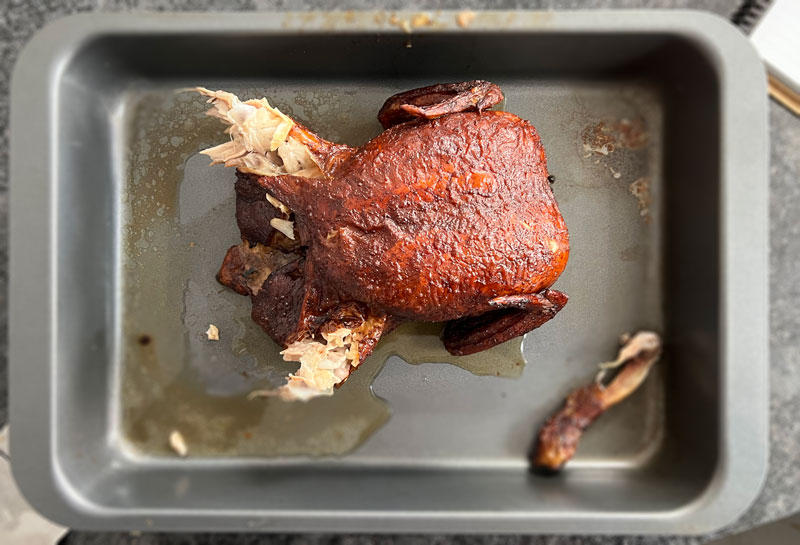 Top features of the Ninja Woodfire
Portable Smoker
If like me you have a passion for smoking food, a portable smoker sounds amazing. I have the Traeger Pro 780 at home and it is fantastic but it's massive.

We love to have a good party and invite every man and his dog round to throw a BBQ and normally have a few pieces of meat smoking overnight. But, we're a medium-sized family and to be honest, firing the Traeger up to cook some food can seem a bit overkill.

With the Ninja Woodfire the ability to smoke a full chicken or a roast joint seems is a perfect solution.
BBQ Grill
When you're looking for an authentic BBQ taste but don't have the time or the inclination to fire up the charcoal pit the Electric BBQ is a great solution.

Just plug it in, stick the burgers on and close the lid. It'll cook your food for you relatively hands off and gives you the BBQ flavour you're looking for.
Outdoor Air Frying
It's no secret that Air Frying has seen significant growth in interest over the past few years. No brand has done more for this popularity growth than Ninja either.

Products like the Air Fryer Max AF160 help to keep the trend line heading higher.

The Ninja Smoker is rated to IPX4, meaning it is protected from splashing water, no matter the direction. The same as the Traeger range of Smokers.

It does mean you can smoke food to your heart's content in the UK or other countries where rain can suddenly appear.
Where to buy ninja woodfire grill
It's out of stock pretty often on the Ninja UK site but we have a great tool that scours the internet to find where products are in stock and also the best price. We've added the list below: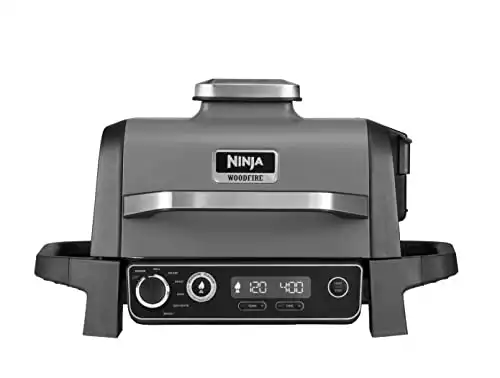 SQUIRREL_TEXT_12872460
Frustrations with the Ninja Smoker
I have one frustration that I have discovered so far and that is with getting the unit turned on.

The first frustration is that you they have added a main on/off switch but its buried right behind the screen and dial unit on the front. It's a right ballache getting your hand behind and switching it on and off. I understand it is a high voltage piece of kit but seems a bit of a design flaw to have put the switch in such an awkward position.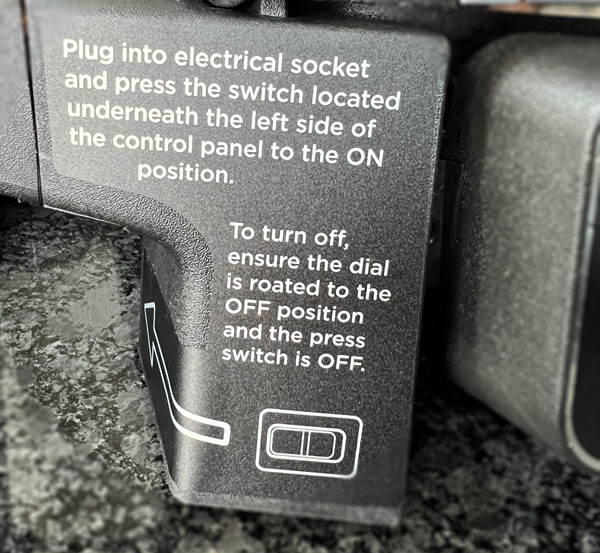 The second is the plug itself. It has 2 buttons on it that says "reset" and "test"? Makes no sense. And the other thing is, so far I have had to click the reset button on the plug socket to get the unit to fire up. Again, another strange power decision in my book.
Is the ninja woodfire grill electric
Yes, the Ninja Woodfire Grill uses electric to power the appliance.
The smoke flavour comes from the Hardwood pellets you add in the side of the unit and not from the fuel.
Can you use a ninja grill as a smoker
No, but the new Ninja Woodfire Smoker allows you to smoke meat. Read our review.
Can you smoke a brisket in a ninja woodfire grill
In theory you can but the unit isn't designed for such long cooks.
From the experience we have so far we'd say the maximum we would cook on the unit would be around 4 hours.
It also says you should only refill the pellet box twice which means there just won't be enough to cook and flavour a brisket when cooked over 14-16 hours. Stick with a Traeger for the Brisket
Ninja Smoker vs Traeger?
I think the Ninja Smoker has a place but I would not switch it out for my Traeger.
The size makes it perfect for a camping trip or quick food with the family but for real slow-cooked perfection it has to be the Traeger.