Many people don't have the time in the morning to make their own coffee. Owning a pod coffee machine is like installing a huge shortcut into your kitchen; all you have to do is place in the coffee pod of your choosing, whether that's to create an americano, a cappuccino or even a latte, and let the machine do the magic.
In only a few minutes and the press of a button, a coffee will be made.
If you don't want to be faffing around in the morning trying to froth your milk, getting your temperature just right and then pouring your espresso, then an efficient pod coffee machine is best for you – many of these machines make coffee much easier and to the same standard, if not better.

What is a pod coffee machine?
Pod coffee machines are a great time saver when it comes to making your own coffee. 

Pod coffee machines are usually built around the same function; first placing in the pod, then pressing a button and finally, hot water is pumped through the pod from the machine to make your coffee. 

The great thing is, you don't have to watch it! You can simply go off and do other things, then come back when the coffee is poured and is at the perfect temperature for you.
Our recommended Pod Coffee Machines
What should I look for in a pod coffee machine?
Whilst most coffee pod machines are built with a similar function – all you have to do is press a button – some coffee pod machines do offer certain advanced features.

Pod coffee machines offer a huge array of different coffees to choose from, but there is also the price range to consider.

The main aspects of a pod coffee machine that you want to see before purchase is ease of use, capacity, speed, pod availability and the overall aesthetics.
Ease of Use
All pod coffee machines are designed with the intention of being super easy to use. The only task which is remotely strenuous is filling the water tank up, which only has to be done every now and again.
When it comes to making a coffee, all that needs to be done is to insert the coffee pod, press the go button and your coffee will be made, just like that.
Capacity
The usual rule of thumb with a pod coffee machine is that one single pod will make one cup of coffee. However, it does also depend on the size of the cup in question.
If you typically make a small cup of coffee, then you may be able to make two cups of coffee out of one pod.
Speed
Pod coffee machines are perfect when you're in a rush because the taller, larger cups of coffee only take around 45 seconds to brew, so no matter the amount of break time when working from home, it'll be perfect to optimise your time efficiently.
The timing of brewing does vary between coffee machines, so it is best to check specifics in the manufacturers guide.
Pod Availability
Depending on the pod coffee machine you choose, there will be varying amounts of drinks available to you.
With some of the cheaper machines that don't have a component or pod for milk, only your standard coffees, like an americano or a black coffee, can be produced.
The more expensive machines which do have the milk add ons will be able to professionally produce a wide range of drinks, such as cappuccinos and lattes, whilst still being able to do americano and black coffees.
Aesthetics
Compared to other coffee machines, the pod coffee machines are much neater and more sleek, meaning they fit almost perfectly into any kitchen whilst simultaneously taking up less space.
Coffee pod machines come in a wide range of different colours which allow for them to match the style of your kitchen perfectly.
What to consider when buying a pod coffee machine
What you want from your coffee machine and what you should consider are two entirely different things. The things to consider before you purchase a pod coffee machine are:
The amount of coffee you drink;
How many pods you will be using on a weekly basis;
How much your coffee drinking habits will set you back on a weekly basis, with the price of the compatible coffee pods to your machine;
Whether the quality of each cup produced will meet your expectations and standards.
How many pods you will use
With the rule of thumb that one coffee pod creates one cup of coffee still in place, then it is simple to work out how many pods you may use in a week.
If you simply only have coffee in the morning for a boost, for example, then that's 7 pods you'll need for the week. A very rough price average is around £20 for 80 capsules, which will produce you 80 cups of coffee.
Compare this price to Starbucks or Costa prices, and you're saving a fortune. At Starbucks, an average coffee will cost £4, which for 80 coffees will cost you £320 on an average.
So in total, this will save you £300 which you could use to treat yourself to a nice weekend away!
How expensive the compatible pods are
It depends on what machine you have, but it seems that, on average, you can get 80 capsules no matter the type for around £20.
One of the most common brands chosen is Tassimo, which you can get 80 Latte Macchiato Capsules for around £22.
How important coffee quality is to you
When it comes to making a quality cup of coffee, it highly depends on the pods you use and your personal taste preferences.
Some people really love the pod coffees, and you can even get branded pods from places like Costa or company's like Cadbury's.
Types of Pod Coffee Machines
There are three main types of pod coffee machines: ones that use capsules, ones that use espresso methods and ones that hold large pods.
The third type, using larger pods, holds 2 grams more of coffee, meaning that the coffee from the pods have much more taste as they are more full-bodied.
As well as this, they are more environmentally friendly as they can be easily recycled.
Each type of coffee pod machine comes down to your preferences.
Capsule Coffee Machine
Capsule coffee machines use the same concept as pod machines, but instead have a vacuum sealed capsule which ensures great hygiene as external elements are taken out such as oxygen, humidity and heat.
Capsules also allow for all types of coffees to be made, like lattes, flat whites and cappuccinos.
Espresso
There are also Easy Serving Espresso pod machines available, which are advertised as 44mm ESE pods.
These ESE pods can be used in manual espresso machines that have a compatible filter basket.
Top rated pod coffee machines
We've compiled a list of our favourite pod based coffee machines, based on different stand-out factors:
Best for top specifications

Our top recommendation for a high-spec, high-performance pod based coffee machine is the Lavazza A Modo Mio Voicy.
This pod coffee machine is extremely smart, with built in Alexa and smart home control features.

Save even more time by asking your smart home device, like Alexa, to pour you a coffee in the morning!
You can even set up your espresso pour length, strength and water temperature settings via an app, ensuring that you are making the perfect cup every time.
Best for price

The best budget friendly pod machine out there at the moment is the DeLonghi Nescafé Dolce Gusto Infinissima.
This machine is really simple to use and uses the Dolce Gusto coffee pods which we often see discounted online, in supermarkets and are sometimes available for cheap in bulk.
Best for aesthetics

The Grind x Nespresso One Pod Coffee Machine is our, and many others, top choice for the best looking pod coffee machine. This sleek, classic Italian coffee house-inspired machine would look incredible on the countertop in most kitchens.

If you're looking for that really clear, classic coffee shop style machine, the Grind One Pod is a great choice.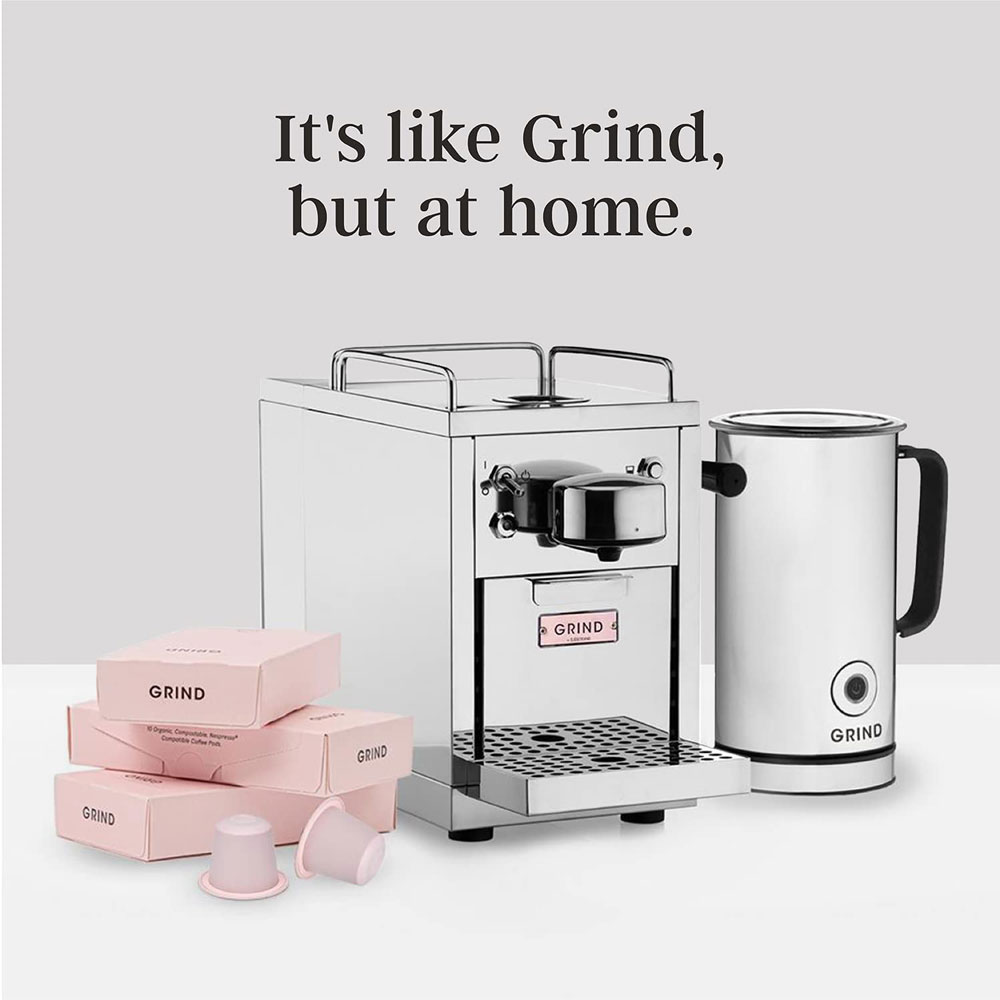 Best for espresso capsules

If you're an espresso drinker, or are happy to add your own milk to your coffee and want a machine that focuses on pouring high quality coffee shots, the Nespresso Vertuo Next Coffee Machine is for you.
This machine pulls great espresso shots through small capsules and there is a wide range to choose from, so even through espresso-only shots, you can try many different flavours, intensities and acidities.
Best for on-the-go
Sometimes, real coffee lovers want their favourite capsule espresso wherever they are. Luckily, the Wacaco Minipresso Portable Espresso Machine exists, and it's a brilliant little gadget.
This handheld pod espresso machine is compatible with the Nespresso original capsules – you simply pop a pod in, adjust your settings and press a button to essentially 'squeeze' out the espresso into a cup!
This nifty bit of kit is great for long drives, camping trips and even on holidays!