Unless you've worked in a coffee shop, most people will need a little practice using at home barista coffee machines. This is nothing to worry about though; once you've got the hang of it, you'll feel like a pro.
There are many different machines to choose from, including models that are extremely beginner friendly, as well as ones which are ideal for professional baristas. 
What coffee machines do baristas use in coffee shops?
Baristas will typically use traditional espresso machines in coffee shops. These machines are much bigger than the type of machines that are used for home use, and they will feature two or three more group heads than household espresso machines.
Baristas must keep up with a high demand of coffee throughout the day, which is why the machines are bigger.
What coffee machines do baristas use at home?
At home, baristas may use a smaller scale espresso machine, usually with one group head. Since baristas are already trained at using commercial espresso machines, it can be easy for them to adapt to what is known as a "home barista coffee machine".
Alongside an espresso machine at home, baristas may also have a stand alone bean grinder, as well as other separate tools to make the same great tasting coffee from their cafe.
How do I know which home coffee machine is right for me?
Whilst most at home coffee machines come with similar functions, some machines are more advanced than others; so, the type of machine you look for will really depend on your skill level.
There are a few main factors you will need to consider in order to determine what coffee machine is right for you.
Ease of use
Some at home espresso machines can be tricky to master, so if you're just starting out in your barista career, or you simply aspire to be an at home barista, you should look for a more simple machine. 
Many beginner friendly machines come with built-in bean grinders and basic settings for brewing coffee and frothing milk. 
Such as the Siemens EQ.300 or the Delonghi Eletta. Both machines have this function, click a button and drink!
Capacity
Most at-home espresso machines can cope with one or two espresso shots at once, but if you're looking to produce more than this, you will need to bear it in mind when shopping for your machine.
If you want to make multiple coffees at once, consider looking for a bigger machine that has multiple group heads.
Aesthetics
If you work in a coffee shop and you want to have the same aesthetic in your home, there are lots of industrial style options on the market to choose from.
Alternatively, if you would rather stray away from this look, there are a wide variety of makes and models that are reasonably priced to match your own style.
Best home barista coffee machines
Best for beginner baristas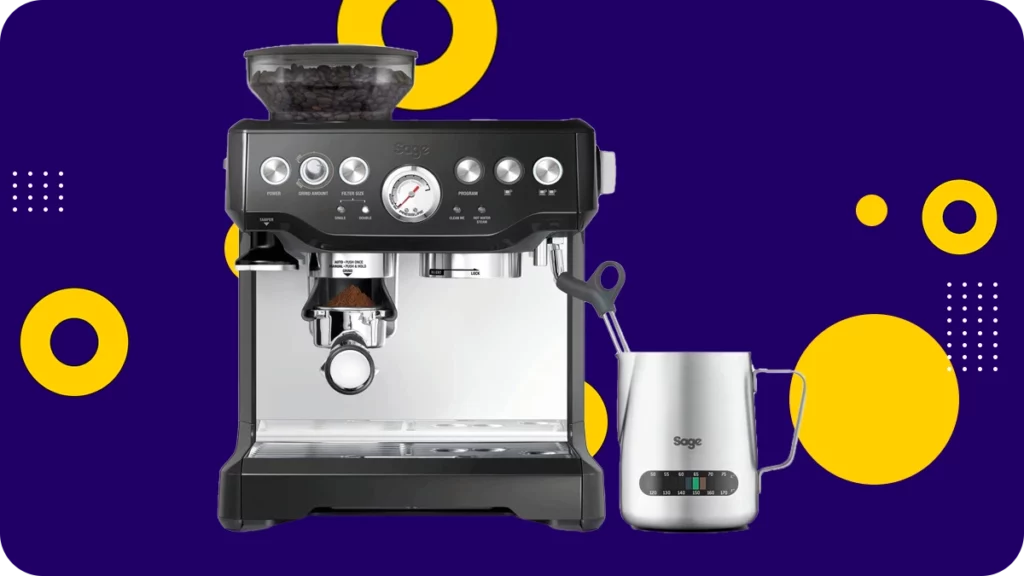 The Sage Barista Express Espresso Machine is a great industrial looking coffee machine that is ideal for home barista use. 
It features an integrated bean grinder to go from beans-to-espresso in under one minute. It delivers the perfect amount of coffee grounds straight into the portafilter, making it ideal for beginner baristas.  
Best for intermediate baristas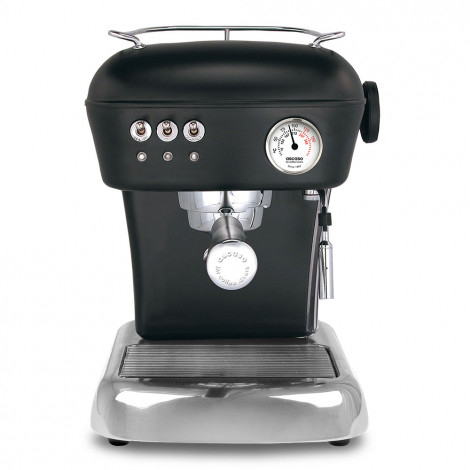 The Ascaso Dream Dark Black Coffee Machine is ideal for those who have some experience working with coffee machines.  
It features various filters for you to choose from, allowing you to fully customise your coffee, as well as a manual steam wand allowing you to easily prepare the perfect milk foam. 
Best for expert baristas
La Pavoni's Domus Bar Coffee Machine is a professional stainless steel machine, perfect for fully trained baristas.
It features a professional brass boiler with three different thermostats for milk, water and steam. It also features various grind settings, as well as a professional steam wand to create the perfect texture of milk.