The Quick Verdict
This is an excellent reasonably priced coffee machine with a great selection of coffee choices. Fantastic functionalities and extremely easy to set up, use and maintain.

A must have appliance to enjoy in your kitchen. Overall Rating: 4/5 stars
Pros
Good sized water tank
Works quickly and efficiently
Great coffee selection
Easy to use
Trouble free set up
Effortless cleaning
Excellent Milk frothing function
Coffee in one touch
The Siemens EQ300 Coffee Machine
This siemens coffee machine is quick, sleek, well designed and very easy to use, with an added bonus of a removable brewing unit which makes cleaning this machine a breeze. 

The iAroma system creates excellent smooth coffee with great grinding results reflecting on the richness of the coffee. 

This bean to cup coffee machine is a one touch device – all you need to do is place your cup and choose from a selection of coffees: Espresso, Caffe Crema, Cappuccino and Latte Macchiato.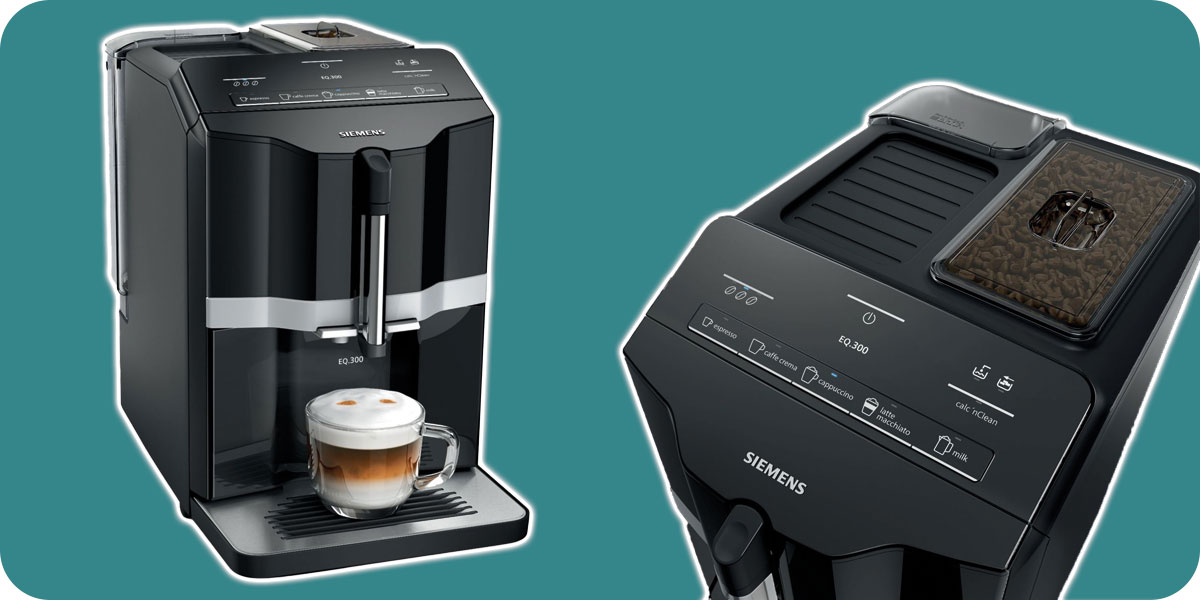 Design and Features of the Siemens eq300
The feature of the one Touch Function makes this machine very easy to use.
The ceramDrive is a great grinder it extracts stronger aromas and intense flavours from the coffee beans.
iAroma System produces creamy, smooth coffees.
Optional bean strength for those harder mornings.
The Siemens coffee machine is effectively a single-serve machine. It is really well designed, easy to function and looks really good on your kitchen worktop. 
Cleaning a Siemens eq300 coffee machine
The Siemens eq300 has a removable brewing unit which takes the hassle out of cleaning – this is easily removed, you just rinse under running water and then replace, ensuring a consistent, great tasting coffee and prolonging the lifespan of the machine.
I recommend descaling this machine around every 6 weeks to keep your appliance in tiptop condition. Using the calc'n clean function built into the machine makes descaling a less challenging chore.
This takes around 40 minutes with very minimal effort, then your machine is ready to start producing fresh top quality coffee once again.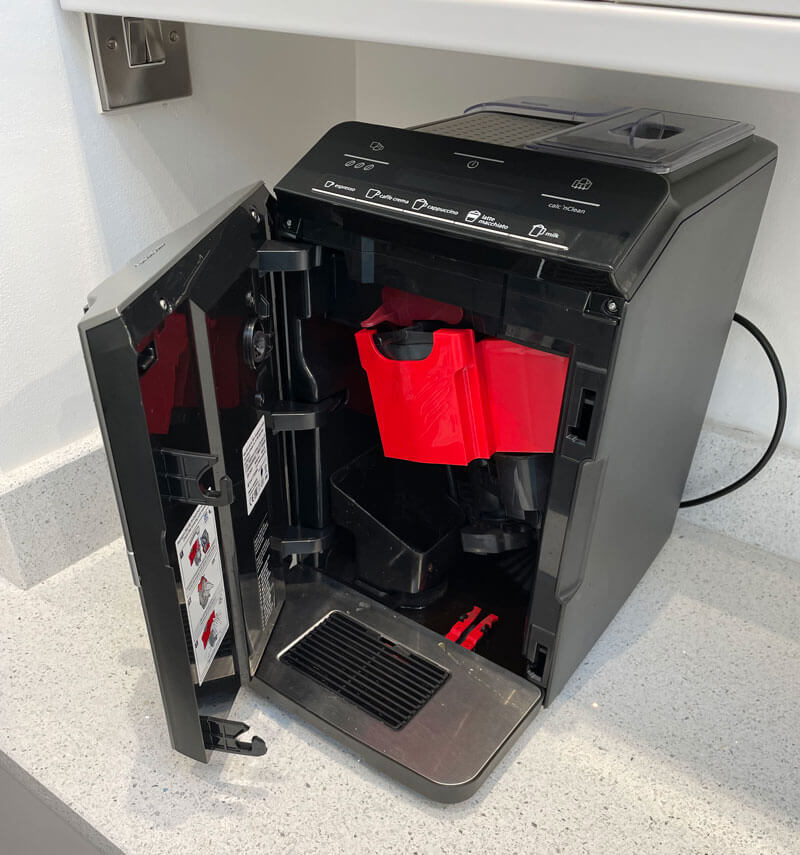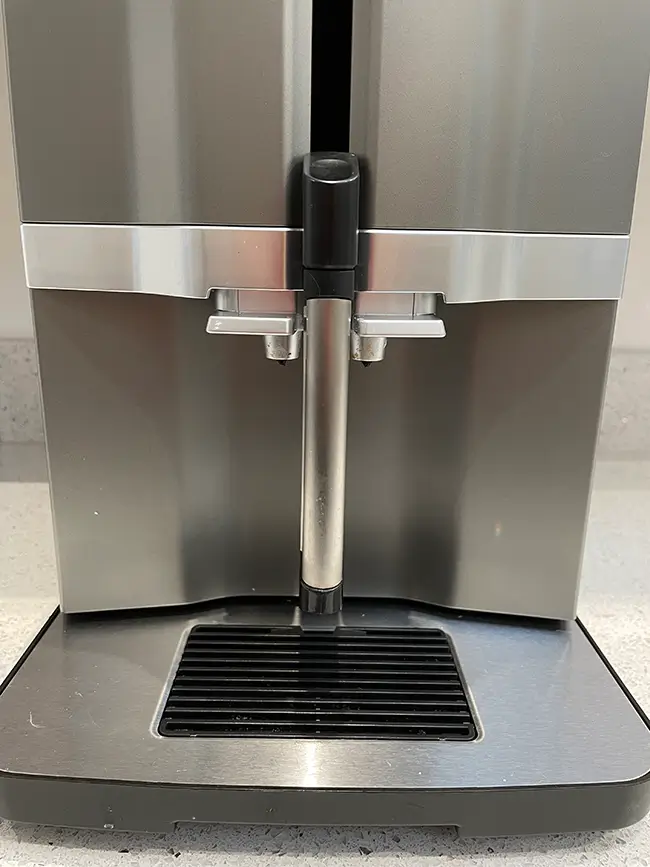 Milk Froth Function
The milk frother function is a great tool, it preheats the milk to your desired temperature whilst frothing into a smooth consistency, making extremely creamy Caffe Crema.
The frothing tool makes no mess in comparison to other frothing tools. With a touch of a button, this tool heats the milk to the temperature you prefer, which saves time and energy pre-warming in a microwave.
Specifications of the Siemens eq300 Coffee Machine
 Colours

 Silver, Black and Silver

Water Tank Capacity

 1.4 Litres

 Features

 oneTouch Function

 ceramDrive

 iAroma System

 Dimensions (WxHxD)

 25.1 x 38.3 x 43.3 cm

 Guarantee Period

 2 Years
Bean Container – Capacity 250 grams
Depending on the coffee type and strength which is desired, this machine will make around 14 cups of coffee before it needs replenishing. 

If you prefer a stronger, more aromatic coffee, then it would produce around 7 cups – more than enough to keep you going for a few days!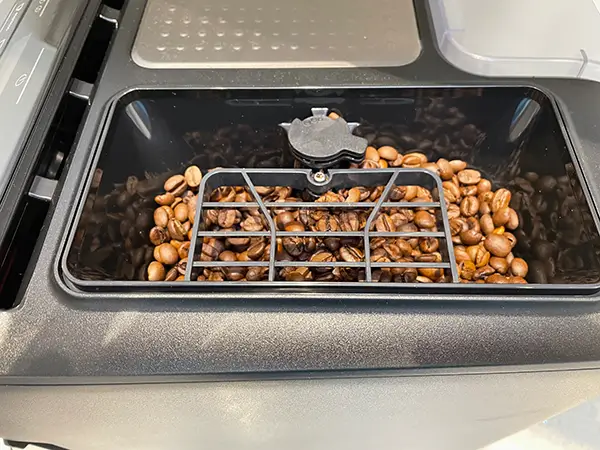 A Quick Overview of the Siemens eq300 Coffee Machine
Siemens have gone all out with this coffee machine, it's quick, easy on the eye and affordable. It also makes outstanding quality coffee in a matter of minutes.
Overall, this machine would be a fantastic addition to any kitchen, delivering coffee shop quality beverages, enjoyed in the comfort of your own home.
My rating of 4.5 out of 5 was given for this machine after testing this for 2 months at home. As a new family gadget, we all loved it and rated it the same; so much so, we now have one ourselves.
Frequently Asked Questions about the Siemens eq300 Coffee Machine
Why buy a Siemens Coffee Machine EQ300?
Affordable, easy to use, produces excellent rich aromatic coffee, easy to maintain and looks great on your kitchen worktops.
How many servings of coffee can I brew with a full water tank?
This will depend on your coffee choice.
An Espresso you will get around 45 cups from this tank, other coffee selections will serve around 6 cups.
What does 'Bean to Cup Coffee Machine' mean?
Bean to cup coffee machines describe the process of coffee making – the machine will grind the coffee beans, dispense the water, froth and heat the milk, all at the touch of a button.
Can you use regular beans in an Espresso Coffee Machine?
Yes, you can use regular beans in an Espresso Coffee Machine.
A dark roasted bean is recommended to achieve the best results for an Espresso shot.
These beans are rich in oils and more soluble, contributing to an excellent full bodied, intense, aromatic Espresso.
How quick is it to make coffee?
This machine has a variety of coffee selections: an Espresso takes 1 minute from bean to cup, whilst a Caffe Crema can take 1 minute 45 seconds depending on the milk frothing preference.
Why do I need to descale my coffee machine?
Descaling your coffee machine is key to maintaining the quality of your coffee and contributes to the lifespan of your appliance.