Verdict – 4* Excellent coffee machine producing an array of speciality coffees.
The Siemens coffee machine is stylish, affordable and simple to use, with advanced features of a colour touchscreen and built in milk frother, this machine will do everything at the touch of a button.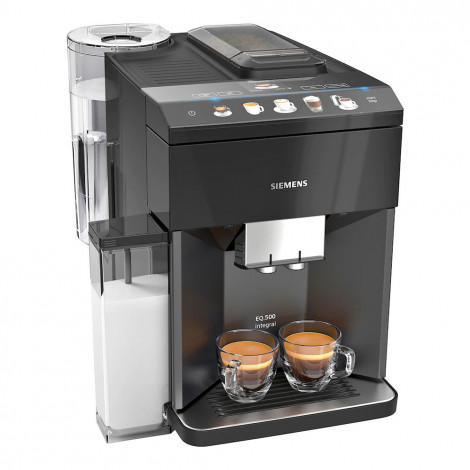 | | |
| --- | --- |
| Pros | Cons |
| Automated milk frother | Coffee isn't boiling hot |
| Excellent coffee choice | |
| Extremely easy to set up | |
| Large water tank capacity | |
| Easy setup | |
| Easy to clean and maintain | |
| Double shot function | |
| One touch double cup | |
Introduction
This coffee machine is very impressive. Its functionalities are excellent and produces extremely good barista style coffee very easily with little effort. It's a little pricey, which could deter people from buying this machine. This machine is definitely worth the price if you enjoy good quality coffee and your budget can stretch.
The bean to cup coffee machine has One Touch Double Cup Function preparing either Cappuccino or latte macchiato for two at the same time, saving plenty of time when you are entertaining friends.
The Aromadouble shot function is by far the best feature for me on this machine. Being a strong coffee drinker, this certainly ticks all the boxes – it's smooth and aromatic, the automatic process ensures no unpleasant bitterness in the beverage.
Design and Features of the Siemens EQ 500 Coffee Machine
The feature of the Colour touchscreen makes using this machine effortless, no complicated instructions, just a press of a button.
7 Beverage choice is excellent for the days when a flat white, just isn't enough. This machine prepares Espresso, Black Coffee, Cappuccino, Latte Macchiato, Flat white and Americano all with one touch. The choice is endless.
iAroma system creates beautiful smooth coffee with no bitter aftertaste.
The ceramic grinder mildly grinds the coffee beans creating an even consistency preserving the coffee's taste and quality.
The Automatic milk system is a fantastic feature on this machine, the integrated container can be stored in a fridge when not in use. This has a built-in autoMilk cleaning feature, automatically rinsing the milk container after each milk based beverage, eliminating the cleaning after every use. Less time spent on cleaning, more on drinking coffee.
How to clean a Siemens EQ 500 Coffee Machine
The Siemens EQ500 is very easy to clean and maintain, the functions of the Calc n Clean and the autoMilk cleaning feature makes cleaning this machine minimal.
The only necessary cleaning required involving any effort would be empting the drip and the coffee dregs containers.
Here a very simple process I've outlined how below:
Open the door.
Pull out the drip plate and coffee dregs container.
Remove and clean the drip plate.
Empty and clean the drip tray and the coffee dregs container.
Clean the machine interior and the drip tray holder.
Removal the mechanical fill indicator and clean with a damp cloth.
Insert the drip plate,dregs container and mechanical fill indicator into the machine.
Close the door.
Tip – Repeating this process at the end of day will keep your machine in great condition contributing to a longer life span.
How often should I clean my Coffee Machine?
Keeping on top of cleaning your coffee machine will prolong the lifespan of your appliance.
Emptying drip and dregs tray daily and quarterly descaling will all contribute to the efficiency and effectiveness of your machine.
I recommend cleaning your brewing unit monthly, this is a simple process, just remove the brewing unit, rinse under warm water and allow it to dry, and wipe the interior of your machine, removing any coffee residue.
How to descale Siemens EQ 500 Coffee Machine
The EQ500 has a built-in descaling function, making descaling this machine effortless.
Just a few supplies are needed to assist in descaling:
Let's get cracking…
Activate the 'calc'n clean' program
Empty and clean the drip tray – replace when finished
Dissolve the descale tablet in 0.5L of water
When the tablet is dissolved pour the water in the tank
Place the 1L container under the coffee nozzle.
How to set up Siemens EQ 500 TQ505R09 Coffee Machine
I would firstly recommend familiarising yourself with the machine first; there is minimal effort required in setting up this appliance. Before using the machine, I recommend cleaning the appliance and the parts.
Perform the initial start-up
After connecting your appliance for the first time, the automatic language selection and water hardness will display.
Setting the language
Press to switch on the machine.
The list of languages will be displayed.
Press to find your preferred language.
Press ok.
Your language preference is now set, you can change the language at any time by going to the menu section.
Setting the water hardness
It is important to set the water hardness correctly, the machine will then indicate when this will need descaling. Included with these machines is a water test strip for you to test your water hardness.
Dip the test strip in fresh tap water.
Allow the water to drip off the strip.
Leave the test strip for 1 minute.
Using the test strip indication of water hardness.
Press until the display shows your desired water.
Press ok
Check the bean container has been filled.
Press ok.
The machine now will go through a rinse cycle. The display will illuminate with the beverage selection when the machine is ready to use.
Tip – You can change the water hardness and anytime by pressing the menu section
How to use a Siemens EQ 500 Coffee Machine
The Siemens EQ500 has been designed to be extremely easy to use with a touch of a button. The colour touchscreen indicates the coffee choices you just press and wait.
For the stronger coffee lovers you can select different strengths, helping with them harder mornings, where a single coffee just isn't enough!
Press the symbol for your preferred beverage.
To select the strength of the coffee, press .
You can select the following coffee strengths: – Mild – Regular – Strong – Very strong – AromaDouble Shot
Tip: For a stronger tasting coffee, select a high coffee strength when setting a large capacity
Functions of the Siemens EQ 500 Coffee Machine
I feel like this machine just keeps on giving. This machine has so many excellent functions, it's hard to pick the best.
Not only does this machine have intuitive control, a touchscreen, built in milk frother, AromaDouble shot you can also use ground coffee too. This is not recommended for dual cup use, nor can you choose the coffee strength.
The milk frother function is a fantastic function, creating frothy, creamy coffee every time. The milk container capacity is a very good size being 0.5L as this is built-in to the machine, there is no requirement for warming the milk or any wands to assist in frothing, this is activated by the touch of a button.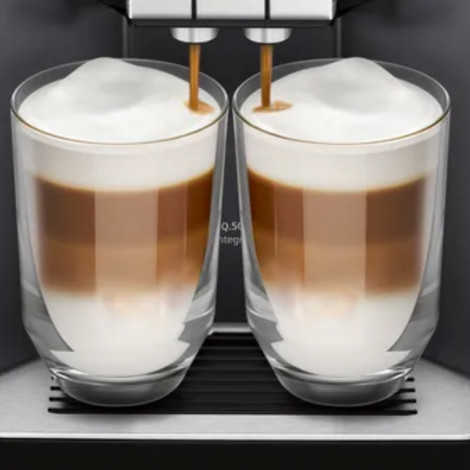 Specifications of the Siemens EQ 500 TQ505R09 coffee machine
| | |
| --- | --- |
| Type | Automatic |
| Warranty | 24 months |
| Milk system | Integrated milk tank |
| Burr type | Ceramic |
| Coffee machines uses | Coffee beans and ground coffee |
| Colour | Black |
| Power | 1500 W |
| Water pump pressure | 15 bar |
| Milk container | 0.5 l |
How does the Siemens EQ 500 coffee machine compare against other brands?
The Siemens EQ 500 is a fantastic coffee machine offering an array of specialty coffees that has some outstanding functionalities, with very minimum effort to operate. Siemens is a really well established company founded in 1847 celebrating being 175 years old.
Siemens is renowned for its ingenuity, innovation and global engagement., which is certainly reflected in the user experience, design and sophistication of this coffee machine.
With all well established brands comes competitors! There is a wide selection of barista style coffee machines on the market, all using modern technology to produce the state of art machines, which are all singing and dancing with a hefty price to pay.
I've compared the Siemens EQ 500 with the Melitta Caffeo Barista TD Smart for around £799 – you can function this coffee machine from a smartphone using bluetooth to create one of its 21 different speciality coffees, whilst this machine is just over £200 more than the EQ500 it has a little bit more to offer!
You can create your own coffee using a manual bean select chamber. This coffee machine has been awarded the quiet mark seal approval, ensuring a less noisy experience whilst preparing your coffee. The Melitta Cafeo barista is a stylish dual coffee machine and offers a wide selection of coffees compared to the EQ500.
Offering smartphone connection is a fantastic addition to this machine, allowing you to make a coffee from literally anywhere. Whilst this coffee machine really stands out to me, so does the price tag, you really do get what you pay for and this machine just wasn't in my budget.
Other models of the Siemens EQ Coffee Machine range
Siemens have been making home electrical appliances since the beginning of the 20th century. Simplifying your day-to-day needs, whilst inspiring a new way of living.
This innovation has been reflected on their coffee machines. These have evolved massively over the years comparing the EQ300 to EQ500; this shows how Siemens ingenuity has improved to simplify machines to make the user experience more enjoyable.
Siemens are successfully making affordable coffee machines, improving every model by listening to the customers needs.
Let's compare….
| | | |
| --- | --- | --- |
| | Siemens EQ300 | Siemens EQ500 |
| Price | £299 * | £469* |
| Cup Capacity | 1 | 2 |
| Water Capacity | 1.4L | 1.7L |
| Bean Capacity | 250 grams | 270 grams |
| Milk Container | No | Built-in 750ml |
| Milk frother | Yes/Nozzle | Yes/Nozzle |
| Coffee uses | Coffee beans | Coffee Beans/Ground coffee |
| Display Type | Push buttons | Touch buttons colour display |
| Home Connect | No | No |
*This was based on the manufacturers price in December 2022
You can read our full review on the Siemens EQ300 Coffee Machine for more information.
A quick overview of the Siemens EQ 500 Coffee Machine
I gave the Siemens EQ500 a 4* rating based on coffee selection, ease of use and quality. This is by far an excellent coffee machine, producing 2 milk speciality beverages at the same time at the touch of a button.
Compared to most dual coffee machines, this is an extremely good price and the quality of coffee this produces has been very much considered. I just prefer my coffee a little hotter or this machine would have got a 5* from me.
FAQs about the Siemens EQ 500 Coffee Machine
Why buy a Siemens EQ 500 coffee machine?
You should purchase a Siemens EQ500 coffee machine for excellent coffee choices, extremely user friendly, dual coffee making of 2 milk specialty coffees, allowing you to spend more time entertaining and less time making coffee. One touch colour screen is stylish and easy to operate.
Can you use ground coffee in an EQ500?
The Eq500 is designed for both ground and coffee beans, giving you a variety of coffee choices.
Which is better: Siemens EQ300 or EQ500?
Siemens are forever evolving, producing excellent coffee machines for the comfort of your own home. Both machines are equally good, the EQ500 is a dual cup machine with a built-in milk container, which can produce 2 specialty milky coffees at the touch of a button.
The EQ300 is a single cup machine without a milk container but still has a built-in milk frother. You simply have to put your own milk in the cup for a milk based beverage with the EQ300.
Is the EQ500 Home Connect coffee machine?
The EQ500 is easy to use and very stylish, but doesn't have the home connect function. Siemens has the model TQ703GB7 which is a smart bean to cup machine, allowing you to operate your machine from any smart device, making those mornings a little easier.
This wifi enabled feature is certainly a great addition to any coffee machine, simply connect the app and choose your beverage choice through the intuitive app-interface.
Voice control can be added using Alexa or Google Home to your coffee machine with the Home Connect App. Sit back, relax and let the coffee machine work without you!