Both Sebo and Miele are undoubtedly great vacuums; these brands have an aura of quality about them. Anybody purchasing a Sebo or Miele vacuum will understand what I mean. They are by far the most durable and robust vacuums I've ever had the pleasure of using.
Sebo is made from high-grade ABS plastic and has S-Class filtration. Miele comes with powerful two-motor systems and 6-speed suction. Both brands are manufactured in Germany, with an outstanding reputation for engineering quality products.
Table of Contents
About Sebo vacuums
Sebo created the first modern up-right commercial vacuum in 1978 and has since produced domestic and commercial vacuums for 20 countries worldwide.
They are renowned for their quality and stylish, powerful vacuums engineered to be hard-wearing and durable. Slightly on the pricier end of the market for vacuums, but as the saying goes, "Buy Cheap, Buy Twice".
Sebo vacuum cleaners are made to last – this reduces waste, uses fewer resources and can even save a few pennies long-term. What is really impressive about Sebo is the lengths they will go to to ensure that every element of a vacuum's construction makes a minimal impact on the environment.
Sebo's factory is entirely self-sustaining with regard to electricity, and plastic is even recycled into new components.
About Miele vacuums
Miele has been innovating appliances since founded in 1899. They guarantee the highest level of product service life with 100% quality. Miele has been producing top-end vacuums since 1927. They manufacture upright, cordless, robot and cylinder vacuums.
Miele is not continuing with the growth of the upright vacuum and is investing the invention time on the cordless models, which is predominantly the most favoured vacuum throughout most households. I like the thinking there, Miele!
Miele has high standards, which is reflected in their vacuums. They are robust, powerful and engineered to achieve fantastic results. Miele has excellent values concerning sustainability; this is the foundation for its corporate success.
Miele is a member of the UN sustainability organisation and publishes a sustainability report every two years. Miele is dedicated to producing the best products with the least impact on the environment.
What is the difference between Sebo and Miele?
Price is a big difference between these two vacuum cleaners. I've compared the
Miele Boost CX1 cylinder model with the Sebo Airbelt E1 +Boost ePower. Both vacuums are superb in means of quality and functionality.
After comparing and testing these cylinder vacuum cleaners, the Sebo is more reasonably priced and has outstanding value for money.
Both vacuums have a motor power of 890 watts. Equally, they have excellent power. The Sebo Airbelt E1 includes the Kombi floor head and Floor Turbo Brush, which is needed for delicate hard floor types.
The Miele CX1 Turbo Floor brush is not included, but can be purchased separately.  This would essentially mean that without the vacuum brushes, it's not recommended for hard floors. You would need to purchase vacuum brushes.

The Miele CX1 is aesthetically pleasing. It screams style and sophistication compared to the Sebo Airbelt E1, which looks very basic and standard, similar to an average cylinder vacuum. Don't be fooled by looks, though, the Sebo Airbelt is far from the standard regarding features and ticks the affordability box too!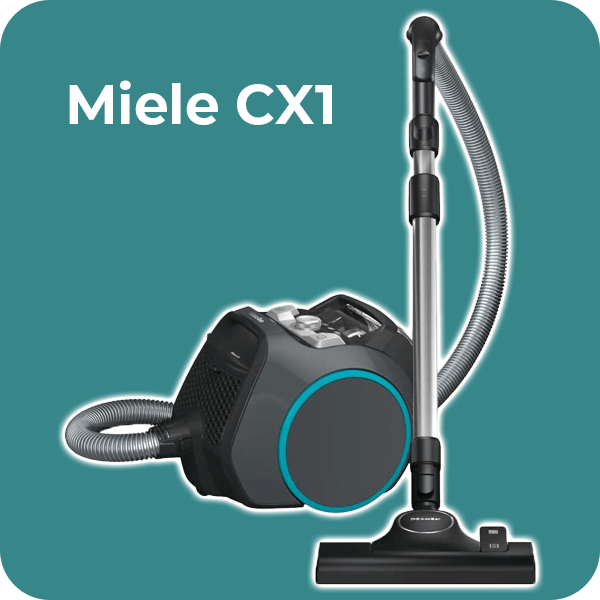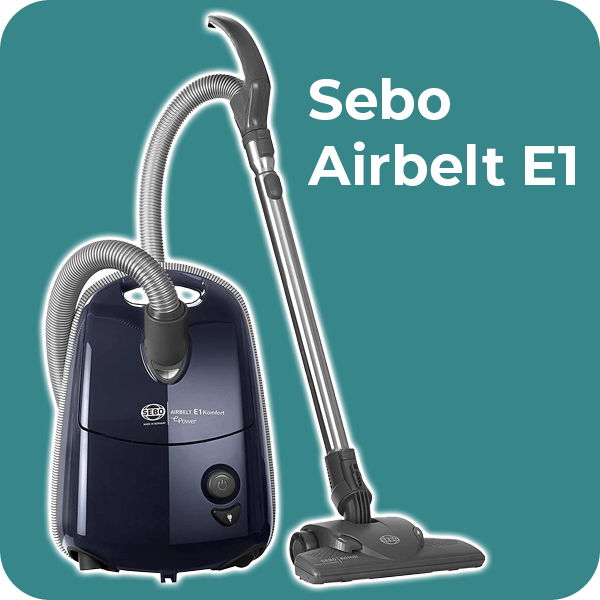 | | |
| --- | --- |
| Miele Boost CX1 | Sebo Airbelt E1 +Boost ePower |
| Motor – 890W | Motor – 890W |
| Hygiene AirClean filter | S-Class Filtration |
| Upholstery nozzle, crevice nozzle and dusting brush | Crevice nozzle & upholstery nozzle |
| Bagless | 3.5 Litre Ultra Bag |
| These can be purchased separately | SEBO KOMBI floor head, SEBO floor turbo brush |
| Product dimensions 59.4 x 37.8 x 31.8 cm; 10.12 Kilograms | Product dimensions – 43 x 23 x 32 cm; 5.3 Kilograms |
| Suitable for hard floors – with Parquet brush head purchased separately | Suitable for hard floors – Includes Sebo Floor Turbo Brush |
| Price – | Price – |
Best features of Sebo vacuums
Sebo's newer models have some fantastic features: S-Class Filtration, clean flat-to-floor and an anti-allergy design with British Allergy Foundation Approval.
The Clean Flat To The Floor is an excellent feature that is ideal for getting under awkward places and relieves the hassle of pulling the furniture out.
The Computer Control System ensures the vacuum brushes are always at the correct height for your carpet – this will help with the life span of your carpets.
Sebo vacuums are recommended for all floor types. They include several floor heads, ideal for delicate, easily scratched floors.
Sebo vacuum cleaners are suitable for many different floor types:
Wool Loop Carpet
Cut Pile Carpet
Hard Floor
Pet hair
Carpet
Stairs and Upholstery
Best feature of Miele vacuums
The Bagless easy to empty cylinder is definitely one of the best features of the Miele vacuum. Its simple one-click emptying process makes life very easy whilst emptying this vacuum, so removing the bag is no tedious chore. Just one click, and it's straight in the bin.
The Telescopic Tube is an excellent feature, assisting with the hard-to-reach areas with ease. The minor detail of a piece of rubber on the tube stops the vacuum from sliding whilst placed against a wall; a very intuitive thought by Miele.
The newer models of the Miele vacuum have an Automatic Self Cleaning Function via sensors. These special sensors automatically activate the ComfortClean as and when needed. The vacuum will switch off for around 20 seconds whilst the self-cleaning function is in operation.
The Self Cleaning function can also be manually activated. Comfort clean guarantees a high cleaning performance.
Sebo vs Miele: The features
Weight
Sebo is renowned for its robust, made-to-last vacuum, which usually means it will be slightly heavier than other brands.
The Sebo Airbelt C1 Boost is one of Sebo's lighter models, weighing only 5.3kg. The Airbelt model is a cylinder vacuum and is lightweight compared to other Sebo vacuums.
One of the heaviest models is the Sebo X7, weighing 7.3kg. This upright model is a powerful, robust, durable vacuum with some excellent features.
Miele is renowned for their innovation; they take pride in the quality and impressive results.
Miele vacuums come in various weights, the lightest model being the Miele Trifles HX2. This cordless model only weighs an astonishing 3.6kg which is very lightweight for a vacuum.
One of the heaviest is Miele Complete C3, a cylinder vacuum weighing 7.3kg, the same weight as the Sebo X7 Model.
Suction
Both Miele and Sebo have excellent suction power – this is one of the best features of these vacuums. The suction and airflow combination is what makes a good vacuum.
The Miele Blizzard CX1 has the right combination and is fantastic on cat and dog hair.
This bagless vacuum has Vortex Technology with a flow rate of more than 100 km/h. Ensuring fine dust can be collected, using separate containers for coarse debris and one for fine dust, achieving fantastic cleaning results.
The Sebo Automatic X7 has a high-performance motor and efficient airflow design. This combination gives outstanding cleaning results and is equally remarkable for cat and dog hair.
Choosing the right vacuum to suit all your households need can be overwhelming. I've compiled a guide to the best Sebo Vacuum for pet hair to help!
Filtration
Choosing the right vacuum with good filtration is essential. Filtration is the method used to separate debris and dust from the airflow, creating clean air and trapping dust.
The Sebo X7 has built-in S-Class filtration and a telescopic hose system, assisting with airflow and ensuring optimum cleaning results. The X7 has three-layer bags to trap dust particles.
Manoeuvrability
The Sebo Felix pet is undoubtedly the best vacuum cleaner for Manoeuvrability. The swivel neck feature glides around corners, which makes the vacuum seem lightweight.
The Felix also has a lay-to-the-floor function, assisting with quickly getting under furniture.
The Felix vacuum oozes style and sophistication. Its funky design makes this vacuum good to look at. The Felix is a great vacuum, so I voted this number two on my Best Sebo Vacuum guide.
Price
Sebo and Miele are similar in comparison to the price; they are both fantastic brands. They come with a bit of a price tag, though. The Sebo Dart seems the most affordable and has some excellent features too.
The Dart also has a commercial status and can be used for offices. The Sebo Cylinder vacuums are reasonably priced; most are lightweight and easy to use.
The Miele Triflex HX2 Pro Vacuum cleaner would definitely be a great purchase if the price was no object. It's cordless, light and robust and automatically detects floor types, eliminating the need to change the heads. This has some great features and extra run time, too. It comes with a hefty price tag of £899, though.
Does Sebo make a cordless vacuum?
Yes, they have recently launched the Sebo Softcase BP60 cordless model, which is an upright model that has many great features. You would need to pre-order this vacuum as it's currently unavailable to purchase directly from Sebo.
Some of the features of the Sebo BP60 Cordless Vacuum:
Rated power 300 watts
Charging time to 100% is 250 minutes
Battery life 60 mins
Filter Bag 5.5L
Impeller Technology
Multi-Layer Microfilter Bag
Does Miele make a cordless vacuum?
Yes, Miele makes some great cordless vacuums, one of the best being the Miele Triflex HX2 Cordless Vacuum cleaner. This is by far the best cordless vacuum cleaner I've ever had the pleasure of testing. 
It's remarkable on all surface types and is lightweight, stylish and very expensive. A little out of my price range for a vacuum, but if money is no object, then this vacuum will be right up your street.
Some of the features of a Miele Triflex HX2 Cordless Vacuum cleaner
Bagless
Hepa Lifetime Filter
Electrobrush for pet hair
60-minute run time
Weight 3.6kg
The top-rated Sebo vacuum vs top rated Miele vacuum
The top-rated Sebo vacuum cleaner is the X7 Automatic – this is an excellent vacuum. It's stylish, robust and has some fantastic features.
The Sebo Felix is undoubtedly giving the X7 a run for its money though. The Felix is just as powerful as the X7. It also has a swivel neck feature, enabling you to glide around furniture. The Felix model is slightly cheaper than the X7, which attracts attention. Its colourful design oozes style and the new Sebo Felix Wild ePower looks fantastic with its funky leopard print design. 
The top-rated Miele Vacuum is the Miele Triflex HX2 Pro Cordless Vacuum cleaner. This vacuum screams style and sophistication. It has some unique features, and a 120-minute run time, too. Every household needs this cordless!
Best features include:
120-minute runtime
Built-in led light
Bagless
Automatic floor detection
Hepa lifetime filter
2 Charging options
Intelligent Electrobrush
Weight 3.6kg
After comparing both these brands, I have concluded they are both very similar in product creation and standards of quality. They equally have outstanding features and can easily clean an entire house.
The price is the only stumbling point, with the Sebo coming in at the lowest price for quality and functionality. The Miele vacuums are much more lightweight compared to the Sebo, which is an excellent feature for Miele. Nobody enjoys lugging a vacuum up the stairs.
Most Sebo models include upholstery tools to assist with stairs, making this a little easier to manage.