It's no secret that most office workers may need a coffee or two to help them through their busy working days, and many employers are jumping on the idea of getting their own office coffee machine.
If you're wondering what the best coffee machine for your office is, or what specifications to look for, then this blog is for you.
Which coffee machine is best for an office?
One of the first and most important decisions to make is what type of coffee machine is best for your office. There are different types of coffee machines; each has its own pros and cons to consider.
Coffee pod machines
Pod coffee machines are a popular choice as they're so easy to use. All you need to do is pop the pod into the coffee maker, push a button and let the machine take care of the rest.
They're great for workers who aren't familiar with using traditional coffee machines, and because they can create a variety of different coffees, they're great for meeting everyone's taste.
Filter coffee machines
Filter coffee machines are another popular choice amongst office workers, thanks to its quick delivery of smooth coffee. Once a jug of coffee has been made, it can be kept on the hot plate and last for hours.
Filter machines are relatively cheap and easy to use, but they do require some manual work as they will need to be refilled throughout the day.
Espresso machines
Whilst it's undeniable espresso machines make the best tasting coffee, they aren't the most convenient to use in small office spaces. You will have to grind your own coffee and froth your own milk, and there's a lot of opportunities for mistakes to be made from bad tasting coffee to accidental burns.
They can also be quite noisy, which isn't ideal for office environments.
Bean to cup
Bean to cup coffee machines have been commonly used in offices for decades. They are simple to use, produce good tasting coffee and can even be fitted to make teas and hot chocolates.
However, they can be quite bulky and need to be maintained regularly.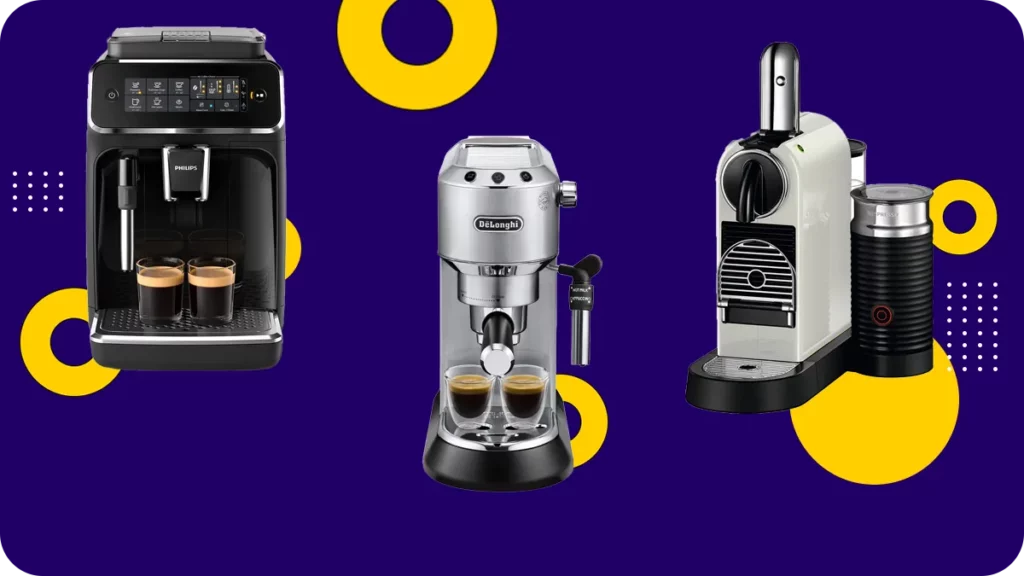 What to consider when choosing an office coffee machine
There are certain aspects and elements of coffee machines that you should consider before you commit to buying one, especially since it will be used by a variety of different people.
Quantity required
The number of people in your office will be a major influence on the type of coffee machine you purchase. If your staff go through a lot of cups of coffee a day, it's important to ensure the machine can meet this demand.
Ideally, try not to choose a coffee machine which is stretched to maximum capacity everyday. A machine that is overworked will break down much quicker, which could lead to costly repairs or replacement costs.
Space
Coffee machines come in all sorts of shapes and sizes, but you will usually be able to find newer models which fit the space you have available. You may want to consider the space above the machine, as well as space around it. You should also think about how accessible the machine is if you plan on tucking it away.
Speed
In meeting rooms or areas where large groups of people need to be served at once, having freshly brewed coffee that simply needs to be poured from a jug is preferable.
Filter coffee machines can be the best option here, with some machines having the capacity to produce over 50 cups of coffee per hour. There is no need to make each coffee individually, as the freshly brewed coffee is kept in the jug on a hot plate.
Cost
Coffee machines may have a larger upfront cost than a kettle, but they tend to be more economical to make a cup of coffee.
Coffee machines are typically meant to last; with a wide range of machines available, you may consider paying a slightly higher cost.
Best coffee machines for small offices
The Russell Hobbs 20680 Buckingham Filter Coffee Machine is a great choice for smaller offices. It has a 1.25 litre capacity, allowing you to make up to 10 cups of coffee at once, whilst also allowing you to select how many cups you wish to be brewed.
It is also designed to be much quicker when heating, meaning you don't need to hang around too long whilst your coffee reaches its optimum temperature.
Nespresso's Citiz White Pod Coffee Machine is an award-winning compact, easy to use pod machine, perfect for everyone.
The high performance machine has 19 bar coffee extraction, and heats up quickly in just 25 seconds. It also has energy saving functions as it switches off after 9 minutes of inactivity.
If you only have a small office, with just a few members of staff, the De'Longhi Dedica Style Traditional Pump Espresso Machine may be the perfect choice for you.
Thanks to the professional barista technology, you can control every step of the coffee making process, which is ideal for an office that prefers different types of coffee.
Best coffee machines for large offices
The Philips Series 3200 EP3221/40 Bean to Cup Coffee Machine is great for larger offices, with two coffees being prepared at once.
It also has programmable coffee strength and temperature options, making sure everyone can get their coffee just how they like it. It also features automatic descaling and rinsing programs so you don't have to worry about manually cleaning the machine parts.
Moccamaster's KBG Select Coffee Machine is perfect for large and small quantities. It features a handy selector switch so you can choose between either half a jug or a full jug, perfect for the days when not all members of staff are in the office.
It also features a copper boiling element which creates perfect brewing everytime. !0 cups of coffee will brew in around 5-6 minutes, meaning your staff won't be waiting long for their daily caffeine fix.
The L'OR BARISTA Sublime Coffee Capsule Machine by Philips is another great option for busy offices, with the option for either double or single capsules your staff will get their coffee twice as quick.
The machine features volume personalisation aspects, allowing you to adjust the length of your coffee to your taste preferences.