Deciding on which brand to choose when buying a coffee machine can be difficult, especially with the wide range of products available on the market.

In this guide, we'll discuss two of the most popular brands in the coffee industry, DeLonghi and Sage.
| Product Image | Product Name / Price | Primary Button |
| --- | --- | --- |
| | | |
| | | |
| | | |
Budget don't matter choice
12/07/2023 03:40 pm GMT
About Sage coffee machines
Sage coffee machines have been increasingly growing in popularity thanks to the range of different machines created and the affordable price point.
Sage is a leading brand in domestic appliances, up there with the bigger names such as DeLonghi. Sage coffee machines are perfect for the at home barista who likes to experiment with their coffee.
Best budget doesn't matter machine
12/07/2023 03:40 pm GMT
About DeLonghi coffee machines
DeLonghi are one of the leading brands when it comes to coffee machines. Made with user-friendly technology, DeLonghi coffee machines enable users to produce coffee shop standard drinks at home.
Their machines are not only designed with functionality in mind, but appearance too, and many of their products make great visual additions to kitchens. 
Best all round bean to cup
12/07/2023 01:46 pm GMT
What is the difference between DeLonghi and Sage?
DeLonghi and Sage are two completely different brands of home appliances.
Whilst DeLonghi predominantly make smaller kitchen appliances, they are part of the Kenwood group which makes larger household appliances such as fridges.
Sage is part of the Breville group, and predominantly makes smaller appliances too such as coffee machines, toasters and air fryers.
Where are DeLonghi coffee machines manufactured?
DeLonghi espresso machines are manufactured in a variety of different countries including Italy, China and the US.
A lot of DeLonghi's products are still designed in Italy, and then shipped to be manufactured in China.
Where are Sage coffee machines manufactured?
Whilst Sage is actually part of the Breville group, their coffee machines are usually produced in either the UK or China.
Unlike Breville, which has manufacturers in countries such as Australia and Austria.
Types of coffee machines
Both DeLonghi and Sage offer different types of coffee machines to choose from, including:
Combination coffee makers
DeLonghi bean to cup coffee machines
The De'Longhi Eletta Cappuccino Fully Automatic Bean to Cup Machine has 9 different coffee options, including a flat white, making it ideal for every kind of coffee drinker.
This machine allows for full control over brewing, including the coffee temperature.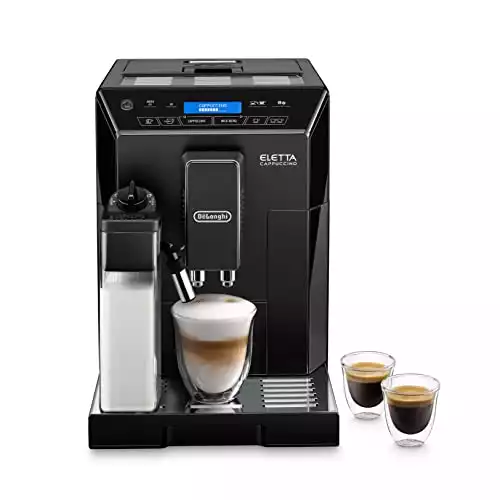 We earn a commission if you make a purchase, at no additional cost to you.
DeLonghi espresso machines
DeLonghi's Dedica Style EC685M is a popular choice for those looking for an easy to use, domestic espresso machine.
This machine is relatively easy to use once you get the hang of it, and the steam wand is perfect for making coffee shop standard milk based drinks.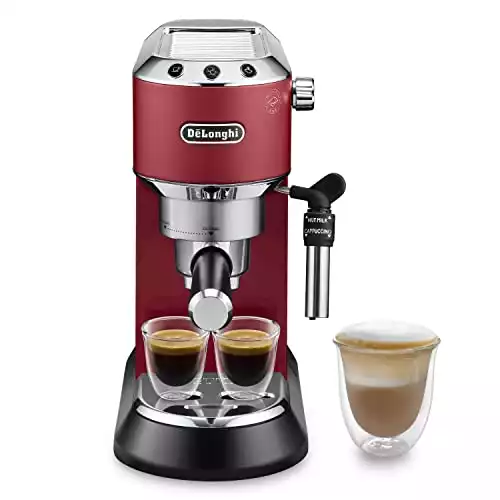 We earn a commission if you make a purchase, at no additional cost to you.
Sage espresso machines
Sage only produces espresso machines, so if you're looking for other types of coffee makers, your best bet will be to stick to DeLonghi. However, if you're looking for an espresso machine, then Sage may have the perfect one for you.
The Sage Oracle semi-automatic coffee machine is perfect for at home coffee drinkers who aren't fussed about learning the ins and outs of manual espresso machines. 
Best budget doesn't matter machine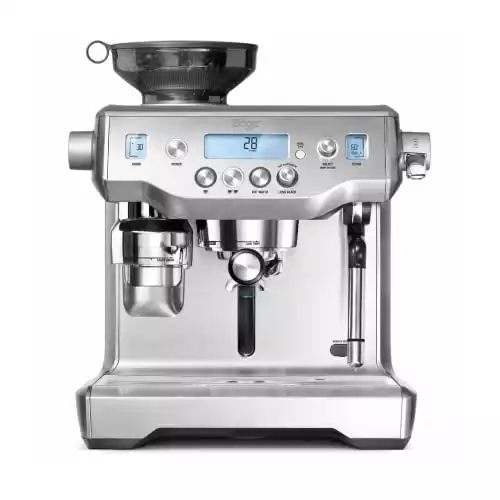 We earn a commission if you make a purchase, at no additional cost to you.
This espresso machine automates the process of coffee making, and features the Sage Dual Boiler at its core with automated dosing, tamping and milk texturing.
Alternatively, Sage's Bambino espresso machine is a powerful, yet more compact espresso machine best suited for smaller spaces.
While the Bambino range does hold its own against bigger models, it does not come with the same features you could expect from an espresso machine, such as a bean grinder.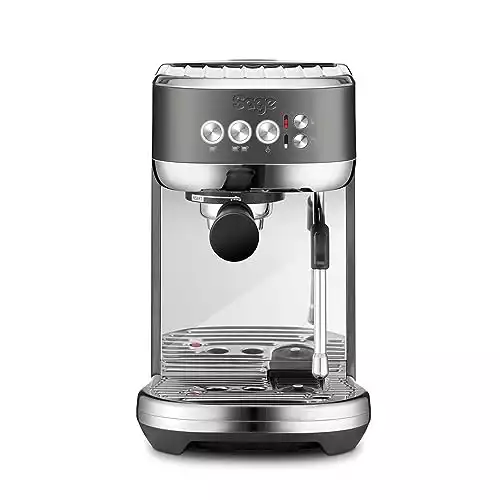 We earn a commission if you make a purchase, at no additional cost to you.
Top features of DeLonghi coffee machines
When it comes to kitchen appliances, DeLonghi has a long standing reputation for high quality and affordable coffee machines.
Their products are incredibly easy to operate, thanks to the soft touch buttons and removable water tank on each machine.
Many of their products require very minimal effort, which is why they're such a popular choice amongst those who want great tasting coffee without the fuss of hi-tec machines.
Top features of Sage coffee machines
Most Sage coffee machines are really easy to use, thanks to the simple touch of a button technology.
Their coffee machines are either manual or semi-automatic, allowing you to choose a machine based on your own skills level.
Sage machines are also known for their distinctive stainless steel exterior, which is what makes them so popular amongst those who want to create their own coffee shop experience at home.
Which is best: DeLonghi or Sage?
Both DeLonghi and Sage have their own pros and cons about them, but which you choose may depend on the following factors:
Product type:
It's fair to say you will have more choice if you choose DeLonghi, since Sage only creates manual or semi-automatic espresso machines.

However, if you are looking for an espresso machine, then you may prefer to browse Sage's range of machines.

Price:
Price can vary depending on where you purchase your coffee machine, but in general, Sage is on the pricier side compared to DeLonghi.

Whilst some may say you pay for the quality, others will argue that you can get a DeLonghi machine that is just as good, if not better than a Sage coffee machine.

Appearance:
As we've mentioned, Sage machines only come in a stainless steel finish, which isn't to everyone's taste. Depending on which DeLonghi machine you choose, they have a variety of different colours to choose from.