If you're looking for a coffee machine for your home, you've probably heard of the brand DeLonghi. They are one of the world's biggest manufacturers of coffee machines, producing high quality products at a great price point.
However, if you're unsure where to even start looking, don't worry. In this guide, we'll discuss some of the best DeLonghi machines on the market.
About DeLonghi coffee machines
DeLonghi coffee machines are made with the user at the forefront, enabling users to create coffee shop standard drinks at home.
Their machines are elegant, and many of them are compact in design, making them an ideal addition to any home.
Is DeLonghi a good brand?
Yes, DeLonghi is a great coffee machine brand and it has been trusted by many at home baristas for many years.
Their products are affordable and incredibly well made, meaning you will always get a high quality machine at a great price.
Many of DeLonghi's products are also easy to use, regardless of if you're a complete beginner or a coffee expert.
What's the difference between DeLonghi Magnifica and Magnifica S?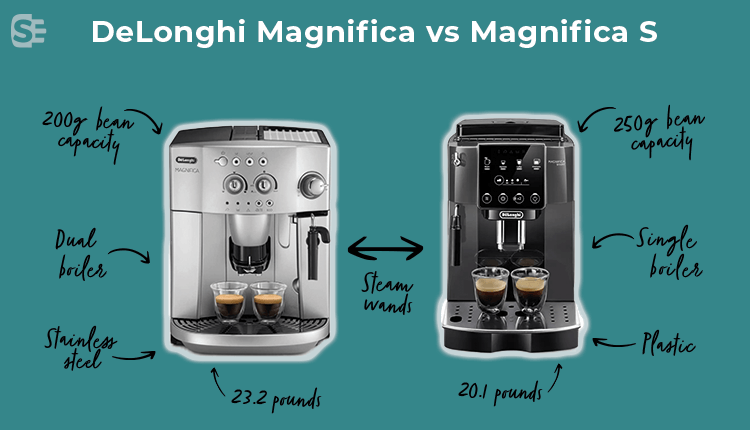 There are a few key differences between DeLonghi's Magnifica and Magnifica S that you should be aware of when deciding on which machine to purchase.
The Magnifica S tends to be smaller in size compared to the Magnifica, and it offers a slimmer design which is ideal for smaller kitchens.
Despite this, the beans capacity can vary from machine to machine with some Magnifica S machines having great capacity.
The front of each machine tends to be slightly different in design. The Magnifica usually looks slightly boxier, but the controls are generally similar.
What types of coffee machines do DeLonghi make?
DeLonghi make a range of different home coffee machines, including:
Combination coffee makers
Are DeLonghi coffee machines easy to operate?
DeLonghi machines are incredibly easy to use, thanks to the easy soft-touch buttons and removable water tank on each machine.
Many of the bean-to-cup machines require very minimal effort, which is why they're such a popular choice amongst those who want a high quality coffee without the frills of a high-tec manual machine.
Do DeLonghi coffee machines grind coffee beans?
Yes, DeLonghi has a whole range of bean-to-cup coffee machines that will grind the beans for you, before brewing them for a delicious cup of coffee.
Some of their manual espresso machines also feature an integrated bean grinder. Depending on which machine you purchase, you may not have much customisation on how your beans are ground.
Read our full guide on DeLonghi coffee grinders to find out more.
Can you use ground coffee in DeLonghi coffee machines?
Yes, there are many DeLonghi coffee machines that you can use any type of coffee, including pre-ground coffee.
Pre-ground coffee is often a great choice if you don't like the hassle of grinding beans, and it is particularly popular amongst decaf drinkers.
The best DeLonghi coffee machines
DeLonghi has a wide selection of coffee machines to choose from. We've listed our top picks below.
DeLonghi Bean to Cup Machines
The De'Longhi Magnifica ESAM4200 is a staple machine in many coffee drinkers' kitchens, thanks to its durable and compact design. You can get your coffee virtually instantly with the one touch coffee function, and it comes with a steam wand to froth milk for taller coffees like lattes.
It is a cheaper option compared to other models on the market, meaning you won't get the same kind of features that you would get from more expensive ones. However, it is a sturdy machine that provides great value for money.
The De'Longhi Magnifica S Ecam E22 is another popular low cost bean to cup coffee machine which offers a lot for the money. It features a steam wand that doubles as a hot water tap, and it also features adjustable nozzle heights for various cup sizes.
This does mean that you have to froth the milk yourself, however, many coffee drinkers generally prefer that. If you or your family drink a lot of coffee throughout the day, the only nuisance may be that the 1.8L water tank may need to be refilled regularly.
DeLonghi's Magnifica Evo ECAM 292.81, like the previous two, features the one-touch option, but this machine allows for 6 different coffee options including cappuccinos, lattes and latte macchiatos.
This is one of the newer creations within the Magnifica range, delivering some premium features at a reasonable price point. A downside about this machine is that it is on the larger side, so you should look at the space you intend to put it in before purchasing it.
The De'Longhi Eletta Cappuccino Fully Automatic Bean to Cup Machine allows for both automatic and manual steaming, as well as 9 one touch coffee options including a flat white.
This machine allows for full control over brewing, including the coffee temperature. The downside about this is the automatic milk frother, with many reviews suggesting that the machine doesn't steam the milk to suit the desired coffee.
DeLonghi espresso machines
De'Longhi's Dedica Style EC685M is a very popular choice amongst those looking for a domestic espresso machine. Espresso machines in general can be quite tricky to master if you're new to using them, but this machine is relatively easy to use once you can work your way around the 15 bars of pressure.
The Panarello steam wand is perfect for making high quality milk textures, perfect for the coffee shop at home experience. However, many reviews suggest this machine may not be able to withstand more than a few cups of coffee a day.
The DeLonghi La Specialista EC9335.M is an integrated espresso machine, meaning it has an integrated grinder. This is not the same as the integrated bean to cup machines as you will still have to manually make the coffee.
It also features a smart tamp lever, meaning you will always get a consistent tamp pressure without the hassle of doing it yourself. There are some reviews stating it can be hard to get to grips with, but this is usually the way with any espresso machine.