Here at Simply Electricals, we enjoy providing insightful information on how to care for your appliances and love to provide helpful cleaning methods for ease and protection.
We have been asked numerous times, "How to clean your flat screen"?

We thought we would put together this useful guide of the do's and dont's to care for your screen. Whether you need expensive cleaning products? Or will a simple damp cloth work wonders on a flat-screen?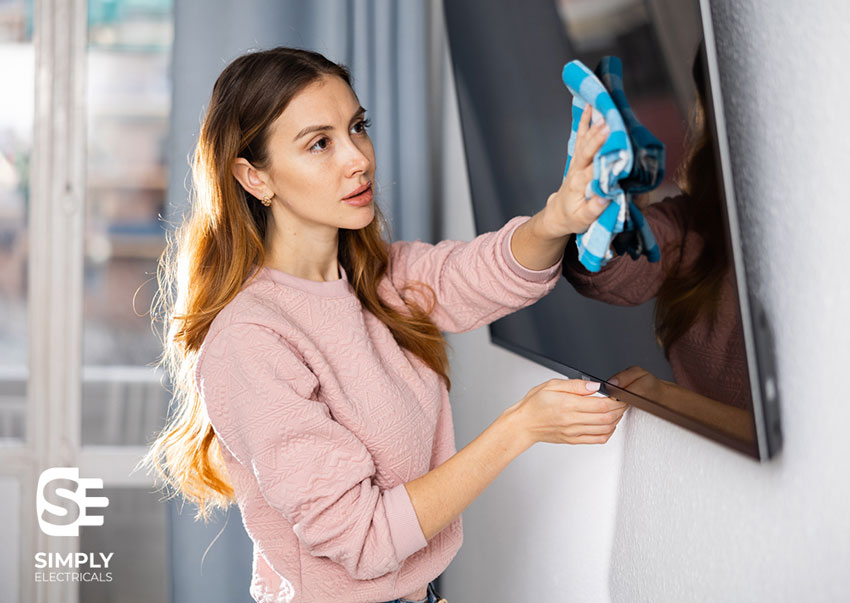 How to clean a flat screen TV
It's important you clean and take care of your TV for better viewing; this will also contribute to a longer life cycle of your TV. Using cleaning products isn't always essential to get streak-free results.
See my step-by-step guide below to keep your flatscreen in tip-top condition:
Before you start cleaning, ensure your TV is fully turned off.
Gather your supplies, two dry microfibre cloths and one damp microfibre cloth
Using one of the dry cloths, gently remove fingerprints and dust. Avoid using circular movements, as this can cause streaks. Wipe your screen in a horizontal and vertical direction for best results.
Using your damp cloth, gently wipe your screen in a horizontal and vertical direction, avoiding circular motions again. Tip ensure your cloth is damp, not soapy wet!
The final microfibre cloth will be used to gently dry off your screen; follow the same advice in steps 2 & 3 for cleaning motion and this will create a shiny, streak-free screen.
What can I spray on my flat screen TV to clean it?
We wouldn't advise spraying directly onto the screen; this can damage the protective coatings and can be extremely damaging if you have an anti-glare coating on your screen.

Refer to the manufacturer's cleaning instructions if you are unsure about the materials used on your screen, as these may need extra special care.
The safest option if you prefer to use cleaning products on your screen is to spray directly onto a microfibre cloth; remember, less is more!

A small amount will go a long way; the more you use, the harder the cleaning and shining process will be. A damp cloth is sufficient to clean your flatscreen and remember to use a dry microfibre cloth to dry. This will create a streak-free screen.
How to clean flat screen TV without streaks
There are many different cleaning methods and solutions on the market that recommend products that will create streak-free results. It's important when learning how to look after your screen you adopt a cleaning method that considers the life cycle of your screen. Using abrasive cleaning products is not caring for your screen. Avoid using Baby Wipes, or kitchen rolls; always use a microfibre cloth and avoid shining in a circular motion; gently dust and shine in horizontal and vertical motions for best results.
After trying many different products and methods, we have found that our simple cleaning method above achieves excellent results and also protects your flatscreen TV.
TIP – Remember to clean your flatscreen regularly to prevent a build-up of fingerprints and dust that can become harder to remove and will require a heavy approach to cleaning your cleaning method.