Soundbars are the very definition of technical magic. The technology they use makes it possible for many of them to replace traditional surround sound systems but with all the options on the market, choosing one can be hard. Here's a review of the Bose smart soundbar 300.

About The Bose Smart Soundbar 300
The Bose 300 is a standalone smart soundbar that can optionally be paired with Bose surround speakers and a subwoofer module. It has three channels and delivers a stereo-plus-center channel speaker configuration, focusing primarily on providing flexibility and numerous features.
It, unfortunately, doesn't come with an HDMI cable but does include standard items such as a user manual, optical cable, power cable box, remote control, and batteries for the remote control.
Here are the detailed specifications:
Dimensions : 2.25 inches x 27.5 inches x 4 inches
Weight: 7 pounds
Speakers and drivers: 3.0 system, four full-range drivers
Wired connection: HDMI ARC, optical, bass module connection, IR port
Wireless connection: Bluetooth 4.2, Wi-Fi, Spotify Connect, Apple AirPlay 2
Sound formats: Dolby Digital
Video support: No 4K, HDR pass-thru
Price
When shopping for a new device, the price is generally the basis upon which most people start their search. The Bose Smart Soundbar 300 currently retails for $399 and £449.95 UK and is typically sold out on the Bose website. The $399/£449.95 price stage certainly isn't bad given all the features the device comes with and that it's around $70 cheaper than the Sonos Beam.
Bose also offers the Bose 500 and Bose 700, which mainly differ in terms of their wider designs and higher price tags. So, if you're well to fork over a little more cash for a little bit extra, the 500 goes for $549 and £549.95 UK and the 700 for $799 and £749.95.
You could even go one step further and buy the Bose Soundbar 900, if you're looking for the very best sound!
Pros and Cons
Here are some of the benefits and downsides of the Bose Smart Soundbar 300:
Pros
Has excellent sound quality
Extensive wireless connectivity options
Comes with a bass adjustment feature
Features private headphone listening. Mainly compatible with Bose Bluetooth headphones
Has AirPlay 2, Chromecast built-in
Is compatible with Alexa or Google Assistant
Provides loud sounds with minimal compression artifacts
Cons
Lacks low bass
Doesn't support Dolby Atmos
No EQ or room correction
Incompatible with Siri
Doesn't support all music services
Relatively expensive considering its size
Do note that such lists are somewhat subjective, so what some may view as a downside might not bother others as much.
Features
The Bose 300 comes packed with a number of features that do well in terms of enhancing your home entertainment experience:
SimpleSync™ connection to bose Headphones
Bluetooth and Wi-Fi connectivity
Voice assistant support and voice control
Power saving standby mode
HDMI CEC
Compatibility with other Bose wireless speakers
Spacious sound and clear dialogue mode
A personalized Bose music app
Optional connectivity with a Bose bass module
Can be wall mounted using the Bose Soundbar Wall Bracket
Is Bose 300 Soundbar Good?
When it comes to deciding on how good the Bose smart soundbar actually is, it largely comes down to sound quality, design, and how easy it is to set up.
Sound quality
In terms of audio quality, the Bose 300 doesn't disappoint. Thanks to its multiple built-in drivers, the soundbar delivers crisp trebles and rich bass. To give you a better idea and more concise description, when watching live sports, for example, it's easy to feel like you're sitting in the crowd. This is probably the reason why the soundbar is an official sponsor of the NFL.
The only thing that awakens you from feeling like a member of the crowd is hearing the audio from the commentators, which comes out extremely clearly without compromising on the atmospheric sounds.
The well-balanced audio means you won't find yourself having to turn the volume up or down during a football game or action-packed film. In the event of you having to turn the volume down to take a phone call or avoid waking your neighbors, doing so is a simple matter of using the voice controls, which work relatively well. Gone are the days of searching for the remote.
Beyond being connected to your TV, the soundbar also performs well when streaming music from your phone is concerned and can easily produce room-filling sound despite its size. We would suggest that you test its volume limits yourself but we'd rather not be responsible for your eviction.
Design
In terms of style, the Bose 300 takes what can best be described as a modern approach. To put it differently, the speakers can be heard and not seen. It has a completely matte black enclosure, low-profile rectangular shape, clean lines, and is button-free, making it significantly less noticeable than other options on the market.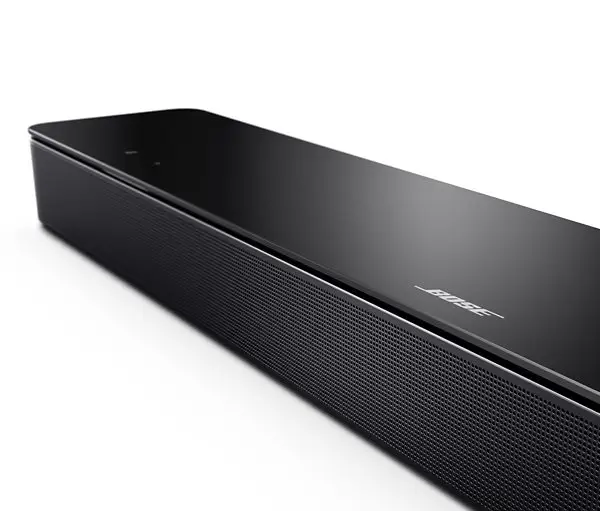 Given that it's only 2.25 inches tall and 27.5 inches wide, it won't block the bottom of your screen and can even be placed in the clearing beneath; however, this largely depends on your setup.
Additionally, the top left corner of the soundbar 300 features a multi-colour LED light strip that communicates inputs, states, and errors in a way that's both effective and aesthetically appealing.
Those shopping around for a soundbar may be slightly disappointed to learn that it only comes in one color option, black. While black generally fits into the aesthetic of most homes, people with a more colorful taste might want something with a little bit more personality to it.
Setup
Like the other options in the Bose smart soundbar range, setting up the 300 is relatively easy to do and doesn't require much in terms of technical expertise, which will relieve a lot of the tech-phobic people out there.
It does, however, require you to use your phone and the Bose music app, which is free for both Android and IOS devices. If this puts you off, then you might want to consider a soundbar that doesn't rely on Wi-Fi or app-based control.
The Bose Music app makes setting up the soundbar 300 an effortless experience that won't take up much of your time. Once you've connected the soundbar to the internet, you'll be given the option to configure it with voice assistants such as Alexa or Google Assistant, thus enabling even more features.
The app can also be used to adjust the audio settings for a more immersive surround sound experience.
Connecting the smart soundbar to your TV is a simple matter of using the included optical cable. Using an optical cable usually means sacrificing the TV control features that using an HDMI cable would bring, however, the soundbar's infrared emitter allows you to control certain TV functions without the need for an HDMI connection.
What's somewhat strange is that Bose recommends using an HDMI cable over an optical audio cable but doesn't include an HDMI in the box, probably under the assumption that most people have an extra HDMI cable lying around their home.
Bose Soundbar 300 VS Sonos Beam
When assessing a product, you inevitably have to make comparisons between it and its closest competitor. In the case of the Bose Soundbar 300, the Sonos Beam is that competitor. Some argue that the Sonos Beam is actually the better smart speaker but this may also come down to personal preference.
The Sonos has a more balanced sound profile and a room correction feature, while the Bose 300 does allow you to make sound profile adjustments via the Bose app; it simply doesn't feel as tailored. Despite this, the Bose app is more functional overall.
A win for the Bose soundbar 300 is that it's physically smaller and supports more audio formats than the Sonos Beam, thanks to it having an HDMI ARC port. The Bose smart speaker also has more wireless playback options, which could also be one of the reasons why it's become so popular in this increasingly wire-free age.
This one is relatively hard to call, as the devices also perform similarly in terms of online reviews, so perhaps it might also be a matter of scouring the internet to see what kind of experience other people have had with each speaker.
Bose Soundbar 300 VS TV Speaker
Most run-of-the mil displays might have a hard time competing with the Bose 300 smart soundbar. In fact, the experiences may border on incomparable.
TV speakers simply can't measure up when compared to most Bose smart speakers, and the 300 is no exception to this. The Bose 300 is better for mixed-use and has better overall environmental performance.
Additionally, the extra functionality that the Soundbar 300 offers, which can be accessed via the Bose Music app, gives the soundbar a distinct edge over standard TV speakers.
Is The Bose Soundbar 300 Worth It?
When compared to most Bluetooth speakers and soundbars within a similar price range, the Bose Smart Soundbar 300 presents itself as a good option for those looking to invest a moderate amount in their entertainment.
For those who are generally skeptical and thus need a little bit more convincing, you can take comfort in the plethora of positive reviews that all cite the excellent sound quality and high-quality construction of the sound system.
At $399, the Bose Smart Soundbar 300 certainly is much more expensive than your average Bluetooth speaker but the features it comes with do a good job of making the hole in your pocket worthwhile.
On the other hand, the device has a relatively short list of music services that it supports, and the lack of support for Siri and Apple Music, in particular, can be quite offputting for most. Purchasing the Bose 300 may also mean having to shell out more for wall mounting or the dedicated bose subwoofer, so these are some things that really need to be considered.
Final Thoughts
The Bose Smart Soundbar 300 does its job and much more. Similarly priced competitors such as the Sonos Beam could have you questioning which one is better to invest your hard-earned cash in, so that could largely come down to how fussy you are in terms of sound quality and compatibility options.
If you do settle on the Bose 300, then you may miss out in terms of compatibility, but you'll still be getting expansive sound, innovative features, and a device that is more than capable of taking your audio-visual entertainment to the next level.