Bose has a deservedly sterling reputation within the tech hardware world. Its products are widely known for their great quality and stand-out performance. In 2018, Bose released its flagship home entertainment speaker system, the Soundbar 700.

But just how good is it?

In our Bose Soundbar 700 review, we're going to take a look at all of the key aspects of this piece of kit. We'll examine the design, set-up, sound performance, extra features, price, and much more.
So, let's see if this product is worthy of the Bose name and reputation.
Table of Contents
Design
The Bose Smart Soundbar 700 arrives elegantly packaged. In the box, there's a cleaning cloth, a remote control, 4 AAA batteries, and the Bose Soundbar universal remote controller.
There's also an optical cable included, which you can use to connect up all of your digital media devices.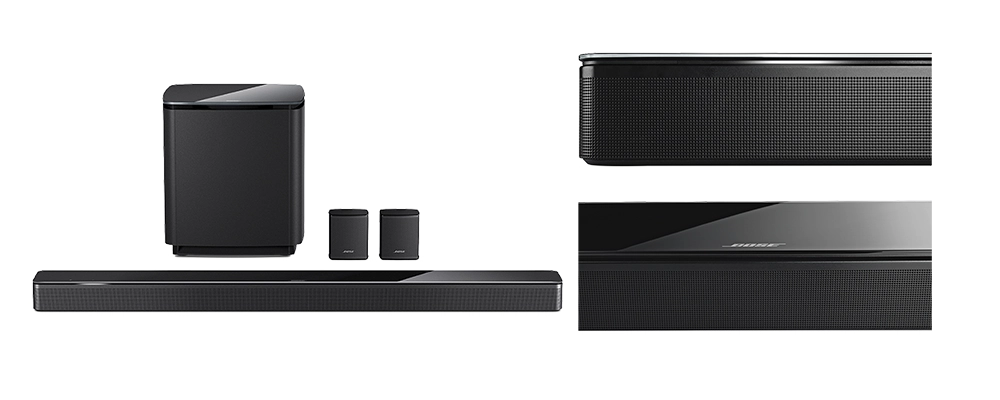 For a Smart speaker, the Bose Smart Soundbar 700 is unusually sturdy and feels well-constructed. It has a sleek appearance that gives off an air of quality. The top edge is made of tempered glass, and there are two touch-response buttons on the front-left corner.
The corners are rounded, and the grille is wrap-around, leading to a nice, soft appearance.
In terms of size, the Bose Smart Soundbar 700 is quite small for a Smart speaker. Its height comes in at 2.25 inches, and its width is 38.5 inches. Its depth is 4.25 inches. This means it can fit comfortably into most rooms.
The remote is also nicely designed and gives you control over your entire home entertainment system with just one button press.
Set-Up
Setting up the Bose Smart Soundar 700 is very straightforward. It comes with HDMI ARC, which allows you to easily control all of your HDMI devices. To set this up, you simply connect an HDMI cable to one of the HDMI inputs on your TV and then the ARC port on the soundbar.
Using the App to set-up
You can use the Bose App to set-up the soundbar which makes it very easy. Below are some images from the set-up process.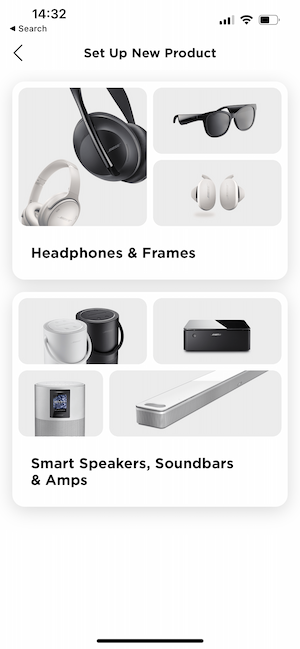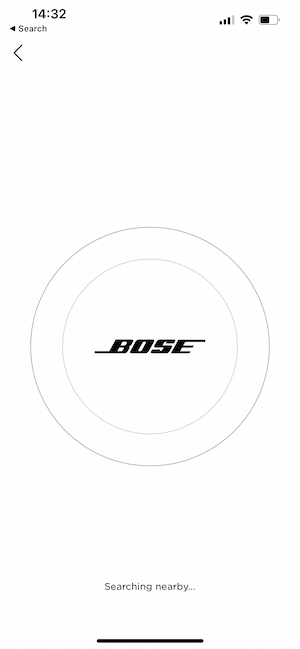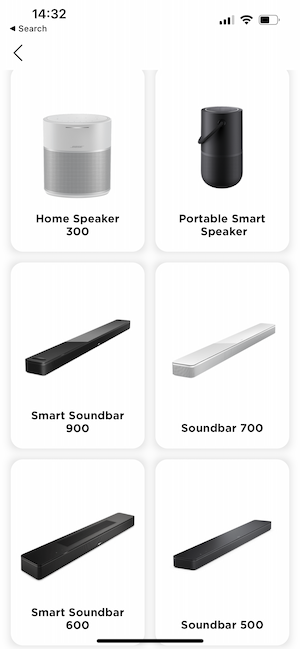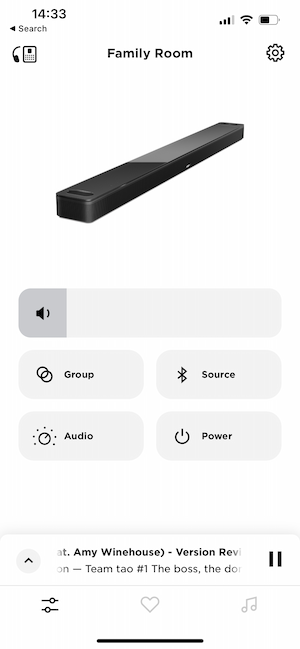 If you need to manually activate ARC on your TV, you can easily do this by going into the 'Settings' menu.
Pairing the Bose Soundbar with a Bose Bass Module is also really simple. To do this:
On the dashboard, click the soundbar's circular symbol in the bottom right corner.
Choose the 'Accessory Speakers' option in the 'Settings' menu.
Choose the 'Add Bose Accessory Speaker' option.
If the Bose Bass Module is plugged in, then it will show up automatically.
Apart from pairing with subwoofers, you probably won't need to pair with any other surround speakers. This is because the Bose Smart Soundbar 700 easily fills rooms of most sizes with sound.
Sound Quality
Despite its relatively small size, this Bose Soundbar is surprisingly loud. It certainly packs a big punch for its compact design. However, it doesn't compromise on sound quality to achieve its high volume. You can turn it up as loud as you want without it distorting.
The trebles stay nice and consistent even when the volume is turned right up. Plus, the bass performance never suffers from high volumes.
A common issue with many soundbars is that the bodywork rattles or buzzes when the volume is turned up. This is not the case for the Bose Smart Soundbar 700, which is a testament to its design and build quality.
The Bose Smart Soundbar 700 features PhaseGuide multidirectional beam elements and 4 forward-facing drivers. This allows for crisp vocal sounds even with the speaker's wide dispersion. The large soundstage also doesn't suffer from voice channel leakage.
Still, the soundstage isn't perfect. When playing cinema soundtracks, the effects placements can become a bit hazy. This leads to the sense of space becoming one-dimensional and muddy at times. This is particularly true at the right and left margins of the soundstage.
Bose Soundbar 700 Vs TV Speaker
Although small in size, the Bose Smart Soundbar 700 produces a wide-reaching sound that extends much further than you'd expect. The left and right dispersion of the speaker means that the sound covers the entire room.
This gives it a scale of sound that no TV speaker can achieve. If you're looking for cinematic sound in your own living room, then it's time to upgrade from your TV speaker to the Bose Smart Soundbar 700.
This soundbar also provides a subtle but effective sensation of verticality. This makes it seem like dialogue is coming from the TV screen rather than from the soundbar. It manages to do this even without having any up-firing speakers.
Does Bose 700 Soundbar Support Dolby Atmos?
The Bose Smart Soundbar 700 features a recessed breakout for I/O and one eARC connection. This means it currently supports both DTS and Dolby Digital 5. It doesn't support Dolby Atmos at the moment, but this could change with future updates.
In terms of connecting wirelessly, the Bose Smart Soundbar 700 uses Wi-fi, Apple AirPlay 2, and Bluetooth. This allows you to stream music from services like Amazon Music, Spotify, and Apple Music.
Extra Features
One of the additional features of this soundbar is the AdaptIQ audio calibration system. You can use this to customise your soundbar so that it replicates the sound of your favourite spots. You choose several areas in the room and then program the sound for these areas.
If you want to use voice control rather than a remote, then you can use either Google Assistant or Amazon Alexa. Each voice assistant is already built into the speaker, so there's no need to set this up yourself.
Music Performance
When it comes to music performance, the Bose Smart Soundbar 700 really excels. The output is nice and clean, meaning it distinguishes instruments and vocals well. However, as with any speaker system, it deals better with some genres than others.
If it's not paired with a Bose Bass Module, then the soundbar can struggle a bit with some low frequencies. This is particularly noticeable when listening to heavy metal or dance music.
The Bose Smart Soundbar 700 is so good at producing high volumes that it's unlikely you'll ever need to turn it up above 70%. If you do, you'll probably have the whole room shaking.
Film Performance
It's quite amazing how well this soundbar replicates the effects of surround speakers. When watching films, it's really noticeable that the sound is coming at you from all sides rather than just from the TV. This is achieved by bouncing sounds off the walls.
The surround effects and channel shift features mean that watching any type of film is an immersive experience. It handles action films just as well as Rom-Coms, and everything in between.
Gaming Performance
If you're a gamer, you'll love the way the Bose Smart Soundbar 700 handles the audio from any games console. Even when you have other people playing with you, the channel separation means the sound never becomes confused.
The three channels work seamlessly together and give the audio of all games added depth. There's nothing quite as immersive as playing your favourite games with surround effects.
Can Bose Soundbar 700 Be Wall Mounted?
Usually, a soundbar will be placed directly underneath your TV. However, if your TV is wall-mounted or you're struggling for space, then you may want to mount your soundbar on the wall.
Luckily, the Bose Smart Soundbar 700 can easily be mounted on a wall using a Bose Soundbar wall bracket. This wall bracket costs around £32 and is straightforward to install.
It's made of steel which makes it robust enough to hold the weight of the soundbar. It also fits flush against the wall for an unobtrusive look that optimises space efficiency.
It comes with full instructions and all the hardware necessary for installation. So, mounting your soundbar on a wall couldn't be much easier.
Is The Bose Soundbar 700 Worth It?
When bought directly from the manufacturer, the Bose Smart Soundbar 700 will set you back £800. This certainly isn't cheap and is actually far more expensive than many other soundbars of similar quality.
We found the best prices online for you below:
A lot of its competitors also support Dolby Atmos, yet still cost less. For example, the LG SK9Y costs £549, and the Samsung HW-N850 costs £665. This means you can buy a soundbar of the same quality as the Bose Soundbar 700 that supports more advanced formats for a lot less money.
You also need to bear in mind that the Bose Smart Soundbar 700 doesn't come with a subwoofer. If you want to buy the Bass Module 700, then you'll have to pay an extra £684.
The Samsung and LG systems we mentioned come with subwoofers included in the bundle. This makes them far more cost-effective options.
What's auto-wake on the Bose Soundbar 700?
FAQs
Does the Bose Soundbar 700 use the Bose Music app?
Yes, the Bose Soundbar 700 works with the Bose Music app to give you access to all of your favourite music services, like Amazon Music. You can also use it to link accounts so that Google Assistant and Amazon Alexa can be used without you having to set up any new accounts.
Does the Bose Soundbar 700 have a microphone?
The Bose Soundbar 700 has several custom microphones that are designed to pick up your voice. This means they can distinguish your voice during loud parties and in crowded rooms.
What's auto-wake on the Bose Soundbar 700?
The auto-wake feature on the Bose Smart Soundbar 700 means it can be turned on without using a remote or a voice assistant. It'll automatically turn on when you turn on your TV.
Here's how to enable this from the Bose Music app:
Choose the 'Settings' option in the top-right corner.
Go to the 'Power' section and then choose the 'Optical Auto Awake' option.
You can then toggle this option to the on position.