The Bose Smart Soundbar 600 was released in October 2022 and has received impressive reviews.

Customers love its compact size and the many features included in the device. It has mainly received praise for its affordability along with the immersive sound it produces.

In our Soundbar 600 review, we will look at the most important elements. We'll see how it stacks up against the Bose TV speaker and how easy it is to set up. We'll also review its Dolby Atmos compatibility and compare it to the 700 model (and much more).

By the end of this review, you'll know whether this Bose soundbar is the perfect one for you.
Table of Contents
Bose Smart Soundbar 600 Vs. TV Speaker
Aside from using the soundbar for music, it is also designed to provide immersive sound for your TV. When used this way, the dialogue in movies and TV shows is incredibly full-sounding and crisp.

TV speakers tend to be tinny, but the immersive sound from this soundbar makes you feel like you're in a movie theater.

The Bose 600 has good stereo separation, making for a spacious and well-balanced sound.
It handles action movies with ease. In scenes with rain, it helps to create a believable atmosphere, as though there's a downpour in your living room. Just minus the moisture which is probably for the best.
In scenes with helicopters, such as the opening of the movie Miss Saigion, the Bose soundbar could easily scale up and match the on-screen intensity. At times, it even extended above it. The sound quality is truly impressive for such an affordable soundbar.

However, as you'd expect, its small size means it loses some bass.

This can make some scenes in certain movies sound underwhelming. Still, considering its size, the bass produced by this soundbar is well-controlled and clean. It delivers a dynamic and engaging sound even in large rooms.

You can also add one the the Bose Bass Modules to the soundbar to help give it a leg up in the bass department. We've tested both the 500 and 700 bass modules, check it out here.

Also, the sound quality is excellent when playing songs from the Bose Music App. This is especially true for pop and rock songs with a compressed sound. Due to the lack of bass, however, it doesn't handle metal or dance music particularly well.
Does The Bose Smart Soundbar 600 Support Dolby Atmos?
Yes, the Bose Soundbar 600 does support Dolby Atmos.

When buying a soundbar, one of the first things most people consider is if it supports Dolby Atmos. This is because Dolby Atmos has revolutionized the home theater world.

It features surround sound technology with sound channels that come from overhead and from the side. The signature Dolby Atmos sound is one that completely envelops the audience.
Dolby Atmos is a massive improvement on the previous Dolby Digital 5.1 and 7.1 surround setups. It's capable of producing up to 118 sound objects simultaneously. This means that sounds can be placed at exact points in the sound field, creating an impressive 3D soundstage.

All the major streaming services now create Dolby Atmos content. Most films also now have a Dolby Atmos soundtrack.

Most new soundbars, such as the Sonos Beam Gen 2, now support Dolby Atmos. This is also the case for the Bose Smart Soundbar 600. It comes with an HDMI eARC connection, providing access to Dolby Atmos and making it easy to use as a Dolby Atmos soundbar.
Is The Bose Smart Soundbar 600 Easy To Set Up?
The next thing to focus on in our 600 review is the ease of setup. In this area, the product scores very highly. Connecting it to your TV is straightforward as it has digital optical and HDMI eARC ports.

This is a big bonus if your TV does have HDMI eARC ports. It means you'll be able to use Dolby Atmos and HDMI CEC control. HDMI CEC control allows you to control the volume levels of your soundbar using your TV's remote control.
The easiest way to set up the soundbar features is via the Bose Music App. The Bose Music App is simple to use and straightforward to navigate. The only slightly annoying thing is that you need to set up a Bose account before using it.

The app will automatically find your WiFi network and then connect the Bose soundbar. You can then link other music services to the app. The supported music services include Spotify, Amazon Music, Deezer, Pandora, iHeartRadio, Sirius XM, and TuneIn Radio.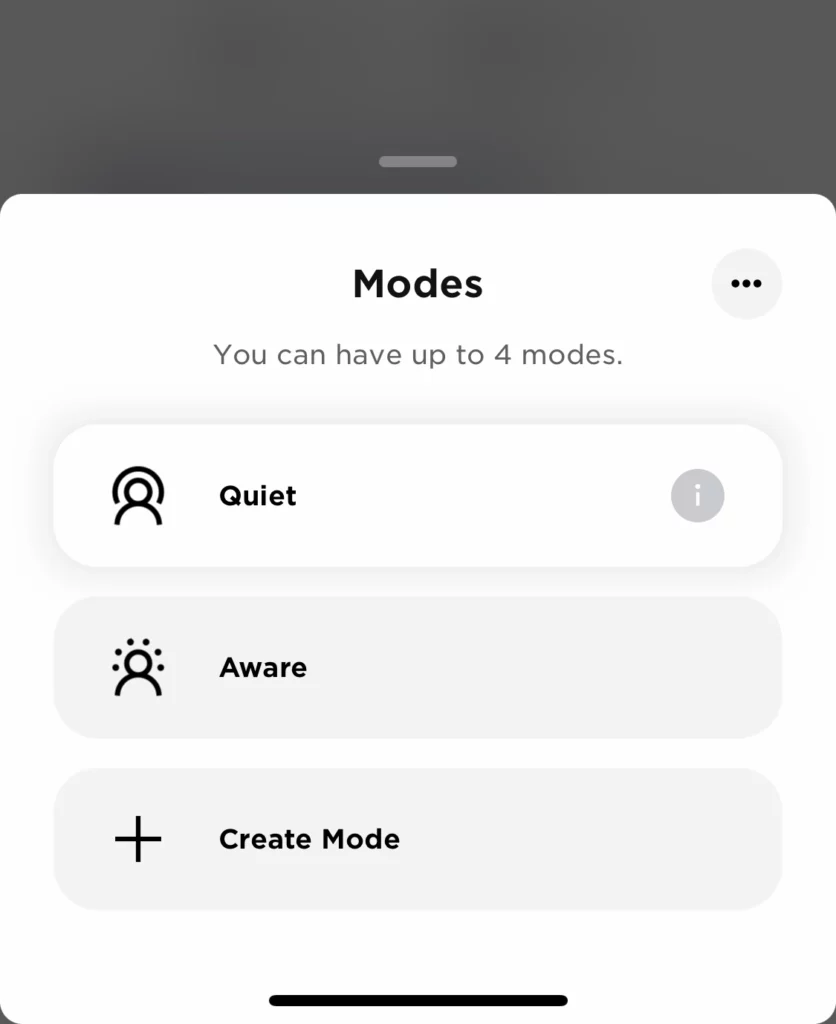 If you want to use services not supported in the app, you can do this via Bluetooth, Chromecast, or AirPlay.

The app includes other useful features as well. You can use it to adjust the bass and treble levels and to enhance voice clarity.

As with other soundbars in this price range, like the Sonos Beam Gen 2, the 600 doesn't have an LED alphanumeric display. This means it uses color-coded lighting sequences for remote control commands. It's easier to use the app rather than trying to memorize these.
What Features Does This Smart Soundbar Have?
This compact soundbar may be small in stature, but it's packed with features. It uses TrueSpace processing to upconvert 5.1 channel sources and stereo for Atmos presentation.

It includes five transducers, including two top-mounted transducers used for Dolby Atmos overhead effects. Two side-mounted ones and a tweeter mounted in the center create an expanded stereo image.
It has both HDMI eARC and optical digital ports, so older TVs can also connect to it. One downside is that it lacks a second HDMI input which would provide a passthrough. However, many budget soundbars, such as the Sonos Beam Gen 2, don't include this.
The 600 has Chromecast built-in and also supports Spotify Connect and AirPlay 2. It supports Amazon Alexa, which means you can operate it hands-free. This makes volume control and track skipping a breeze. You can also use Google Assistant if you have a Google speaker attached to your network.

Voice4Video is another nice feature that allows you to control your Smart TV's functions. You can use your voice to change channels, pause, playback, and turn it off and on.
Can The Bose Smart Soundbar 600 Be Wall Mounted?
One of the best things about this smart soundbar is that it's nice and compact. This means it doesn't take up much room when placed underneath your TV. Still, if you'd prefer, it is possible to wall mount the soundbar to free up even more space.

To do this, you need to purchase a wall bracket. There are plenty of options, but it's best to buy one directly from Bose.
The Bose Soundbar Wall Bracket is specifically designed for the company's soundbars, so you can rest assured that it will support the weight of the 600.
Bose Smart Soundbar 600 Or 700?
In this section of our Bose Smart Soundbar 600 review, we'll see how it stacks up against the Bose Smart Soundbar 700. This will help you to decide which one is right for you.

When it comes to sound effects, the 700 is the winner. Its nine drivers and multidirectional surround speakers produce the loudest and deepest audio of any Bose soundbar.

While the 600 has a maximum output of 100 dB, the 700's maximum output is 105 dB. This might not seem much of a difference, but believe us – you'll notice the difference.
In terms of features, these soundbars are pretty similar. However, the 700 doesn't have a built-in universal remote. Instead, it must be controlled via the Bose Music App. This isn't a huge drawback, as it tends to be easier to control the soundbar using the app rather than the remote control.

One of the most significant differences between the two is the price. The 600 is a budget model and the RPP is £499.
In contrast, the 700 is much more expensive and the RRP is £799.95 when bought directly from Bose.

Overall, the main thing that separates the two soundbars is the quality of the sound. If you don't mind paying extra, it might be worth opting for the 700. Still, the 600 has excellent sound quality and is easier on your wallet. Plus, it has all of the same features as the 700.
Is The Bose Smart Soundbar 600 Worth It?
The 600 is in the budget price range for soundbars at £499. It's a strong competitor for other budget bars like the Sonos Beam Gen 2, and we think it's the pick of the bunch.

Many other companies make budget soundbars, such as Polk Audio, Denon, Samsung, LG, Sony, and Vizio.

One of the reasons the 600 is such good value for money is its up-firing speakers. These are used to convey Dolby Atmos' overhead effects. It also uses TrueSpace processing which isn't true of some other budget bars.
The app is easy to use, and there's good support for multiple streaming services.

The main thing that the 600 lacks is bass. This is down to the fact that it doesn't have its own subwoofers. You could add one of Bose's Bass Modules to the soundbar to solve this problem. However, these cost £499, so you would be doubling the cost.

Overall, we think that the 600 is definitely worth its price. You'd struggle to find a soundbar in this price range that sounds as good and has as many features. It's also a lot cheaper than many other Bose soundbars and is nicely compact.
Is The Bose Smart Soundbar 600 Good?
The Bose Smart Soundbar 600 is a good all-around soundbar. The two main downsides are its lack of bass and the fact it doesn't have a second HDMI port. It supports Dolby Atmos perfectly with its up-firing speakers, which is a fantastic feature for a soundbar that's this affordable.

To round off our Bose Smart Soundbar 600 review, let's recap some of the pros of this device:
Excellent sound quality when watching movies and TV shows
Handles most music well, especially pop and rock songs
It's really easy to set up via the Bose Music App
It has both HDMI eARC and optical digital ports
It can be voice-controlled via Amazon Alexa and Google Assistant
It's small and fits easily into most rooms
It has five transducers for expanded stereo imaging
It can be wall mounted if you buy a bracket separately
It costs £499, which makes it one of the most affordable high-quality soundbars on the market
FAQs
Do Bose soundbars have the best sound quality?
There are many different brands of soundbars out there, but Bose comes out on top when it comes to sound quality. The treble and bass in Bose soundbars is always top-notch, leading to a clear sound ideal for movies.
There are other great soundbars, such as the Sonos Arc, but Bose can't usually be beaten in this area.
What's the lifespan of a Bose Smart Soundbar 600?
Like most newer soundbars, the lifespan of the Bose Smart Soundbar 600 is 6 to 16 years. Due to its technology, it will be around for a while. Usually, the hardware in soundbars needs to be repaired or replaced around every seven years.
Of course, the amount you use it can affect its lifespan. Also, improper storage can damage it, which would significantly shorten its lifespan.
Is it OK to leave my Bose Smart Soundbar 600 on all the time?
Leaving any soundbar on all the time is not a good idea. Firstly, this uses lots of energy unnecessarily. It may also lead to the soundbar overheating, which could pose a fire hazard. So, it's best to turn off your soundbar whenever it's not in use.