Bose Bass Module products are designed to elevate the sound of Bose SoundBars. Not designed to be a standalone product, Bass Modules can also work in tandem with your Soundbar. This combined setup can create the ultimate sound system in your living room.

But, why add a Bose Bass Module 500 if you've already got a Bose SoundBar? Because the Bose Bass Module 500 does exactly what it says on the tin – adds Bass to your home sound system.

Not only does it elevate the overall quality of your sound, but it also creates heavy bass you can feel.

In this review, we'll take a closer look at the Bose Bass Module 500. In doing so, we'll determine what it can pair with and whether it's worth adding to your setup.
Dimensions
Dimensions: 25.4cm x 24.1cm x 25.4cm
Weight: 11 pounds or 5 kg
Sound formats: Dolby Digital
Best Price on the internet:
Pros & Cons
To give you a brief overview of the main positives and negatives of this product, here are some pros and cons:
Pros:
Lighter than other Bose bass speaker models (especially the Bose Bass Module 700).
Connects with all the latest Bose Soundbar models.
Is more affordable than other Bose Bass Modules.
Enhances bass well for its price.
Can easily be controlled via the TV remote or the Bose app.
Cons
Lacks sub-base. Generally, this is unnoticeable. However, it may bother you when playing certain songs.
The treble isn't as balanced as on other Bose Bass Modules.
Only features Dolby Digital – does not feature DTS.
Only available in one colour.
Not a standalone product. You need a Bose Soundbar to use it.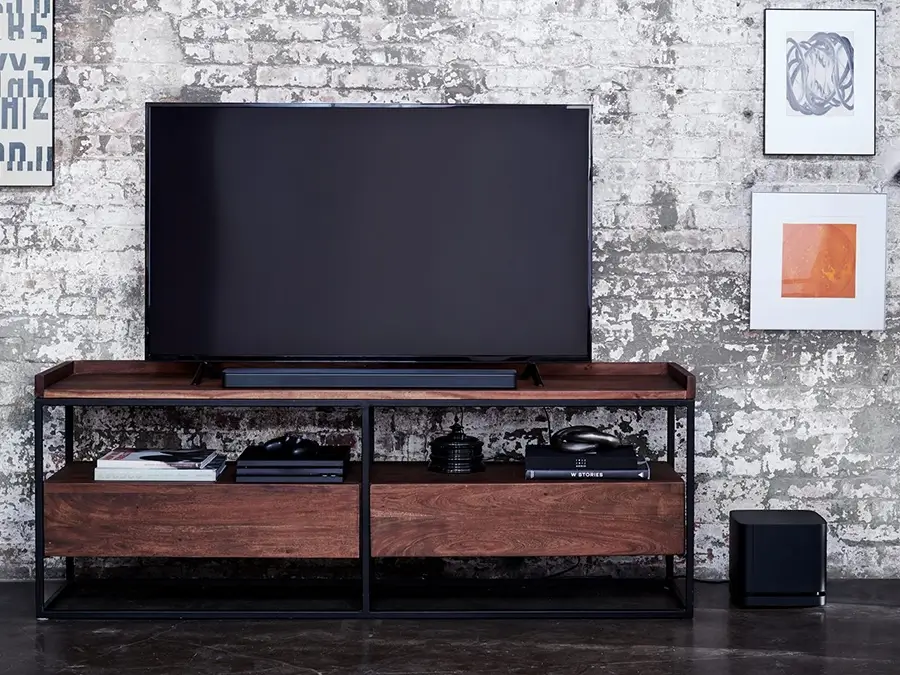 Bose Bass Module 500 Overview
When it comes to sound system components, Bose has a big reputation to uphold. On the whole, the Bass Module 500 upholds the company's legacy of providers of premium sound quality.
Here's a breakdown of its main features:
Sound
Although small, the Bose Bass Module 500 can create powerful bass waves throughout your living room. The thunderous bass created adds entirely new elements to your sound set-up. Movies will feel more cinematic and music will become more atmospheric.
Building on the bass provided by the rest of your system, the Bose Bass Module 500 provides quality high and low-frequency extensions. Generally, it can be used to take bass-heavy songs to the next level. If you like feeling Around the World by Daft Punk, rather than just listening to it, these Bose Bass Module 500s are for you.
Overall, the Bose Bass Module 500 serves as a worthy companion to the Bose Soundbar. Both work together to deliver premium sound.
Size
The size of Bose Bass Module 500 is small and conveniently shaped. It comes as almost a perfect cube, with each side around about 25cm. In reality, the Bass Module is 25.4cm x 24.1cm x 25.4cm in size.
The small scale of the Bose Bass Module makes it easy for you to fit it into any room set-up. This is a particularly good bass booster if you've got limited space. Normally, bass boosters come in heavy, bulky sizes – not this model from Bose. They've effectively reinvented the bass booster for those who like their sound set-up taking minimal space.
Connectivity
Like most modern bass boosters, the Bose Bass 500 is wireless. It features a wireless range of up to nine metres, which gives you plenty of options for where to place your speaker. In combination with its size, Bose makes it easy for you to hide this speaker.
The wireless connectivity and long range allow you to place it anywhere that's convenient. Whether that be right next to your TV or behind your couch. No matter where you put it, the Module 500 creates atmospheric bass tones.
Set-up
The wireless connectivity also makes it really easy to set up the Bose Bass Module 500. All you have to do is connect it to your Bose Smart Soundbar via Wi-Fi. Once connected, you can control your entire Bose sound system from the Bose Music App.
Colour
Like most Bose products, the Bose Bass 500 comes in pure black. This increases the chances of it fitting in your surrounding decor. Plus, it compliments the matt black finish found on Bose Soundbars.
However, black is the only colour it's available in.
Price
The Bose Bass Module 500 is currently selling for £399.95 on the Bose website. This is a price reduction from its usual selling price, which is £449.95. Generally, this is quite an expensive investment just to improve the base of your speakers.
Which Bose Soundbar Models Will It Pair With?
These speakers are compatible with:
In addition to this, it's also possible to hook these up with the Bose TV Speaker and Bose Surround Speakers.
Is it Worth Adding it to your Set-Up?
If you're truly passionate about getting the best sound quality out of your speakers, then you should invest in a Bose Bass Module 500. For more casual music fans, these speakers may simply be too expensive for what they are.
If you've never experimented with woofers but would like to, then adding these to your Bose sound bar would be a good place to start.
FAQs
Where should I put my Bose Bass Module 500?
Ideally, your Bose Soundbar 500 should be placed close to your television. However, you can put it anywhere in the same room as your sound bar. Try to keep it close to your TV if possible.
What's the difference between a Bose Bass Module 500 and a Bose Bass Module 700?
The 500 model is a lot smaller than the 700 Bose Bass Module. The 700 has slightly more features than the 500, including QuietPort. Overall, the 700 can be seen as an updated version of the 500.