Sometimes your TV speaker just won't cut it when you want the best home entertainment experience. This is why soundbars are all the rage nowadays, Bose has been fully aware of this. Here's a look at the Bose TV Soundbar and whether or not you should get one for yourself.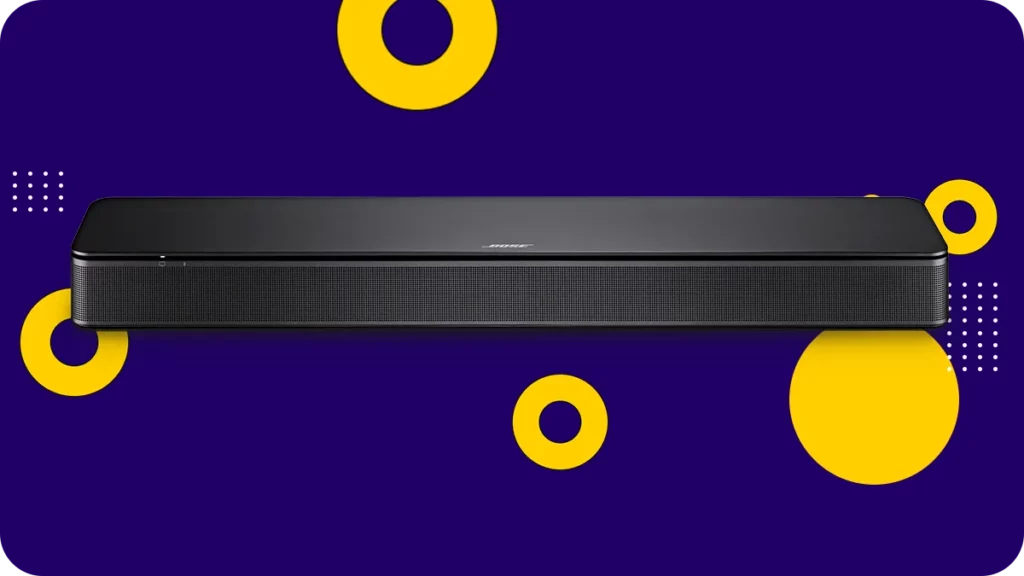 About The Bose TV Soundbar
The Bose TV Speaker is a medium-sized sound bar that is primarily designed to give you better TV sound. When compared to other devices in the Bose range, the TV Speaker does lack in terms of features it comes with but you need to bear in mind that this is definitely not the most expensive option in the range.
It may be relatively restricted in terms of customization options but this model focuses on offering a quick setup and ease of use. Additionally, it will make watching TV a much more immersive experience than if you were to just rely on your TV speakers.
Here are the detailed specifications:
Dimensions: 2.2 x 23.4 x 4 inches
Speaker system: three channels, including left, centre, right
Connections: HDMI ARC, Optical, AUX, Bluetooth 4.2
Sound formats: Dolby Digital, PCM
Colours: Black
Price
The Bose TV speaker is priced at £269.95, making it one of the more wallet-friendly options in the soundbar range. Despite being just under £300, the Bose TV Speaker is still far from cheap and whether or not it's worth that price tag is often heavily debated.
Bose has a strong reputation for delivering when it comes to audio quality and the TV Speaker Soundbar doesn't deviate from that narrative. Considering the price point, the soundbar is able to produce a sound that's both rich and detailed, regardless of whether you're playing your favourite music, watching movies, or listening to a podcast.
On the other hand, besides having features such as dialogue mode and being able to adjust the bass, some may feel that it's missing many of the key features found in other Bose products.
Pros and Cons
To further help you decide on whether the Bose TV Speaker is worth it, here are some pros and cons:
Pros
Roku TV ready and compatible with Roku TV remote
Is Bluetooth compatible
Two full-range drivers
Can be controlled via Bose Music app
Has a bass adjustment feature
HDMI ARC connectivity
Can be synchronized with any Bose smart speaker.
Has a dedicated Bluetooth button on the included remote control
Cons
No auto-volume mode
No room correction feature
Won't get very loud when set to a high volume
Not compatible with smart assistants such as Google Assistant and Siri.
Features
Here are some of the things about the Bose TV Speaker that might make buying one worthwhile:
LED status indicator
One-connection setup
Has dialogue enhancement technology known as dialogue mode
Can optionally be fitted with a bass module
Bluetooth connectivity
Comes with a remote control
Is The Bose TV Soundbar Good?
As you already know, "good" is an extremely relative term, so we'll try and keep our assessment of how good the Bose TV speaker is as fair as possible. To do this, we'll look at three main criteria, sound quality, design, and how easy the initial setup is.
Sound quality
Now, time for what truly matters: how the Bose TV Speaker actually sounds. If you decide to hand over your £269.95, you'll be getting excellent two-channel stereo audio that will significantly improve your TV-watching experience. It doesn't have a built-in subwoofer but it still manages to produce high-quality lows.
For those who like listening to podcasts, you'll be pleased about how well the soundbar can elevate vocals. If you plan on having a party, then you should have no trouble filling up the room, although the speaker isn't exactly the loudest out there. This all comes without you having to make major adjustments from the first setup.
While it does deliver quality bass, you might want to consider adding a wired subwoofer to improve the bass performance. Also, it not having a virtual surround sound option doesn't do it many favours, as many similarly priced devices do nowadays.
Design
The Bose TV Speaker is a small soundbar with an unmistakably sleek design that we've grown to expect from Bose. It can be best described as simple and intuitive with a low-profile body, perforated grille, and smooth top that give it that premium feel.
Like many other Bose products, it would be nice to see the TV Speaker have different colour options but its durability and how easily it blends into most living rooms, more than make up for this lacking.
Setup
This Bose speaker is widely praised for its simple setup process. After plugging in the TV Speaker using the power cord, you only have a single connection to your TV via either an optical audio cable or an HDMI cable.
Unfortunately, Bose usually doesn't include an HDMI cable with their products, so if you don't have one lying around your house, you'll just have to use the included optical cable.
Once you've connected the optical cable and powered on your device, you're pretty much ready to sit back and listen to how the Bose TV speaker improves the quality of the audio coming from the TV.
What Is The Difference Between A Bose TV Speaker And A Soundbar?
Whether we're primarily looking at the Bose range or soundbars in general, soundbars outperform TV speakers in pretty much all areas. However, this does depend on the quality of the soundbar, as low-end soundbars can be outdone by TV speakers.
When the Bose TV Speaker is compared to the Bose Smart Soundbar 700, the standalone Soundbar 700 is the much better option. It has better surround performance, can get louder, has built-in voice assistant support, and has a room correction feature. Naturally, these extra features mean having to pay more but doing so is generally worthwhile if you can.
Is The Bose Soundbar Compatible With Samsung TV?
Luckily, purchasing a Bose Soundbar won't mean you have to replace your Samsung TV. Bose sound systems are specially designed for home entertainment and are thus compatible with many televisions, particularly those made by Samsung.
You can connect your Bose Soundbar to your Samsung TV via the included cables or a wireless Bluetooth connection if using a newer model.
Can The Bose TV Soundbar Be Wall Mounted?
Like all the other Bose soundbar models, wall mounting is also an option with the Bose TV Speaker, however, the wall mount kit is sold separately at RRP £34.95.
Does The Bose Soundbar Support Dolby Atmos?
One of the downsides of the Bose Soundbar is that it doesn't support Dolby Atmos, which can be offputting for some. So, if that bothers you, then you may have to seek out a model that does.
Is The Bose TV Soundbar Worth It?
It's hard to deny that the Bose TV Speaker is a great soundbar. It provides a simple solution to those looking for a natural-sounding audio experience without the hassle of a complex setup. There's an evident lack in terms of the features it comes with, however, it does make up for this lack with the quality of the audio it provides.
The Bose soundbar also functions as a reliable Bluetooth device that can allow you to wirelessly play music with ease. It having an HDMI ARC port also means you can use your current TV remote to send volume and mute commands to the speaker, fewer remotes and connections are always a win in our book.
If you want a new Bose TV speaker with a full suite of features, then you might be better off going with the Soundbar 500 or 700 but do bear in mind that extra features will cost you extra. If fancy trimmings don't bother you too much, then the Bose TV Soundbar will suit you just fine.