Have you been looking at buying a new portable espresso maker?

In this guide, you will find the best Portable Espresso Makers currently on the market.
It's no secret that the majority of the population needs that extra boost of energy from time to time.

Portable Espresso Makers are the ideal device to give you that extra boost whilst still giving you the full body aroma of a delicious-tasting espresso.
Many come in a range of different sizes and shapes and have different amounts of water capacity.
What are portable espresso makers?
If you aren't into your technology, then you may wonder what a portable espresso maker actually is.

A portable espresso maker is a small hand-held device which allows you to create a delicious-tasting espresso within a matter of seconds and a few simple step-by-step instructions to follow.
These devices are perfect if you fancy a coffee no matter your environment.

Currently, on the market, there is a range of different portable espresso makers which allow you to use either ground coffee or capsules.
How to choose the right portable espresso maker
There are certain elements of portable espresso maker you have to consider before buying, such as:
Where are you going to be using it?
How many capsules will you go through a day?
Will you have the correct access to boiling water?
Choosing the best portable espresso maker for you depends on:
Price: You want to ensure that the device fits into your price range whilst still providing the delicious espresso you crave.
Weight: Weight is one of the biggest factors in the decision of choosing which portable espresso maker is the right one for you. For example, if you are using it whilst hiking or camping, you want something that is going to be convenient for you.
Ease of Use: Most portable espresso makers are fairly easy to use, so this may not be a huge consideration for most people, and each comes with a simple step-by-step instruction manual including everything you need to do.
Size: You want to find the maker which is the correct size for you and your needs to ensure that it is accessible and convenient for your needs.
Preference: Choosing the best portable espresso maker depends on whether you prefer ground coffee or capsules.
Where can you use a portable espresso maker?
The simple answer is anywhere. These devices have been created so that you can enjoy a cheeky espresso no matter the environment you are in.

Most of these devices are powered by hand and would be great for someone who loves hiking or camping.
The majority of portable espresso makers do not require electricity to work; however, a large amount of them do require a separate means of boiling water.

This may cause difficulty for some people as not everyone always has access to boiling water.
This can be easily resolved by filling a flask with hot water to use in it. As well as this, some portable espresso makers require power to work.
The best portable espresso makers
Below is a list of the best portable espresso makers that are currently on the market, which we would recommend.
Wacaco Minipresso Portable Espresso Machine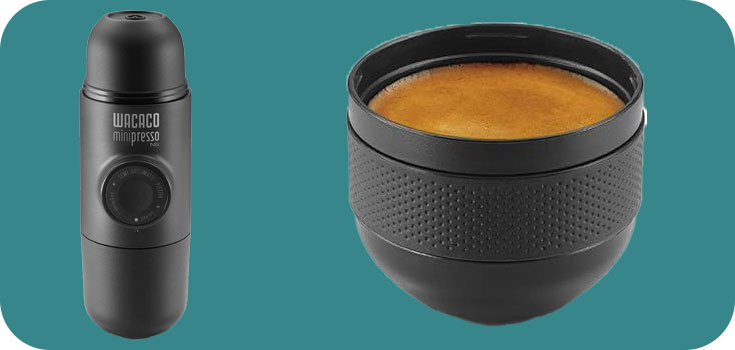 Pros: Portable comes with a portable cup, small and efficient and easy to follow instruction manual.
Cons: Needs boiling water, the possibility of leaking, only produces one shot of espresso.
Cost: This Wacaco Minipresso machine is one of the cheapest yet most efficient on the market. This minipresso portable espresso maker is used by piston function and is used with compatible Nespresso Capsules.
Wacaco Nanopresso Portable Espresso Machine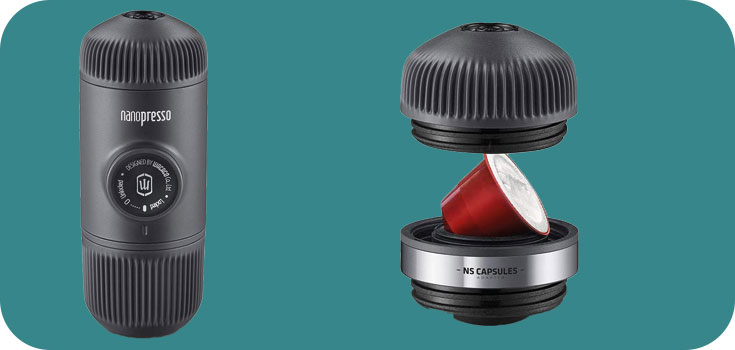 Pros: 5* portability rating from Amazon, extra water capacity than the minipresso, works best with all varieties of ground coffee.
Cons: Reviews of the maker decreasing in functionality when used for a few months and requires boiling water.
Cost: This Wacaco Nanopresso Portable Espresso Maker is another device from the Wacaco range. This costs slightly more than the Minipresso and also works with all varieties of ground coffee. As well as the minipresso, this portable maker also requires no electricity.
Flair Espresso Maker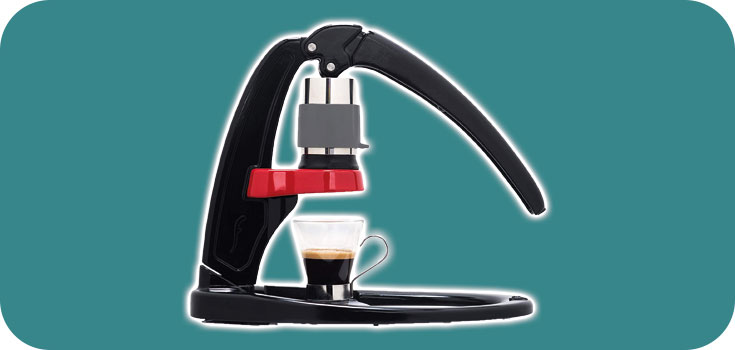 Pros: 100% human manual, fully portable, made from durable materials, easy to clean.
Cons: More expensive compared to other espresso makers.
Cost: This espresso maker does not require any electricity; it is all human-powered. However, this is not an espresso maker which is only portable, but would fit perfectly in any kitchen or coffee station too.

This espresso maker also comes with a 5-year warranty and is extremely durable, being made from materials such as stainless steel, this ensures a long life-time for this maker and reduces the possibility of rusting.
Handpresso Wild Hybrid
Pros: Special features – thermal, manual and ecological, plus easy use.
Cons: Possibility of leaking, small litre water capacity.

Cost: This portable coffee maker offers you the freedom for a real relaxing time during your coffee breaks wherever you are.
It is extremely easy to use, just add hot water and place the E.S.E pod or ground coffee pod, turn the machine over and press the button. It is 100% manual and requires 0% electricity.