LG is the South Korean TV manufacturer with a motto that reads 'Life's Good' and it certainly is when you have one of their cutting edge products in your living room. The company has been around since the late 1950s and remains one of the most successful in the home entertainment sphere.
Just as Sony and Samsung do at the beginning of each calendar year, LG have launched their QNED line of televisions for 2021 and at first glance they look pretty impressive. QNED certainly sounds interesting, but what does it actually mean? What are you buying when you invest in a model that features the technology?
Let's dig in and find out!
Their First Ever Mini-LED Models
Well, LG's QNED range is the first to feature mini-LED technology which is said to offer amazing picture quality. Offering in excess of 30,000 mini-LEDs in each 8K panel, models in this range have an impressive 2,500 local dimming zones and this really helps minimize bloom and improve overall contrast ratio.
Essentially what we're looking at is a new level of density of mini-LED backlight technology and whilst we can't verify it as yet (as we haven't seen one up close), LG say that it offers a 120Hz refresh rate and a contrast ratio of 1 Million to 1.
Quantum Dot Technology = Uber Realistic Colours
Breaking down the term 'QNED', the Q relates to quantum dot technology which relates to how colours are filtered by the panel. At its heart, QNED TVs are an enhanced version of traditional types of photoresist technologies, blocking light to ensure that LCD colours aren't overly flooded with light.
Rather than use a normal filter, QNED TVs use nanocrystals that exist at the sub-microscopic level and use NanoCell material to control the backlight's spectral power. This is then passed through a quantum dot enhancement film to create the stunning colour accuracy we mentioned earlier.
A Wider Gamut of Colour For the Viewer
Ok, so we've described things from a technical perspective, but what does it mean for the owners of QNED models? Well, what all the impressive-sounding terms actually represent is better control of light and this means incredibly vivid colours and a wider gamut of colours.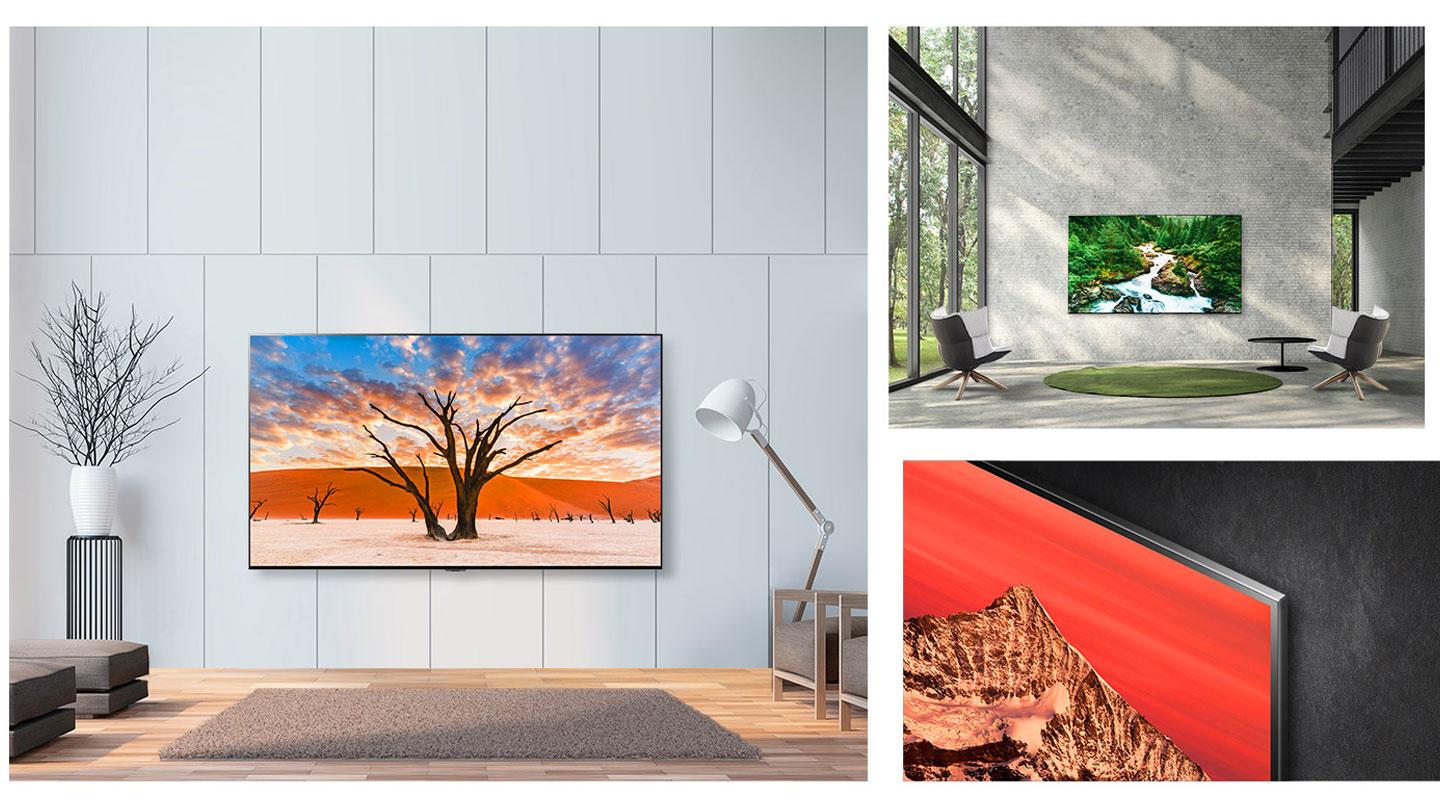 When used in conjunction with small back lights that are locally dimmed, LG QNED TV owners should get similar colour performance as the higher end OLED HDR displays. It doesn't replace LG's OLED range though, as it actually sits underneath it in their range, just above their NanoCell line.
QNED – Technology That's Sure to Impress
All we've seen so far is what they showed us as at CES 2021, but it does look like it's going to be a popular choice. For customers who's budget doesn't quite stretch to an LG OLED TV, it's an option that should provide comparable visual performance to their premium line.
At Simply Electricals, we just love telling you all about the latest movers and shakers in the home entertainment sphere. This is yet another example of how the boundaries of technology are being pushed more and more with each passing year.
If you'd like to know more about QNED TVs or the massive range of home entertainment products we have in store, why not take a look through our website. Our friendly tech-obsessed team is on hand to help you with advice and guidance by telephone on 01204 201124 or via the handy live chat box on our homepage.
Thanks for reading. We'll see you again next time.