The Quick Verdict
This is honestly the best Tumble Dryer I have ever owned, I have been completely converted to a Condenser Tumble Dryer.
Blomberg have produced a stylish, affordable and easy to use dryer. Extremely happy with my purchase and would definitely recommend it.
| | |
| --- | --- |
| Overall Rating | 4.5/5 |
| Quality | 4/5 |
| Speed | 5 |
| Cost | 3/5 |
| Functions | 4/5 |
Pros
Great Interior Light
Easy water tank disposal
Anti-creasing function (very little ironing needed)
Large door (great for bigger loads)
Easy to clean
Affordable
Dry Sensor (switching off when laundry is dry)
Blomberg 8kg Condenser Tumble Dryer LTK28021W
This Blomberg Condenser dryer is quick and extremely easy to use. It has many extra features compared to other condenser dryers. The anti-creasing function is definitely the best function for me, not being a massive fan of ironing, so this was a big selling point.
The water tank is also a great function – the moisture from your laundry is collected into the water tank, (this holds up to 5Kg). I don't recommend allowing this to fill as it can become really heavy, making it a little harder to carry.
I don't empty my water tank down the sink, I like to reuse the water in my garden, so I add it to a water barrel and leave it ready to water my plants (I like to do my bit).
This condenser dryer has 16 different programmes for drying, this is fantastic for different types of fabrics. We have all been there and dried your favourite jumper and it has come out the size of a newborn outfit! Luckily, with the delicate programme, this won't happen to me again.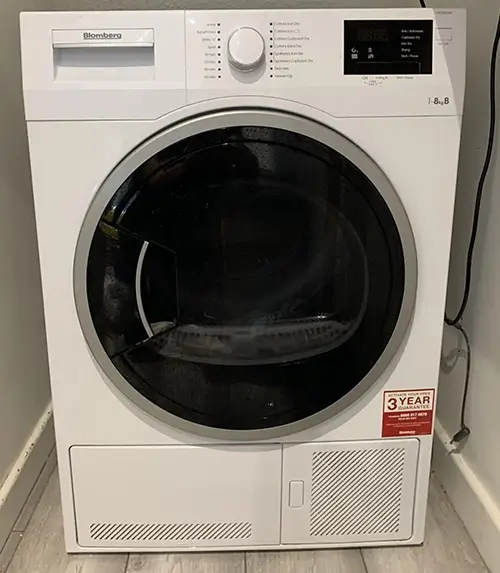 Design and Features of the Blomberg 8kg Condenser Tumble Dryer LTK28021W
Large porthole door – Helps you effortlessly load your laundry
Anti-creasing function – Contributes to very little ironing  
Auto cool down phase – Cools laundry minutes before cycle ends, allowing you to comfortably remove your clothes
Interior Light –  Spot them smaller items that can be easily missed
Child lock –  Prevents the programme flow from being affected
Sensor drying – Intelligently detects moisture levels and automatically stops when dry.
Technical specifications Blomberg 8kg Condenser Tumble Dryer LTK28021W
| | |
| --- | --- |
|  Height (Min/Max) |  84.6 cm / 86.6 cm * |
|  Width  |  59.5 cm |
|  Depth |  60.9 cm |
|  Capacity (Max) |  8 kg ** |
*Min. Height: Height with adjustable feet are closed
 Max. height: Height with adjustable feet are opened maximum.
** Dry laundry weight before washing.
How to clean Blomberg 8kg Condenser Tumble Dryer LTK28021W
After every use you should clean the lint filter and empty the water tank, these get filled very quickly. Emptying after use will maintain the efficiency and the lifespan and also reduce energy costs. A deep clean is also required to keep your machine in tip-top condition.
I have created a checklist to help make cleaning your machine a breeze.
Empty water tank (Daily)
Clean lint filter (Daily)
Clean internal drum (Weekly)
External clean (Weekly)
Clean condenser (Monthly)
The lint filter is one of the easiest things to clean, looking after this will keep your dryer in tip-top condition. 
Let's get cracking…
Gather up your cleaning supplies
Old towel or sheet
Warm soapy water
Hand brush
Microfibre cloth
Rubber gloves
How to clean the lint filter on a dryer
Check that your dryer has cooled down;
Turn the dryer off
Open the door, locate the filter (this is usually in the door rim) remove the filter;
Place down an old towel or sheet to catch any lint 
Using rubber gloves, remove as much lint as possible, disposing into the bin;
Using a hand brush lightly brush the corner of the filter to remove any stubborn lint;
Replace filter.
I have created more in depth cleaning guides and tips for your condenser dryer.
How to set up Blomberg 8kg Condenser Tumble Dryer LTK28021W
The setup of the Blomberg Condenser is very easy; you will be up and running in no time. 
Firstly, check if the location area has an accessible plug socket. A 13 A rating must be used, always check your socket supply. There may be occasions when you need to unplug your dryer and having this behind your machine isn't always appropriate. 
Ventilation is important as this dryer can kick out some heat, I have mine in a cupboard under my stairs but never operate whilst the door is shut. Your dryer can be operated in between temperatures of +5to +35 . If the operating temperature falls outside the scope of these temperatures, the efficiency will be impacted.
This condenser dryer is supplied with a drain hose. If you decide not to use the water tank, the water hose can be connected easily. This is a great added option to have, in the event of something happening to the water tank or even a house move there are always other options. 
Once you are happy with the location and whether you will be using the water tank or the hose supplied, you are ready to start installing and familiarising yourself with this machine. 
Prior to installation check for any defects; if the dryer is damaged, do not have this installed.  
Remove all packing material
Visually check for defects
Check location accessibility to sockets and temperature 
Place the dryer at least 1 cm away from other furniture
Adjust the feet to avoid vibration
Keep ventilation grills clear
Once in place check the plug is reachable
Before inserting the plug into the socket, check the frequency shown in your rating label corresponds to your electricity supply to that socket
How to use the Blomberg 8kg Condenser Tumble Dryer LTK28021W
You can't just throw everything into your dryer and expect it all to dry evenly. For the best results, always check care labels on your laundry; some garments are not suitable for the dryer or need to be dried on a delicate programme.
For best results, spin your laundry at the highest speed possible when washing them, this will reduce drying consumption time and evidently save you money. Don't load your dryer with dripping wet clothes, this is a waste of energy. 
Firstly, separate your cottons from your synthetics, cottons take slightly longer to dry. 
Separate all undergarments as these are very quick to dry and should really be dried alone.
Choose the drying programme based on the fabric (for bedding, I always choose, cupboard dry as this leaves the bedding fresh and crispy with no need to iron).
The Extra Dry programme works wonders on towels, keeping them fluffy to touch. This programme is also fantastic for jeans as there is nothing worse than your jeans coming out of the dryer and they feel like cardboard!  
The Extra Dry, Cupboard Dry, Cupboard Dry Plus are all programmes that use the anti-crease function, clothes can be put directly into your wardrobe without the need for ironing. Always a bonus!
Tip – Never overload the drum! I only ever fill to maximum of ¾ otherwise it doesn't dry evenly.
Energy saving tips for the Blomberg Condenser Dryer
Here's a few tips of things that can be done for energy saving:
Choose the correct spin cycle for your washing machine
Keep the water tank and lint filter clean
Keep your dryer in a well ventilated room
Separate fabrics and dry similar fabrics together
Don't overload the drum
Use the drying sensors
Don't leave laundry in the dryer – remove once dry
Functions of Blomberg 8kg Condenser Tumble Dryer LTK28021W
The Blomberg Condenser dryer functionalities are outstanding. I particularly like the auto cool down function that allows the machine to cool for 10 minutes so you can comfortably unload your laundry. 
It's great if your children help with chores. It's a reassurance that the clothes won't burn them. 
The drying sensor is a great function on this dryer, it will stop drying when your clothes are ready; just remember to take these out straight away or you might need to iron them. The sensor, if used correctly, can help reduce energy cost in comparison to a programmed setting.
The selection of programmes on this machine are fantastic, there are programmes for most types of fabrics and it's very simple to use. 
Selecting the right programme is imperative for best drying results and energy saving cost – the anti crease function helps on days where you're unable to unload your laundry this will periodically tumble your laundry for a maximum of 2 hours.
Not recommended if you are trying to reduce energy costs, but saves a considerable amount of time on ironing.
Specifications of the Blomberg 8kg Condenser Tumble Dryer LTK28021W
| | |
| --- | --- |
|  Main features |   |
|  Dryness Control Method (timed/Sensor) |  Sensor |
|  Drying Capacity (kg) |  8 |
|  Energy Efficiency Class |  B |
|  Number of Main Programmes  |  16 |
|  Drum Light |  Yes |
|  Full Tank Full Indicator Light  |  Yes |
|  Clean Filter Indicator Light |  Yes |
|  Auto Cooldown Phase |  Yes |
|  Cool Tumble  |  Yes |
|  Child Lock Feature Operated Electronically |  Yes |
|  Drying Technology |  Condenser |
|  Reverse Action (Bi-directional) Drum Action  |  Yes  |
How does the Blomberg 8kg Condenser Tumble Dryer LTK28021W compare against other brands?
After previously having a Zanussi tumble dryer and replacing it with a Blomberg condenser dryer, I honestly feel like I have had a massive upgrade. 
The extra features on the Blomberg condenser dryer for the cost is remarkable, they also offer a 3 year warranty whilst Zanussi only offers 1 year warranty. 
There are so many extra programmes for different laundry types ensuring your clothes are always protected depending on the materials. It's really easy to use and maintain and is cheaper than Zanussi, which I found hard to believe.
I felt with my previous Zanussi tumble dryer, that all dryers were the same. "Just dried clothes". This wasn't an all-singing all-dancing machine but was more expensive than my new Blomberg condenser dryer.  
With over 130 years in production and expertise, Blomberg certainly knows how to produce a dryer with features and specifications to suit everyone's needs. Blomberg is the 3rd Largest appliance manufacturer in Europe and it certainly does reflect in their appliances.
Zanussi is owned by Electrolux who are the 7th largest appliance manufacturer Europe, the company was founded in 1919 and sells around 60 million products a year.
After spending some time comparing and evaluating the 2 machines, the only better feature with regards to the Zanussi is that it was slightly less noisier than the Blomberg, this may have been acoustics or the positioning, I'm not sure. I would require a lot more from a tumble dryer than "it was a bit quieter" though.
About Blomberg
Blomberg's vision and mission is to bring harmony to your home – with this mission statement, I can only expect big things from them. In 2010, Blomberg introduced its products to the UK and they keep on producing high quality appliances that are forever evolving. 
Blomberg have upped the standard inducing their LTH38420W 8kg Heat Pump Tumble Dryer. The faster-dry technology enables a 5kg cycle to be dry within 1 hour, pretty impressive I must add. 
This also has an energy efficiency rating of A+++ which is considerably better for the environment and also your pocket. This dryer still has all the features and specifications similar to the LTK28021W and also has heat pump technology which reheats the evaporated air and sends it back through the drum until your laundry is dry.  
What are the advantages of a heat pump tumble dryer?
They cost a considerable amount less to run – As the heat pump technology utilises the same air that has been warmed from previous cycles, this reflects on the cost of energy. You will notice a dramatic decrease in your energy bills, allowing more to spend on clothes to dry.
They are better for the environment  – Heat pumps use a considerable amount of less energy than vented or condenser dryers. In some cases you could notice 50% less!
They protect your clothes –  Heat pump dryers dry your clothes at lower temperatures, which is better for your clothes leading to a longer lifespan.
They can go literally anywhere – As heat pump dryers require no plumbing, these can go anywhere. 
What are the disadvantages of a heat pump tumble dryer?
They cost more to buy – These heat pump dryers do cost more to initially buy but the overall saving outlays the initial cost.
Seeing the advantages of heat pump tumble dryers, the energy savings and how it is better for the environment, makes me find it hard to believe why these dryers aren't compulsory.  
A quick overview of the Blomberg 8kg Condenser Tumble Dryer LTK28021W
I'm really impressed with this dryer, that's the reason it has a 4.9* rating from me. 
It's versatile, extremely easy to use and dries really quickly. 
The features of this dryer are ideal for a busy household. Care and consideration has been used in the design of this dryer, with a very good understanding of what the consumer needs for their home, hence their mission of "bringing harmony to your home"!
FAQs about the Blomberg 8kg Condenser Tumble Dryer LTK28021W
Why buy a Blomberg 8kg Condenser Tumble Dryer LTK28021W?
This condenser dryer is fantastic value for money. Its features are outstanding and you can have this either plumbed into your drains or you can just use the water tank, making this dryer very versatile. 
Offering 16 different programme settings, this machine will cover any laundry needs from delicates to cottons with the press of button.
Cleaning this machine is a breeze, the filters are easily accessible and the water tank is positioned at just the right height to manage. The large porthole door helps you effortlessly load and unload laundry and the interior light helps find the smaller items that can go unmissed. 
Don't get me started on the automatic anti-creasing function, being an anti ironer, this is by far the best function, if you take your laundry out straight away when the cycle is finished, there is no need to iron anything. Bedding dries perfectly and quickly. 
What is a condenser tumble dryer?
A condenser tumble dryer collects moisture from your wet laundry into a tank – this can be easily emptied and replaced. The tank is located within the dryer and is easily accessible. 
A condenser dryer can be installed anywhere and there is no need for a vent making this more convenient. These can be freestanding or integrated depending on your requirements.
Newer models now come with heat pump technology, making these more energy efficient.
Condenser or vented tumble dryer which is better?
A vented tumble dryer costs less than a condenser dryer, this is hosed directly outside to release the moisture instead of collecting the water in a tank, also known as a reservoir.
You are limited to where a vented dryer is positioned; this will need to be near a window or a door. You can also have a vent outlet installed that should be directed through a hole in your exterior wall, this will mean your dryer is fixed to the same place. 
A condenser dryer is a little bit more expensive compared to a vented dryer but it's more versatile due to the water tank which collects the moisture from drying into a water tank rather than directing it outside. This means you have the freedom to have this anywhere in your home.  
A condenser dryer requires the water tank to be emptied after every use, this can be saved in a water barrel to maintain your plants or simply disposed down the sink, the preference is all yours. This isn't a choice with a vented dryer as the moisture is just expelled outside.
When it comes to decision making, it will depend on money and space. Condensers can be positioned anywhere whilst vents need a fixed space.  Both styles dry efficiently, just condensers cost slightly more. Good luck deciding!
Does a condenser dryer cause damp?
Keeping your condenser dryer machine in a ventilated space will not cause dampness.
A condenser dryer needs to be installed in a well ventilated room, leaving space from any walls and furniture. Emptying your water tank after each use will prevent the condenser from overheating. 
If you install a condenser in a cupboard, always ensure the cupboard door is open when the machine is in operation, keep your machine clear and avoid overcrowding the cupboard with other items.